U.S. soccer's new generation of players are more diverse than ever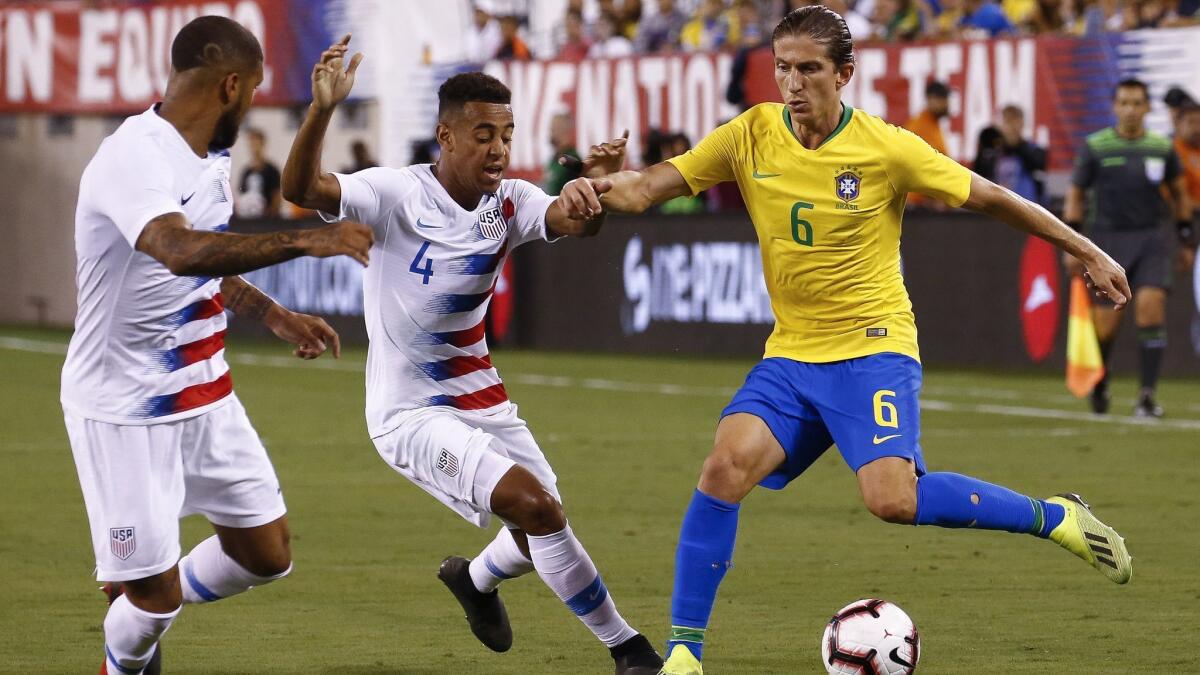 Reporting from TAMPA —
As an African American soccer player growing up in the South a generation ago, Eddie Pope didn't have many role models to look up to.
"The first black player I saw was Pele on a videotape," he said. "You definitely notice that you're the only one. I had people saying the N word and things of that nature."
Cobi Jones had a similar experience, without the epithet, 2,400 miles away on the Ventura County border.
"I didn't see anybody that really looked like me," said Jones who, like Pope, went on to play in three World Cups before they were inducted into the National Soccer Hall of Fame together in 2011. "There were very few other blacks playing the game when I grew up."
That's beginning to change, however, and the implications are already being felt on the national team level, where the U.S. squads now look more like the nation they represent. The men return to action Thursday in Tampa, facing Colombia at Raymond James Stadium before a crowd of more than 30,000.
In the last men's game, an exhibition win over Mexico last month, 12 of the 17 players – including nine of 11 on the field in the second half — were African American. Both numbers are believed to be national-team records.
And when the women's team gathered for its first training camp of 2017, 11 of the 35 players on the roster were African American. That followed an NWSL draft in which five of the first 10 players selected were African American.
"We're seeing a distinct change within the game," said Jones, who appeared in a record 164 games for the U.S. "You're seeing a lot more African Americans, a lot more Latinos, a lot more people from various backgrounds getting into the game. And it's finally showing up at the national-team level."
Jones credits social and cultural trends that have popularized soccer over the past five to 10 years, especially among millennials.
"It's a little bit a sign of the times," he said. "Everybody is in this cultural shift. We're talking more about a global community. And to be cool or hip within that global community, you've got to know the global game."
Pope credits technology for the progress. Where he had to find old tapes of the Brazilian national team to see a black player, his kids – who all play soccer – can watch full squads of black, Asian or Latino players live on TV or the internet.
"There is a difference when you see somebody like you playing at a higher level. Because then you start to see the possibilities," he said. "It's almost a given now 'well, of course black people play soccer.' It's a normal thing for them."
As a result, the sport is also growing rapidly in urban communities where it was once ignored by kids more interested in basketball or football.
Mike Hoyer, national executive director for Torrance-based AYSO, one of the nation's largest youth soccer organizations, says his group does not compile information on players' racial or ethnic backgrounds. But anecdotal evidence such as the growth of programs in Watts and South and East Los Angeles "punctures some of the myths that are out there about the racial uniformity of soccer."
Other groups have found similar results.
Two years ago, the U.S. Soccer Foundation, a charitable organization established to manage the surplus created by the 1994 World Cup in the U.S., established a 10-year plan to transform underutilized spaces into mini soccer pitches, mostly in poor, underserved neighborhoods. Ed Foster-Simeon, the foundation's president and CEO, said the program caught on so quickly he expects it to be serving 100,000 kids between the ages of 6 and 12 by the end of the school term. More than half of those already enrolled in the twice-yearly program are Latino and another 34% are African -American.
"Most of those kids, this is the first time they are participating in a sport – soccer in particular," he said. "So this is their introduction to the game."
The Foundation, Foster-Simeon said, has found success by removing two barriers – cost and access – that have kept soccer out of the inner cities and perpetuated the idea the sport is a white, suburban activity.
"Everyone has discussed the whole challenge of pay to play. If you're a family living in a low-income household or if you're in poverty, there's not a lot of discretionary income," he said. "So we've taken it as our responsibility as a charitable organization to make it possible for these children to have the opportunity to play."
The next step was to search the crowded neighborhoods for abandoned or underused tennis courts, parking lots or playgrounds, in easily accessible areas, and refurbish them into 30-to-40-yard long asphalt mini pitches for games between three- or five-player teams. In many urban areas, building a full-size grass soccer field was not feasible.
"These play spaces have to be literally within easy walking distance for these kids because there aren't moms with minivans lined up to take kids wherever they need to go," Foster-Simeon said.
"We're creating the opportunity for kids to get exposed to the game, enjoy the game, develop a love for the game," he continued. "And see where that love and passion for the game takes them."
If it takes them to the national team, then the kind of lineup the U.S. fielded against Mexico last month -- one that included not only 12 African Americans but also the son of Guatemala and Salvadoran parents, two players with Japanese parents, another of mixed Jamaican and Liberian descent, one with Ghanaian heritage and two who were born in England – will be less rare and more like the multiracial, immigrant population the team represents.
"America is a nation with a whole bunch of diversity. Our team should be built on a whole bunch of different cultures, a whole bunch of different ethnicities," said defender DeAndre Yedlin, a miniature melting pot of his own with African American, Latvian, Dominican and Native American ancestry.
"That's what America is. A whole bunch of different cultures and ethnicities," continued Yedlin, who played the final five minutes of the Mexico game. "But it's definitely moving toward where you're just looking at [the team] and saying it's just 11 Americans. And that's it."