U.S. vs. Mexico rivalry takes on special meaning for Marky Delgado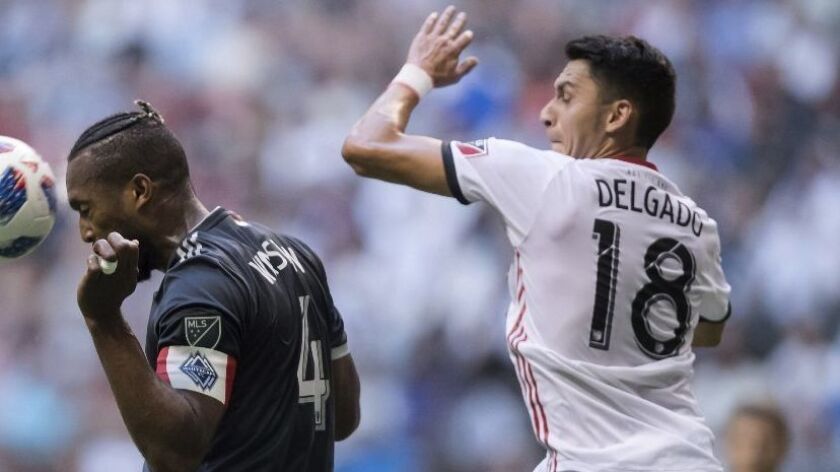 Reporting from Nashville, Tenn. —
Shortly after Marky Delgado learned to walk, his father taught him how to kick a soccer ball. And Delgado took it from there, playing his first game for an age-group U.S. team when he was 16 and signing his first professional contract a few months later.
His passion for the game developed a bit more slowly, however, nurtured during long afternoons watching Mexican league games with his father in the living room of their Glendora home. As a result his boyhood idols wore the verde of the Mexican national team, not the red, white and blue of the U.S.
But Delgado said he and his family will have no split loyalties Tuesday, when he takes the field against Mexico for the first time as a member of the U.S. senior national team.
"It's not weird at all. It's a very special moment for me. My family as well," said Delgado who, as the son of Mexican-born parents, had the option of playing internationally for either country.
"I'm his son and he'll cheer for me," he said of his father, Jose. "I think he'll just be happy to see me out there."
Delgado, a 23-year-old midfielder who won an MLS Cup with Toronto FC last fall, is one of 18 players who made their senior debut this year, one in which U.S. Soccer has concentrated on restocking the national team talent pool after last year's failed World Cup qualifying campaign.
The tryouts will continue against Mexico, with interim coach Dave Sarachan saying he'll make as many as six changes to the lineup he used in last Friday's 2-0 loss to Brazil. Mexico, also rebuilding under interim Coach Ricardo Ferretti, will have an equally young and inexperienced squad with 12 of the 19 players on its roster coming into the game with fewer than eight international caps.
One of those is midfielder Jonathan Gonzalez who, like Delgado, was born to Mexican parents in California and played for three U.S. age-group teams. But last year he decided to play on the senior level for Mexico and is expected to make his first start against the U.S. on Tuesday.
"That's a real individual decision," Sarachan said. "Every person has to make those important decisions and Jonathan made his. As we move along there's probably going to be more examples of that."
According to U.S. Soccer, in the last decade 15 dual nationals eligible to play for both Mexico and the U.S. have chosen the U.S. while Gonzalez is just the second to pick Mexico — and the first, Edgar Castillo, changed affiliations after three games and has since played 18 times for the U.S.
Not that the border rivalry really needs any extra spice.
"As far as playing Mexico, a lot of it does speak for itself," Sarachan said. "For me it's always been kind of personal. I don't mean that in a mean way.
"There's a real history. That doesn't go away. These players understand that."
This game will have some added significance, though, because it's being played on the 17th anniversary of the Sept. 11 terrorist attacks, which brought down the twin towers in Lower Manhattan and killed nearly 3,000 people in New York, Washington, D.C., and rural Pennsylvania.
Before last week's game with Brazil, the U.S. team toured the National September 11 Memorial and Museum, and captain Wil Trapp, who was in third grade when the attacks took place, said the visit brought home the importance of wearing the U.S. crest on Tuesday.
"Any time you get to play Mexico it's a special day," he said. "To be playing on 9/11 is even more powerful. There will be a lot of emotions wrapped into it.
"You step out there and we're representing the United States of America. 9/11 is a day that will live in infamy in our country. And our responsibility is to step on the field with pride and bravery."
kevin.baxter@latimes.com | Twitter: @kbaxter11
---
All about the beautiful game
Go inside the L.A. pro soccer scene and beyond in Kevin Baxter's weekly newsletter.
You may occasionally receive promotional content from the Los Angeles Times.