Steve Beitashour wants to play for Iran in World Cup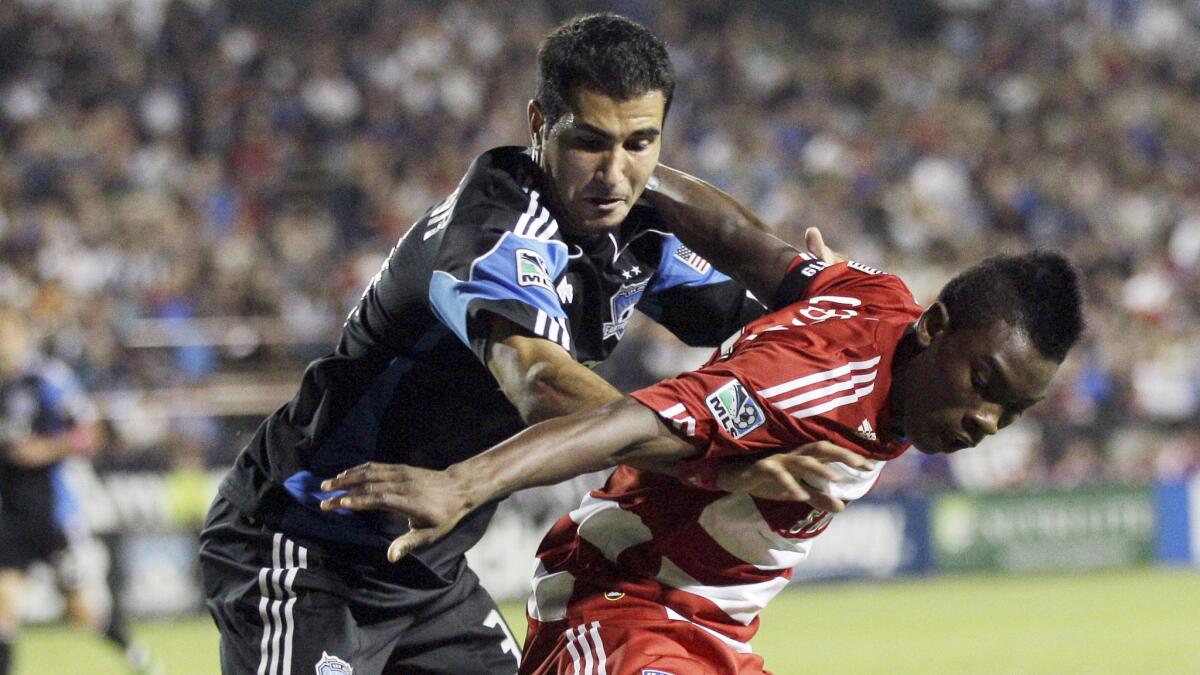 Steven Beitashour wants to make a couple of things clear right away.
First of all, his decision to play for Iran in this summer's World Cup had nothing to do with politics.
"I just thought about soccer," Beitashour says. "It's a great opportunity, especially to play on the international stage."
And secondly, he is not a mercenary. If U.S. Soccer had pursued him with the same as fervor as Iran's national team, he would have been just as happy to stay home. But he was never asked to make that choice.
"If everything were equal, if both teams come at you at the exact same time?" Beitashour, who was born in San Jose to Iranian parents, asks rhetorically. "That would never happen."
And while Beitashour's decision to play for Iran might have been solely about soccer for him, for many others his choice seems to be tinged with politics.
"When we hear of an Iranian-American going back and contributing somehow to where our parents grew up, it's an awesome feeling," says Borhan Oskoorouchi of San Jose, executive producer of a weekly Farsi/Persian-language radio program. "Because I think all of us — or I do, at least — would love to somehow contribute back to Iran."
Not necessarily so, says Qumars Hojjaty of Studio City, publisher of Pars Times, a website focused on Southern California's large Iranian community.
"Most of our community leaders in L.A. strongly oppose any kind of people-to-people exchange with the government of Iran," he says. "They argue that this legitimizes the Islamic Republic regime. On the other hand, the national organizations based in [Washington] D.C. are in favor of a dialogue."
Beitashour, meanwhile, just wants to play in a World Cup — and at 27, this summer's tournament in Brazil could be his last chance.
"It's the biggest stage and the best players [are] playing there. As a kid you dreamt about it," says Beitashour, a former Major League Soccer all-star who plays right back for the Vancouver Whitecaps. "So having an opportunity to potentially be there, it's just great."
He's not there yet, however. Iran has three friendlies left before its final World Cup roster is due next month and Beitashour, who made his debut for Iran in an Asian Cup qualifier last October, is hardly guaranteed a spot. Yet this is where his U.S. background and MLS pedigree might help him. Iran's Portuguese manager, Carlos Queiroz, conducts his practices primarily in English and has an MLS background too, having led the New York/New Jersey MetroStars to the playoffs in the league's inaugural season.
Queiroz was also responsible for bringing Beitashour into the Iranian program. According to former assistant coach Omid Namazi, after Queiroz took over the national team three years ago he compiled a list of nearly two dozen men with Iranian backgrounds who were playing abroad. . Among those on the list were German-Iranians Daniel Davari and Ashkan Dejagah, Dutch-Iranian Reza Ghoochannejhad and Swedish-Iranian Omid Nazari.
"At the beginning there was a little bit of resistance," says Namazi, now an assistant with the U.S. women's team. "But once that ice broke and players came in and showed what they could bring to the national team, I think it was a sense of welcome."
It certainly was for Beitashour.
"Within five, 10 minutes I felt like they were my brothers," he says of his Iranian teammates. "It's the Iranian culture to be that welcoming."
Although he still struggles with his Farsi and, until his invitation to join the national team, hadn't visited Tehran since he was 5, Beitashour was steeped in Iranian culture. While he was growing up in the Silicon Valley, his father Edward, a retired electrical engineer with Apple who once played soccer at San Francisco State, and mother Pari observed many Iranian traditions.
"The culture is still part of you," he says. "You know your parents were born there. So I definitely feel like I've got strong ties."
Still his upbringing was also as American as apple pie and weekend visits to the mall. He was such a standout at San Jose's Leland High, for example, the school retired his No. 3 jersey. The only other Leland athlete to receive that honor was former NFL defensive back Pat Tillman.
Beitashour went on to the play at San Diego State, then spent four years with the San Jose Earthquakes of MLS before being sold to Vancouver in January.
So even though Iranian coaches first contacted him three years ago and asked him to begin the lengthy process of preparing the paperwork necessary to visit the country, playing for them wasn't part of the plan — especially after being called into the U.S. national team camp in the summer of 2012 and again the following January.
Beitashour didn't get into a game either time, though, and privately officials with U.S. Soccer said it was unlikely he'd ever play for the team. He figured that out for himself when the phone messages and emails stopped coming.
So when Iran called back, he jumped at the chance to play in a World Cup — and U.S. Coach Juergen Klinsmann blessed the decision as well.
"In our ranking in the right back position, he was five, six, seven. So it was not realistic," says Klinsmann, who played in three World Cups for Germany. "I don't want them to miss out on anything. If this is what they badly want, then absolutely fine. Because the time just ticks away."
The next hurdle for Beitashour is being chosen to the team.
"It's going to go down to the wire," says Namazi, the former assistant coach. "But I have a good feeling that he'll be on the squad come the World Cup. He wants to play at a high level and he wants to show the world what he can do.
"What better stage than the World Cup? And he gets a chance to do that with Iran. That's the country that his parents come from. So why not?"