World Cup: Mexico takes over World Cup with 1-0 victory over reigning champion Germany
Reporting from moscow —
They played the game on the banks of the Moscow River, but given the noise, the waves of green Mexican national team jerseys and multicolored sombreros and the loud renditions of "Cielito Lindo," Luzhniki Stadium on Sunday might as well have been Estadio Azteca.
Mexico may be a long way from home, but it was clearly the home team in its World Cup opener. And its raucous supporters were rewarded with a 1-0 win over Germany that made history on several fronts.
For Germany, the 2014 World Cup champion, the result marked the first time in four tries it has lost the opening game of a title defense. For Mexico, the win was its first in three tries over a reigning champion.
Then there was the ageless Rafael Marquez who came on in the 74th minute to make some history of his own, tying a record by playing in his fifth World Cup.
But the day belonged to forward Hirving Lozano, who scored the game's only goal late in the first half, and goalkeeper Guillermo Ochoa, who made that score stand up with a brilliant performance, turning away nine shots to shut out Germany.
"I don't know if it's the biggest victory in history, but it's one of the biggest for sure," said the 22-year-old Lozano, who was playing in his first World Cup game. "It's great to start on the right foot when you are playing the reigning world champions.
"It's definitely the best goal I've ever scored in my entire life."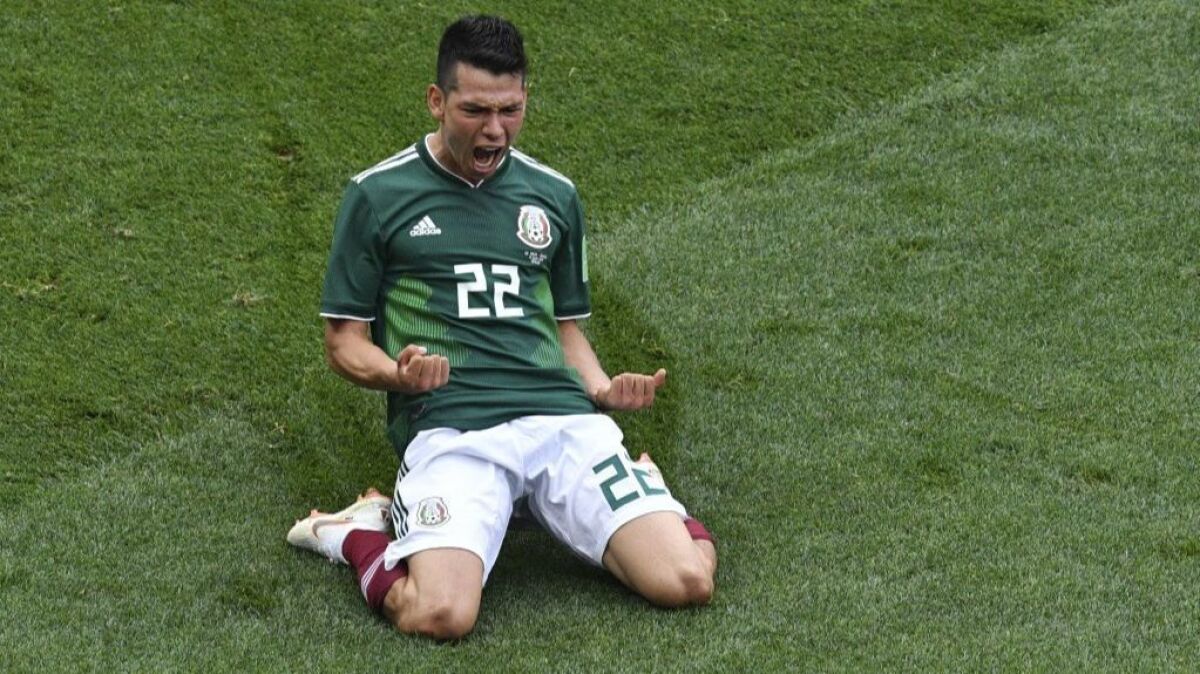 Marquez went one better.
"This was the best victory in a World Cup for Mexico, playing against the world champion," he said.
And it's a victory that may have changed the course of the tournament for both teams.
With the win, Mexico is now in charge of its own destiny; with one victory in its next two games, it could advance to the knockout stage as the group champion, avoiding a second-round matchup with Brazil.
Meanwhile, Germany, the only team to have made it to the second round of every World Cup since 1954, needs at least a tie against Sweden on Saturday to keep that streak from ending.
"We will not suffer that fate," German coach Joachim Loew said through a translator.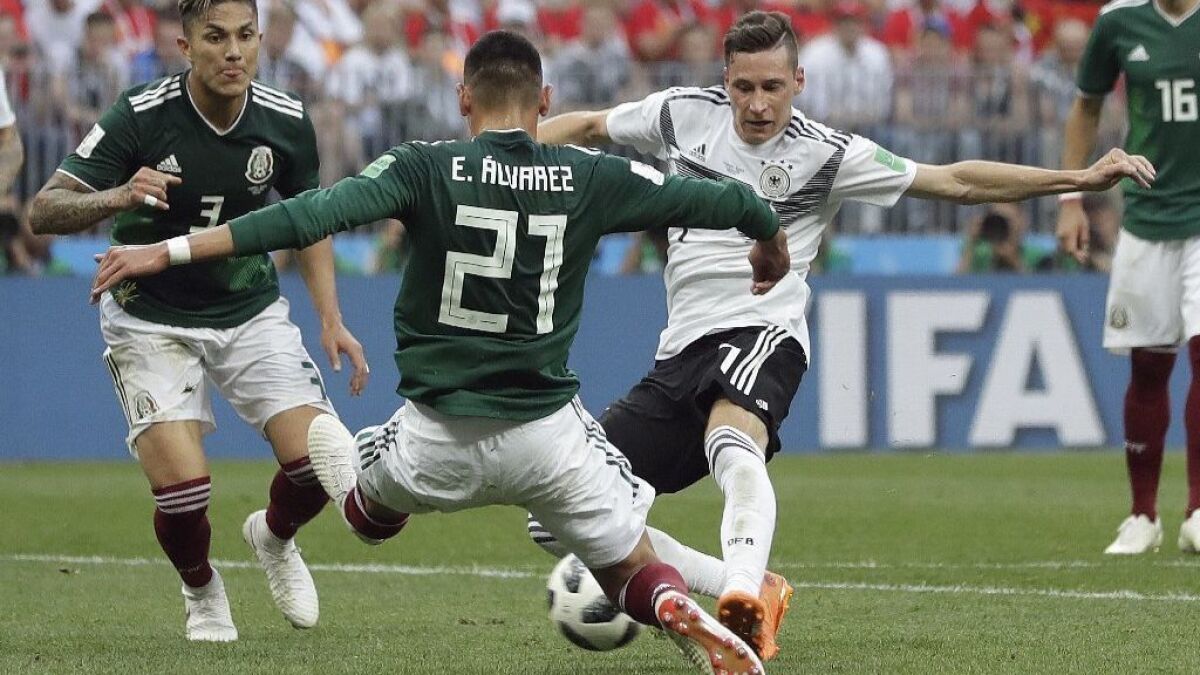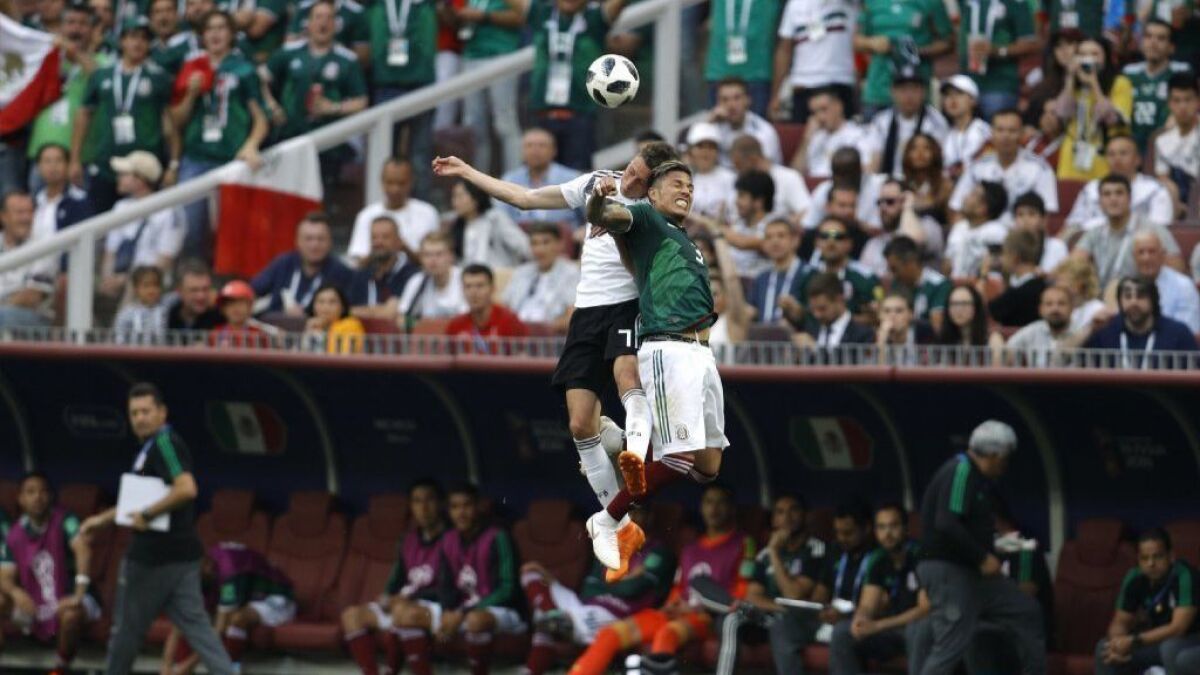 The game started like a title fight, with both sides trading body blows in a manic first half. The only time the ball was in midfield was when it was passing through to either end, with the teams combining for 18 shots.
Only one of them found the back of the net, though, and that came at the end of a counterattack in the 35th minute. Javier "Chicharito" Hernandez, who looked shaky early on, sent a long through ball forward for Lozano, racing into the box on the left wing.
Germany's Mesut Ozil, tracking back on defense, caught Lozano from behind so the Mexican pulled the ball back with his left foot, spun around Ozil and put a hard, right-footed shot in at the near post.
It was just the second goal Mexico has scored in its last five games, equaling its worst offensive drought in four years. But with Ochoa standing up to a relentless German attack that got off 25 shots, it was enough to leave Germany without a point one game into a World Cup for the first time in 36 years. No World Cup team since 2006 has taken as many shots without scoring.
"It's disappointing to lose the first match," said Low, who has lost just three games in three World Cups as Germany's coach. "It's not a situation we're used to at all."
Germany didn't go quietly though, giving Low something to build on. Eighteen of its shots came in the second half, when it enjoyed a 2-to-1 advantage in time of possession. By the final minutes, the weary Mexicans were playing more with their hearts than with their feet.
"We showed a lot of character, a lot of determination," midfielder Miguel Layun said. "We suffered a lot to get this result. That's why this result has a lot of value.
"In football and life you have to dream with everything and fight for it. Nobody guarantees you anything."
When the final whistle mercifully sounded, Ochoa, too tired to move, stood in front of his goal wearing a look more of relief than joy as he wiped a gloved hand across this face. Hernandez openly wept.
"Nobody can tell us not to dream," Ochoa said. "We are here in this competition, and we want to stay until the last day. We know it is going to be difficult but we know that we can compete against any team."
MORE WORLD CUP
How the Mexican national team has brought me closer to my own father
Serbia opens with 1-0 win over Costa Rica
Complete coverage of the 2018 World Cup
kevin.baxter@latimes.com | Twitter: @kbaxter11
---
UPDATES:
1:25 p.m. This article has been updated throughout with more details and comments from Mexican players and Germany's coach.
This story was first published at 9:55 a.m.
---
All about the beautiful game
Go inside the L.A. pro soccer scene and beyond in Kevin Baxter's weekly newsletter.
You may occasionally receive promotional content from the Los Angeles Times.