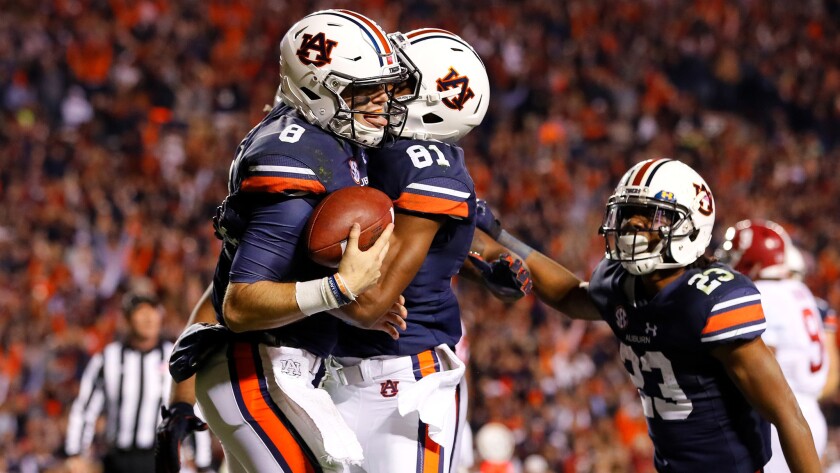 Jarrett Stidham and No. 6 Auburn dominated top-ranked Alabama 26-14 Saturday, earning a berth in next week's Southeastern Conference title game.
The Tigers quarterback passed for 237 yards and ran for a fourth-quarter touchdown to set up a rematch with No. 7 Georgia in the SEC championship game Dec. 2 with a playoff spot almost certainly on the line.
Auburn (10-2, 7-1 SEC) mostly shut down the league's top scoring offense for their second win in three weeks over the top team in the playoff rankings. They won the Western Division a week after dispatching the Bulldogs with similar precision.
The Crimson Tide (11-1, 7-1) made a rare assortment of mistakes for a team that had appeared to be headed toward a shot at a fourth consecutive SEC title and playoff berth.
Auburn's Kerryon Johnson delivered a jump pass for a touchdown and ran 30 times for 104 yards before leaving in the fourth quarter with an injury,
Tigers coach Gus Malzahn said after the game Johnson has "a shoulder issue."
The SEC's leading rusher crumpled to the ground after a carry and walked off the field holding his right arm close to his body with a towel draped over his head. Fans chanted, "Kerryon."
Auburn fans stormed the field after the final play, creating a scene similar to 2013 when the fourth-ranked Tigers beat No. 1 Alabama on a last-play, 109-yard return of a missed field goal.
With No. 2 Miami losing Friday night to Pittsburgh, it's the first time the top two teams in the AP poll have fallen on the same regular-season weekend since Nov. 17, 2012. Then, No. 1 Oregon lost to No. 14 Stanford and No. 2 Kansas State went down to Baylor.
Stidham completed 21 of 28 passes and ran for 50 yards, including a 16-yard touchdown scamper early in the fourth quarter. Ryan Davis caught 11 passes for 139 yards.
Alabama's Jalen Hurts passed for 177 yards and a touchdown while running 17 times for 80 yards, but neither he nor the Tide offense ever really seemed to get going.
No. 5 Wisconsin 31, at Minnesota 0: Alex Hornibrook threw three touchdown passes without an interception for the Badgers, who earned their 14th straight victory over the Gophers. Jonathan Taylor rushed for 149 yards on 20 carries, including a 53-yard scoring sprint on the first play of the fourth quarter that gave the Badgers (12-0, 9-0) their largest winning margin in a Big Ten game this season.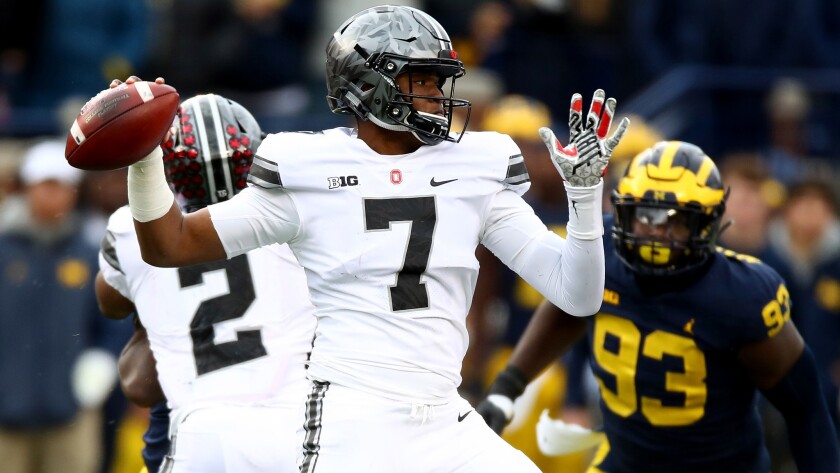 The only other time Wisconsin completed the conference slate without a loss was in 1912, when there were only five contests on the schedule. With help from Miami's stunning loss at Pittsburgh on Friday, the Badgers headed to the Big Ten championship game weekend next against Ohio State in prime position to crack the top four spots in the College Football Playoff.
Rodney Smith rushed 16 times for 82 yards for the Gophers (5-7, 2-7), who finished head coach P.J. Fleck's first season by suffering the program's first consecutive shutouts since 1950.
at No. 3 Oklahoma 59, West Virginia 31: Baker Mayfield threw for 281 yards and three touchdowns after being punished for directing a lewd gesture toward the Kansas bench last week, and the Sooners (11-1, 8-1 Big 12) maintained their momentum heading into the Big 12 championship game.
Rodney Anderson ran for 118 yards and four touchdowns Oklahoma, which will play TCU for the Big 12 title next Saturday in Arlington, Texas. The Sooners gained 646 yards in their seventh straight win. It was the most points Oklahoma has scored against the Mountaineers.
West Virginia's Chris Chugunov passed for 137 yards in his first start. He stepped in for Will Grier, who injured a finger the previous week against Texas. Kennedy McKoy ran for 137 yards and three touchdowns for the Mountaineers (7-5, 5-4).
No. 4 Clemson 34, at South Carolina 10: When a championship is in the balance, Clemson coach Dabo Swinney knows he can count on Hunter Renfrow.
The receiver had a pair of touchdown catches as the fourth-ranked Tigers won their fourth straight over rival South Carolina 34-10 on Saturday night. The victory kept Clemson on track for a third consecutive trip to the College Football Playoff.
Renfrow, the one-time walk-on, had a 4-yard touchdown grab to put the Tigers up 20-0 at halftime. He opened the third quarter with a twisting, 61-yard catch and run that thwarted any hopes of a Gamecocks' comeback.
It was Renfrow's third career multiple-TD game — the other two were Clemson's national championship contests against Alabama.
No. 9 Ohio State 31, at Michigan 20: Dwayne Haskins replaced injured star quarterback J.T. Barrett in the third quarter and led the Buckeyes to a come-from-behind victor, Ohio State's sixth consecutive in the storied rivalry.The Buckeyes (10-2, 8-1 Big Ten) head to the Big Ten championship game next week to face No. 5 Wisconsin, with hopes of making the College Football Playoff. The Wolverines (8-4, 5-4) have lost 13 of 14 to Ohio State, including the last three with coach Jim Harbaugh.
Mike Weber sealed it for Ohio State with a 25-yard touchdown run with 1:44 left. Haskins, meanwhile, took full advantage of his chance to play. The redshirt freshman was 6 of 7 for 94 yards and had a 22-yard run that set up J.K. Dobbins' one-yard touchdown gave Ohio State a 21-20 lead late in the third quarter.
No. 7 Georgia 38, at Georgia Tech 7: Sony Michel ran for 85 yards and a touchdown, Jake Fromm threw two touchdown passes and the Bulldogs protected their playoff hopes with a dominant win.
The Bulldogs had 247 yards rushing as Michel, Nick Chubb and D'Andre Swift ran for touchdowns. Fromm threw scoring passes of 21 yards to Javon Wims and 78 yards to Ahkil Crumpton.
The win gives Georgia (11-1) momentum for next week's Southeastern Conference championship game against the winner of Saturday's game between No. 1 Alabama and No. 6 Auburn.
Georgia Tech (5-6), which had won two of the last three games in the state rivalry, was denied the win it needed to become bowl-eligible. The Yellow Jackets now must hope for a bowl waiver based on their academics if there is a shortage of bowl-eligible teams.
No. 10 Penn State 66, at Maryland 3: Trace McSorley threw two touchdown passes and ran for a score to cap an outstanding regular season and carry No. 12 Penn State past Maryland 66-3 on Saturday.
The Nittany Lions (10-2, 7-2 Big Ten, No. 10 CFP) built a 31-0 halftime lead and cruised to their third straight victory. The streak began after successive losses at Ohio State and Michigan State by a combined four points.
McSorley copmpleted 22 of 33 passes for 237 yards and ran seven times for 36 yards. The junior has thrown for 3,228 yards and 26 touchdowns this season and run for 589 yards and 11 TDs.
No. 21 Michigan State 40, at Rutgers 7: Brian Lewerke threw for a touchdown and ran for another as the Spartans held the ball for more than 47 minutes against Rutgers. Redshirt freshman Matt Coghlin kicked a career-best four field goals and Gerald Holmes ran two yards for a touchdown as Michigan State (9-3, 7-2 Big Ten) flipped its overall record from a year ago.
This was a dominant performance by Mark Dantonio's team. Michigan State had the ball for 47:50, had a 431-112 advantage in total yards and limited Scarlet Knights' running game to a season-low 14 yards in sending Rutgers (4-8, 3-6) to its third straight loss. Still, this was a better season for Rutgers coach Chris Ash, who endured a 2-10 overall record and an 0-9 conference record in his first season.
at No. 19 Oklahoma State 58, Kansas 17: Mason Rudolph passed for 438 yards and two touchdowns and ran for two scores in his final home game to lead the Cowboys. James Washington, Dillon Stoner and Marcel Ateman each went over 100 yards receiving for Oklahoma State (9-3, 6-3 Big 12,).
Peyton Bender was 17 of 32 passing for 172 yards and two touchdowns for Kansas (1-11, 0-9), which lost its 45th consecutive road game.
at No. 20 Memphis 70, East Carolina 13: Riley Ferguson threw for three touchdowns and Darrell Henderson scored twice and rushed for 122 yards in the Tigers' tuneup for the American Athletic Conference championship game. Patrick Taylor also scored twice for Memphis, rushing for 127 yards.
The victory provided the Tigers (10-1, 7-1 American Athletic Conference, No. 20 CFP) their first undefeated home season at Liberty Bowl Memorial Stadium since it opened in 1965. Memphis won its sixth straight, the lone loss of the season coming Sept. 30 against No. 13 Central Florida, which the Tigers will face in next Saturday in Orlando, Florida.
Even when the Pirates (3-9, 2-6) were able to reach the end zone — the first time on a 33-yard pass from Gardner Minshew to Jimmy Williams in the third quarter — the ensuing extra point was blocked. And to make things worse, when the Pirates kicked off, Memphis' Tony Pollard returned it 100 yards for his fourth kickoff return for a touchdown this season.
No. 22 Northwestern 42, at Illinois 17: Justin Jackson ran for 144 yards and a touchdown he bowl-bound Wildcats (9-3, 7-2 Big Ten) won their seventh in a row by scoring 42 unanswered points after giving up a first-quarter touchdown to the Illini.
Jackson finished the regular season with 1,154 yards, one of two Big Ten players along with former Wisconsin star Ron Dayne to top 1,000 yards for four straight seasons. Clayton Thorson completed 13 of 21 passes for 140 yards with a touchdown and an interception.
In a quiet stadium where the Illinois band far outnumbered the student section, the Illini (2-10, 0-10) lost their 10th straight and finished winless in the Big Ten for the first time since 2012.
at Fresno State 28, No. 23 Boise State 17: Marcus McMaryion threw for 332 yards and two touchdowns for the Bulldogs in a preview of the Mountain West title game.
West champion Fresno State (9-3, 7-1) and Mountain winner Boise State (9-3, 7-1) had already wrapped up the division titles. They will meet next Saturday in the MWC championship game at a site to be determined.
Florida State 38, at Florida 22: Jacob Pugh and Levonta Taylor turned takeaways into touchdowns and helped the Seminoles beat their in-state rival for the fifth consecutive year.
The Seminoles (5-6) didn't need much against offensively challenged Florida, which ended the season by losing six of its final seven games. The Gators (4-7) actually lost twice Saturday since former Oregon coach Chip Kelly picked UCLA over Florida. The Gators had targeted Kelly to replace Jim McElwain, who was let go last month following a lopsided loss to Georgia.
---