Inglewood Mayor James T. Butts Jr. made a prediction on the eve of the Forum's reopening almost four years ago.
The Madison Square Garden Co. and Executive Chairman James L. Dolan had invested $100 million into transforming the arena into a world-class concert venue. Butts believed the overhauled building, complete with 17,500 red velvet seats, would reestablish the city as a leading entertainment destination after years of struggles with financial problems and crime.
Dolan, the mayor told a slew of cameras at a news conference, would be remembered in Inglewood with "reverence and respect."
The generous words have been replaced by a contentious struggle between the one-time allies over an arena Clippers owner Steve Ballmer wants to build.
Before a single rendering has been made public, the project pitted MSG, a New York-based sports and entertainment giant trying to protect its investment in the Forum, against Inglewood, hoping a new arena will continue the city's sweeping transformation, and Ballmer, a former Microsoft CEO worth more than $33 billion.
"There's a saying about Los Angeles business: what's more important than you succeeding is your competitor failing," said Marc Ganis, founder of SportsCorp, a Chicago-based sports business consulting firm with extensive experience in L.A.
Hours after the Inglewood City Council approved a three-year exclusive negotiating agreement with a Clippers-controlled company in June, MSG issued a two-paragraph statement with unusually blunt language accusing the city of "backroom dealing."
Strongly worded statements followed. Forum employees wearing their uniforms and identification badges held up anti-arena signs during an Inglewood City Council meeting in July. MSG, led by attorneys from the high-powered Latham & Watkins firm, filed a public-records lawsuit and a claim for damages against Inglewood. MSG hired a slew of lobbyists to combat a state senate bill — ultimately unsuccessful — to fast-track the arena. The all-out effort last month included advertisements on a newspaper website — "The Natural Resources Defense Council calls SB 789 'crazy'" — and television spots.
"I am stunned that they would've paid for a misleading television advertisement in an attempt to mislead the public," Butts said of MSG. "I'm disappointed in that because I definitely considered them a community partner. I don't know how to even begin to reconcile that type of behavior with what's in front of us."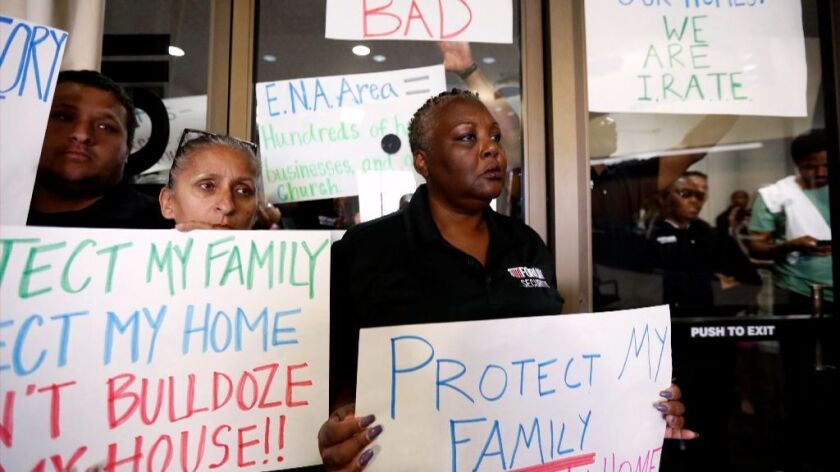 The company also financed two studies questioning the impact of building the arena along West Century Boulevard next to Stan Kroenke's 298-acre mixed-use development that includes a stadium for the Rams and Chargers.
Before the NFL green-lighted Kroenke's project, the Anschutz Entertainment Group financed two studies raising concerns about the stadium's proximity to L.A. International Airport. One, authored by former Homeland Security Secretary Tom Ridge, suggested that terrorists could crash a plane into the stadium or shoot one down nearby, a scenario Ridge called "a terrorist event 'twofer.'"
While that opposition quickly faded — AEG has remained quiet in public about the arena, other than a letter opposing the state senate bill — MSG's dispute is different.
"From the start, the City's conduct has been based on secrecy, dishonesty and backroom dealing," the Forum said in a statement. "That's not the sales pitch Mayor Butts gave us when we considered the Forum acquisition."
In the claim for damages, usually a precursor to a lawsuit, the company alleged that Butts this year duped it into ending a lease to use vacant city-owned land for overflow parking in order to develop a technology park. The parcels of land used for parking are the same ones under consideration for the arena.
"Had the Forum known of the City's true intentions, it never would have entered into the Lease Termination Agreement," the claim for damages said.
MSG also alleged that an arena would violate its development agreement with Inglewood, undercut its place in the market and "materially financially impact the operations, competitiveness and financial position of the Forum." In other words, MSG believes the deal protects it against the construction of a competing arena less than a mile away. It feels as if its investment is under attack.
Irving Azoff, who worked with MSG on the Forum renovation and remains closely involved with the venue, received a call from Butts just after 2 a.m. in New York on June 14 telling him the arena project would be announced in the next day or two. The call woke Azoff.
Arena backers and MSG representatives then met to discuss a possible compromise, but nothing came of it.
Meanwhile, the contention hasn't let up. While other groups such as Uplift Inglewood, a grassroots community organization that says it has no ties to MSG, have questioned the project or the state senate bill, the company has remained its foremost opponent.
Chris Meany, development manager for both Kroenke's stadium complex and the proposed arena, underlined the group's promise to complete a full environmental review.
"The L.A. Clippers have always said the team would engage with the residents of Inglewood in an open and transparent public process," Meany said in a statement.
Ganis sees only one likely outcome to the dispute.
"Steve Ballmer is in the strongest position by far," he said. "He has the resources to wait it out. He's got a facility in Staples Center he can continue to play at [through the end of the Clippers' lease in 2024] and he can bleed Dolan dry financially and take it out of petty cash, if he so chose."
Butts insists he doesn't view the relationship with MSG as damaged. He insists the parties will reconcile even as he says the arena negotiations are moving forward.
"I don't act like this is the end of the world," Butts said. "This is business right now."
At the event before the Forum's reopening, Dolan and Azoff joined Butts on stage. Everyone grinned. The two executives presented the mayor with a framed poster. It read: "Thank you, City of Inglewood."
Twitter: @nathanfenno
---