LaVar Ball doesn't care what NCAA has to say about shoe deal of son LaMelo, a UCLA recruit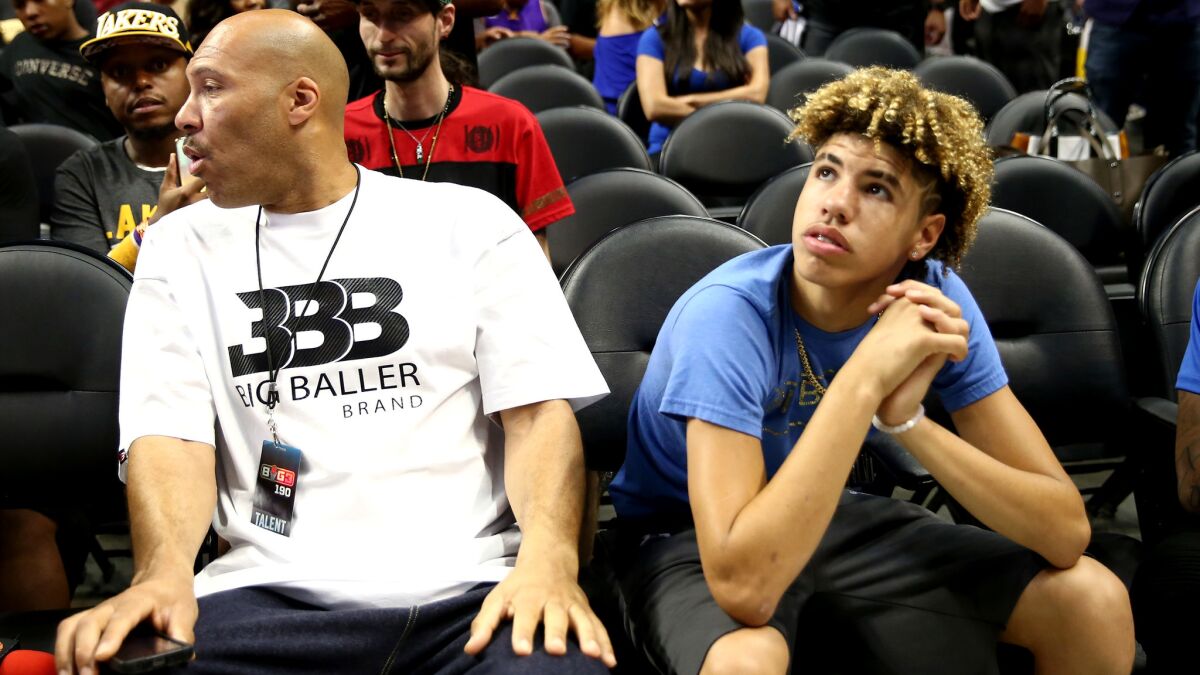 LaMelo Ball drove his shiny new Lamborghini down a closed off road at the Chino Airport, past the taco truck that sat next to a burger truck, into the event space for his 16th birthday party.
The Chino Hills High basketball star was joined by his father, mother and brothers LiAngelo, who is set to play at UCLA, and Lonzo, the Lakers point guard who was taken second overall in this summer's NBA draft.
LaMelo asked for a Lamborghini someday when he was 13 years old. But his dad has much bigger plans for his youngest son than just the glitzy car.
Last week, their family's Big Baller Brand, unveiled the MB1, which was available Thursday for pre-order at a price of $395. LaVar, the family patriarch, wanted to do something that had never been done before. The move, having a signature shoe for a high school junior, raised eyebrows and the specter of whether LaMelo, who is committed to UCLA, would lose his eligibility for college.
And if they have to choose between LaMelo playing in college or having his own shoe?
"He's going to have a shoe," LaVar said. "NCAA ain't going to tell me [anything]. Because they're not my boss. That's what they do, but they're not going to be like, 'Oh, LaVar, you can't bring that shoe out until we tell you.' What? Something that I'm doing for my family? That's mine? I'm not under no umbrella."
LaMelo said he's focused on high school before worrying about his college eligibility.
"I've still got two years left, so I'll worry about that when it gets there," he said.
When LaVar's oldest son, Lonzo, declared for the draft, LaVar said shoe companies should offer his kids a $10-billion contract over 10 years. None did, and the Ball family ventured into uncharted territory, creating their own brand and releasing high-end sneakers through it.
Lonzo's signature sneaker, the ZO2, debuted at $495. He wore them at Las Vegas Summer League, but also wore a pair of Kobe ADs (Nike), a pair of James Harden's shoe (Adidas) and a pair of Steph Curry's shoe (Under Armor). He was asked during the tournament if he was trying to start a bidding war, and replied affirmatively. On Saturday, LaVar said they weren't interested in a bidding war.
"I gave them a chance," LaVar said. "…I was going to cobrand with them. Now I'm like, 'You know what? We don't gotta cobrand no more. … But I tell you what, they're going to look back in five or 10 years and say we should have gave that man a billion dollars and we wouldn't be where we're at now."
LaVar hopes that by changing LaMelo's path he will help create a new one for more athletes to follow in the future, eschewing big-money endorsement deals to create their own brands.
"Now he's a junior with a signature shoe in high school," he said. "You got LeBron, you got Kobe, none of them could do that. It's going to be, it's history changing. Everything we're doing changes history."
Whether or not the shoe will impact LaMelo's eligibility for college is still uncertain. According to the NCAA bylaws, it could be possible for LaMelo to retain his eligibility if he withdraws permission for Big Baller Brand to use his image.
If it isn't, if LaMelo can't play at UCLA in two years, LaVar says he won't send his son overseas. He'll train him himself.
"Everybody else got to go [overseas] because you've got to make some money," LaVar said. "We [don't] need to make money, we ain't got to go nowhere. All we got to do is train. … I'm not going to make it a big deal where I'm like, Melo definitely has to go to college in order for him to succeed. You just gotta be ready to play and do your job."
Get our high school sports newsletter
Prep Rally is devoted to the SoCal high school sports experience, bringing you scores, stories and a behind-the-scenes look at what makes prep sports so popular.
You may occasionally receive promotional content from the Los Angeles Times.