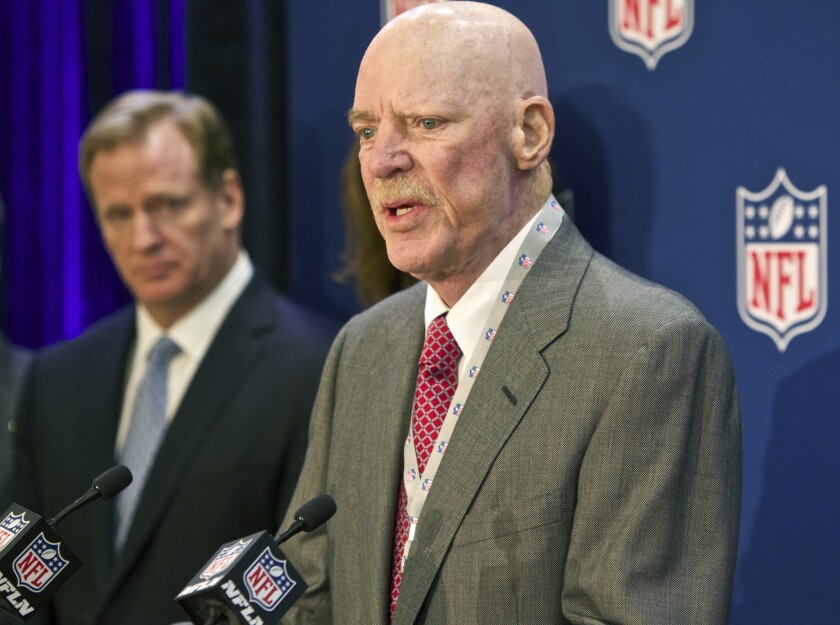 Houston Texans owner Bob McNair issued an apology Friday for using the phrase "We can't have the inmates running the prison" in relation to NFL players protesting during the national anthem.
McNair was quoted in ESPN the Magazine as making the comment during a recent meeting of NFL owners and executives to discuss the league's anthem controversy. According to the article by Seth Wickersham and Don Van Natta Jr., "that statement stunned some in the room."
Troy Vincent, a former player and the NFL's current executive vice president of football operations, stood up at the meeting and said he was offended by the characterization of players as inmates, Wickersham and Van Natta reported. They added that McNair later took Vincent aside and apologized, saying he didn't mean the words literally.
McNair expressed the same sentiment in his statement on Friday.
"I regret that I used that expression," he stated. "I never meant to offend anyone and I was not referring to our players. I used a figure of speech that was never intended to be taken literally. I would never characterize our players or our league that way and I apologize to anyone who was offended by it."
President Trump has criticized NFL players this season for kneeling during the national anthem and has called for owners to fire players who protest in such a manner. McNair donated millions of dollars to Trump's presidential campaign.
Many NFL players, both current and former, are unhappy with McNair's comment, even after his apology, and expressed their displeasure on social media.
I can appreciate ppl being candid. Don't apologize! You meant what you said. Showing true colors allows ppl to see you for who you are.

— Richard Sherman (@RSherman_25) October 27, 2017
I wish more ppl would do that. So the world could ostracize those who don't want to see EQUALITY. Otherwise they will continue to hide

— Richard Sherman (@RSherman_25) October 27, 2017
That's how they really feel...

— Cecil Shorts III (@CecilShortsIII) October 27, 2017
I understand it's a saying but it's how he used it But I wouldn't expect you to understand our lives and experiences differ, but thxs 🙏🏽 https://t.co/kd1QpfPQM1

— Cecil Shorts III (@CecilShortsIII) October 27, 2017
Nahhh Bob McNair didn't say that...nah y'all tripping. He couldn't have. Nope he didn't. Did that wake some of y'all up now?

— Damon Harrison Sr. (@snacks) October 27, 2017
Twitter: @chewkiii
ALSO
Mike Ditka apologizes for saying there has been no oppression in the last 100 years
Roger Goodell to NFL teams: 'We believe that everyone should stand for the National Anthem'
Despite what Trump thinks, the NFL isn't requiring players to stand for the national anthem. At least, not yet
---