Kings not rushing to use new salary cap space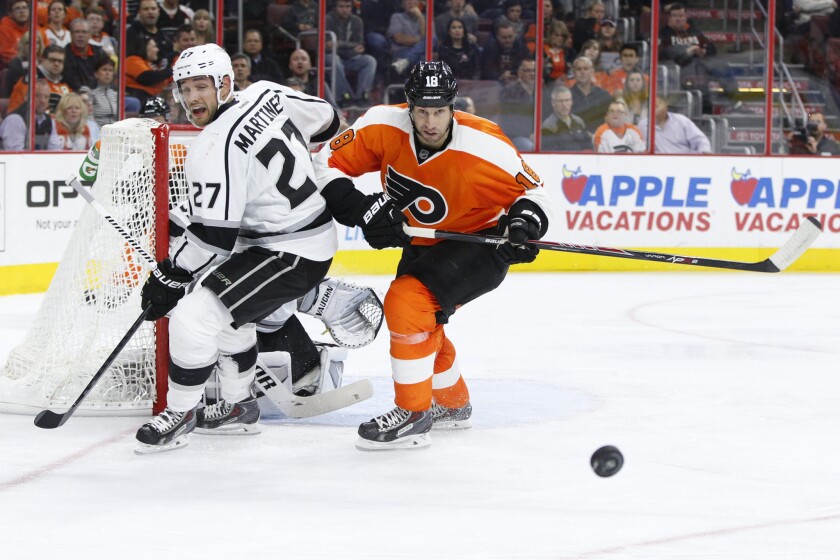 Reporting from Nashville —
Greetings from Nashville, where the Predators and Kings held their respective morning skates in preparation for their game Tuesday night at Bridgestone Arena.
Martin Jones was the first Kings goaltender off the ice, and you know what that means: He's scheduled to start. Defenseman Alec Martinez (finger surgery) skated with the main group but stayed on the ice for quite a while after most players had left, meaning he's not likely to play. That's in keeping with the projected timetable for him to return on Saturday when the Kings face the Chicago Blackhawks at Staples Center.
Because Martinez appears close to returning, the Kings haven't called up a defenseman from the American Hockey League or otherwise used the salary cap space they gained when suspended defenseman Slava Voynov was placed on the long-term injured list. Nor have they traded for a defenseman.
General Manager Dean Lombardi, who is in Nashville after meetings with the club's Eastern scouts, explained his thought processes.
"I think we're OK right now in terms of numbers," he said. "The other thing, it's not just we're going to go out and blow the cap space to blow it. It still has to be the right guy."
"There's two different issues. Do we need to call anybody up from the minors, whether it's [Jeff] Schultz or [Andrew] Bodnarchuk? I don't think we need to do that now. Secondly, as far as the idea of replacing Voynov, it's not like you get the cap space and there's something there right away. Let's get real. Finding top-four defensemen, they're not available. Because a lot of times to be able to do that you'd better have a guy to replace him because top-four guys are so important to each other's teams.
"Again, we're 20 games in and who can make that type of arrangement? I don't see it. But you never know."
However, he said the NHL and NHL Players' Association's agreement to let Voynov be classified as long-term injured gave the Kings some flexibility. The Kings are still paying Voynov, but his $4.167 million in salary-cap space has been freed up.
"The only thing this has done is that at least now it gives us the clarity of what we can do," Lombardi said. "I think the most frustrating thing for the past month was not only did you have what was going to happen to Slava drag on, but obviously the cap issue. But at least we got clarity on that."
There are two pitfalls the Kings would face if they trade for someone to fill Voynov's spot. First, they'd have to plan for what they'd do if he is allowed to return and they'd have to get back under the cap limit. Also, if they acquire another player they'd still want to leave a cushion for the bonuses they potentially would have to pay Tyler Toffoli and Tanner Pearson, who are both on entry-level contracts. Any amount the Kings go over the salary cap as the result of paying bonuses this season would result in their salary cap limit being reduced by that same amount next season.
Toffoli and Pearson have games-played bonuses in their respective contracts.
Asked about the team's performance over the first quarter of the season, Lombardi said he's inclined to let players police themselves and work back to a level where they're consistently playing well.
"I met with some of them and we talked about this the last time. I think there is a different dynamic in terms of coming off the second one," he said, referring to the Kings' second Stanley Cup championship in three seasons.
"There's a number of things you can throw out there that only they can figure out. What you think, what I think, what the coach thinks — in the end it doesn't matter. The one thing about this group is they've proven they know how to win. In the end they're going to have to figure out this challenge themselves. All Darryl [Sutter] and I can do is give them suggestions why they're not collectively playing at the level we know we're capable of. And it's been over a fairly long stretch. That's the other thing that's a little different."
---
Get our high school sports newsletter
Prep Rally is devoted to the SoCal high school sports experience, bringing you scores, stories and a behind-the-scenes look at what makes prep sports so popular.
You may occasionally receive promotional content from the Los Angeles Times.