Carlos Vela happy — but lonely — as LAFC's first designated player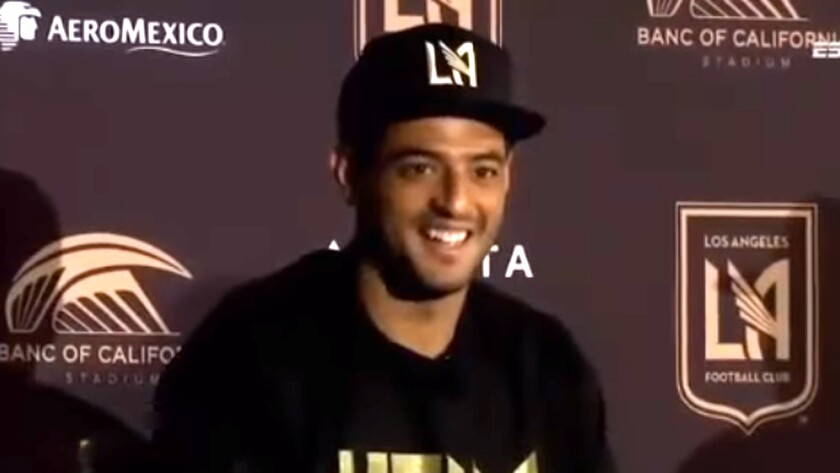 The Los Angeles Football Club introduced its first designated player Friday morning during a raucous event at the California Science Center in Exposition Park. But when co-owner Will Ferrell was asked to present forward Carlos Vela with his team jersey, the comedian approached the stage empty-handed.
That's because the expansion team, which won't play its first MLS game for seven months, doesn't have a uniform yet. Nor does it have a completed stadium for Vela to play or teammates for him to play with.
"It's OK," said Vela, a Mexican national team star who has spent the last six seasons with Spanish club Real Sociedad. "I can play alone if you want.
"I am the first. I don't know if that's good or bad, but I'm the first. I feel like they're building the team around me."
They are. And that's not necessarily a bad thing. For starters, you get your pick of numbers. (Vela is leaning toward the iconic No. 10.) Plus, as John Thorrington, LAFC's vice president for soccer operations said Friday, Vela's style will dictate the way LAFC plays rather than the other way around.
"I'm at a good age," Vela, 28, said in explaining the move from Europe. "This is a good opportunity. I feel important and I want to make history with this club."
He had rebuffed offers from MLS teams for years. But, he joked, when he heard a second franchise was being launched in Los Angeles, he dreamed about playing there.
"I called my agent and said 'I want to go there'," said Vela, who scored his first international goal in the Coliseum, just a couple of hundred yards from where Friday's introductory press conference was held. "That's in my dreams, of course. Then when [they called] I said 'of course I want to go.' And now I'm here.
"So my dream's coming true."
Vela is the second Mexican national team player, after the Galaxy's Jonathan dos Santos, to leave Spain for MLS in the last three weeks. The pair followed Jonathan's brother Giovani, who joined the Galaxy in 2015. All three moves have drawn fire in Mexico, where critics say the level of competition in the U.S. won't prepare the players for next summer's World Cup.
Vela, who said he received rave reviews about MLS from Giovani, fired back at those critics Friday.
"It's my life. And I think it's the best moment to come here," said Vela, who scored 65 goals in 204 games for Real Sociedad and 17 in 58 games with the national team. "They don't know about all the time I spent in Europe, the difficult years I spent there. They don't know my life.
"I want to be the best in the league. So I have to work hard."
Early in his career Vela had a reputation for being angry and undisciplined. Two months after the 2010 World Cup, he and a teammate were suspended from the national team for six months and fined following a wild party at a hotel in Monterrey. (Giovani dos Santos and 10 others were also fined over the incident.)
After that, Vela repeatedly declined call-ups to El Tri, although he returned in time for the 2015 Gold Cup, which Mexico won.
In the last two years, however, Vela has matured, a process no doubt helped by the birth of his first son nine months ago. On Friday, Vela smiled and glad-handed his way through more than a dozen interviews, politely answering the same questions over and over again in both Spanish and English.
Vela, who will play for Real Sociedad until LAFC opens its first training camp in January, conceded family played a big part in his move. Although he said his Spanish-born girlfriend will be leaving her family for the first time, the move to Los Angeles will bring Vela closer to his.
"Now I feel like my family can come and see my kid," he said. "That's important to me. My family's close."
Follow Kevin Baxter on Twitter @kbaxter11
---
Get the latest on L.A.'s teams in the daily Sports Report newsletter.
You may occasionally receive promotional content from the Los Angeles Times.