Giannis Antetokounmpo, Bucks sweep Heat; Trail Blazers, 76ers and Jazz also win
Turns out there was a reason the Milwaukee Bucks weren't worried about a playoff rematch with the Miami Heat in Round 1 this year.
The last four games proved why.
Brook Lopez scored 25 points, Giannis Antetokounmpo had a triple-double — 20 points, 12 rebounds and 15 assists — and the Bucks became the first team to advance in this year's playoffs, beating the host Heat 120-103 on Saturday and finishing off a four-game first-round sweep over last season's Eastern Conference champions.
"Obviously, it's a great moment for us and winning 4-0, beating the team that beat us last year, feels good," Antetokounmpo said. "But at the end of the day, we've got a long way to go."
Bryn Forbes scored 22 points, Khris Middleton had 20, Bobby Portis 13 and Jrue Holiday 11 for Milwaukee, which outscored Miami by 24 in the second half.
Mark Eaton, the 7-foot-4 shot-blocking king who was twice the NBA's defensive player of the year for the Utah Jazz, has died at 64.
Bam Adebayo scored 20 points and grabbed 14 rebounds for the Heat, who got 18 points from Kendrick Nunn, 14 from Tyler Herro, 13 from Goran Dragic and a triple-double — 12 points, 10 rebounds, 10 assists — from Jimmy Butler.
Miami became the second team in this playoff format to go from sweeping in the first round one year to being swept in the first round the next. The only other team to endure that: the then-New Jersey Nets, who swept New York in 2004 and lost 4-0 to Miami in 2005.
"We tip our hat to the Bucks' organization," Heat coach Erik Spoelstra said. "They were a great team last year, and they improved on that. Whether we were a part of that improvement or not, it's irrelevant. They took their game collectively to another level. They beat us for a reason."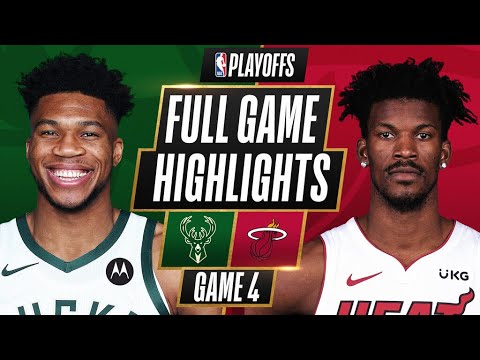 Highlights from the Milwaukee Bucks' Game 4 win over the Miami Heat on Saturday.
Once Milwaukee grabbed the first three games, history said the result was inevitable. NBA teams with 3-0 series leads are now 141-0 all time in those matchups, with these Bucks becoming the 88th of those teams to finish off matters with a sweep.
Their reward: a week off, at least.
The third-seeded Bucks won't play again until at least next Saturday. Their East semifinals series against either second-seeded Brooklyn or seventh-seeded Boston will start June 5 if the Nets advance in five games; in any other scenario, the Bucks will next play June 7.
Trail Blazers 115, Nuggets 95
Norman Powell matched his career playoff high with 29 points, and host Portland beat Denver in Game 4 to even the Western Conference first-round series.
Powell, who played at UCLA, made four three-pointers and was 11 for 15 from the field, and CJ McCollum added 21 points for the sixth-seeded Trail Blazers.
Game 5 is Tuesday night in Denver.
"I love these types of games, these kinds of moments. It's the moment where nothing else matters," Powell said. "You get caught up in the course of the season with stats sometimes — this, that and the other, road trips — but when you get into the playoffs, the only thing that matters is winning."
When Powell left the floor with the game well in hand, fans chanted, "Nor-man Pow-ell! Nor-man Pow-ell!"
"I thought it was really dope," he said. "At first, I didn't know what they were saying when I was sitting there, and then the guys on the bench were chanting as well, so that got a little smile out of me."
Anthony Davis and Kentavious Caldwell-Pope are questionable for the Lakers-Suns Game 4 on Sunday, but Davis said Saturday "there's no chance that I don't play tomorrow."
Nikola Jokic finished with 16 points and nine rebounds for the third-seeded Nuggets before sitting out the final quarter. He was Denver's top scorer.
Portland star Damian Lillard was one for 10 from the field but finished with 10 points, 10 assists and eight rebounds. He also sat for the final quarter after the Trail Blazers led by 33 points in the third.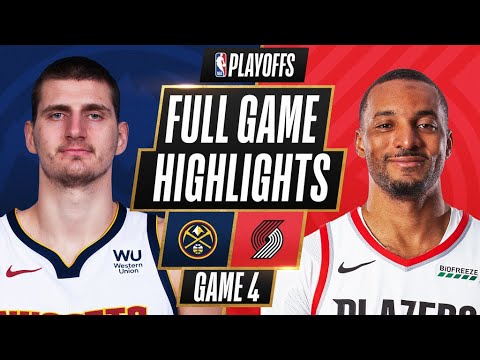 Highlights from the Portland Trail Blazers' 115-95 win over the Denver Nuggets on Saturday in Game 4.
The Nuggets downed the Blazers 120-115 at Moda Center on Thursday night. In that game, Denver made 20 three-pointers and got a boost from four straight threes from Austin Rivers during a key stretch in the fourth quarter. On Saturday, Rivers had eight points.
It was imperative for Portland that big man Jusuf Nurkic — probably the Trail Blazers' best defender against Jokic — stay out of trouble after fouling out in the previous two games. Portland's bench, with the exception of Carmelo Anthony, had also been struggling, outscored 24-19 by Denver in Game 3.
Nurkic finished with 17 points, and Anthony had 12.
76ers 132, Wizards 103
The "M-V-P!" chants came not from the home crowd saluting Bradley Beal but from rival Philadelphia fans for Joel Embiid, who put on another valuable performance to push Washington to the brink of elimination.
Embiid set a career playoff high with 36 points, and the 76ers routed the Wizards to take a 3-0 lead in the Eastern Conference first-round series.
Embiid scored 25 points in the first half and finished 14 for 18 from the field in 28 minutes before resting the entire fourth quarter. Top-seeded Philadelphia will go for the sweep in Game 4 on Monday.
His signature moment of this victory came seconds after he missed a monster dunk, going back down the floor and connecting on his next attempt while drawing a foul. Embiid then cupped his hands to his ears to encourage the crowd of more than 10,000, which was the largest to attend an indoor sporting event in the nation's capital in 14 months.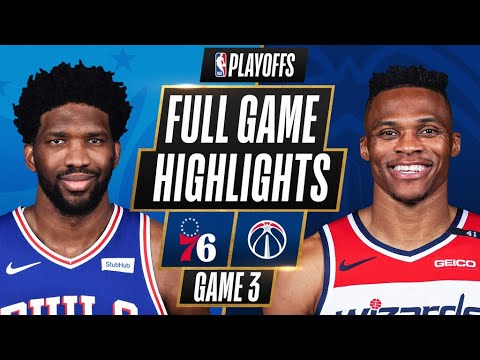 Highlights from the Philadelphia 76ers' 132-103 win over the Washington Wizards in Game 3 on Saturday night.
The reaction was mixed then and throughout as the 76ers kept the Wizards at arm's length before pulling away. Beyond seven minutes in, it was never closer than four points, and Philadelphia led by 31 on the way to the franchise's first 3-0 series lead since 1985.
"I can't imagine anybody playing better than him," Wizards coach Scott Brooks said of Embiid. "That was MVP level tonight. He's definitely a handful."
The 76ers took advantage of the Wizards' biggest stars nursing injuries, though they still produced. Russell Westbrook had 26 points, 12 rebounds and 10 assists for the triple-double after being a game-time decision with a sprained right ankle, and Beal had 25 as he continues to get back to full health from a strained left hamstring.
Ben Simmons scored 14 and had nine assists, but Philadelphia was far from a two-man show. Tobias Harris had 20 points, 13 rebounds and five assists, and Danny Green made five three-pointers to finish with 15 points.
Facing a 19-point deficit early in Game 3 when trailing 0-2 in playoff series, the Clippers get defensive and rediscover their identity to beat Dallas.
The 76ers shot 58.6% from the field, including 51.5% from three-point range.
"When you shoot the ball that well, you're going to win a lot of games," coach Doc Rivers said. "We had one of those nights where everything fell for us."
Jazz 121, Grizzlies 111
Donovan Mitchell scored 10 of his 29 points in the fourth quarter, and top-seeded Utah beat host Memphis to take a 2-1 lead in the Western Conference first-round series.
Jazz guard Mike Conley, in Memphis where he started his career, matched his regular-season and playoff career highs with seven three-pointers and finished with 27 points.
Rudy Gobert had 15 points and 14 rebounds, Bojan Bogdanovic and Jordan Clarkson added 15 points apiece, and Royce O'Neale had 12.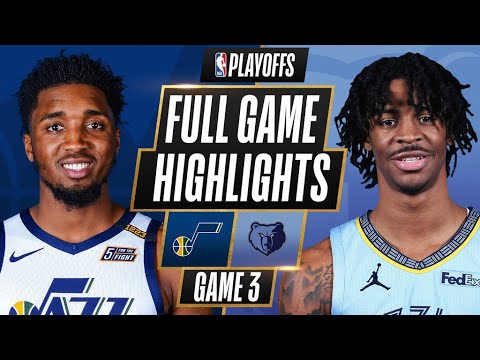 Highlights from the Utah Jazz's Game 3 victory over the host Memphis Grizzlies on Saturday night.
Game 4 is Monday night in Memphis.
Ja Morant led the Grizzlies with 28 points, and Dillon Brooks had 27 before fouling out. Grayson Allen added 17 off the bench, hitting five threes. Kyle Anderson had 11 points and 13 rebounds, and Jonas Valanciunas had 10 points and 13 rebounds.
Get our high school sports newsletter
Prep Rally is devoted to the SoCal high school sports experience, bringing you scores, stories and a behind-the-scenes look at what makes prep sports so popular.
You may occasionally receive promotional content from the Los Angeles Times.