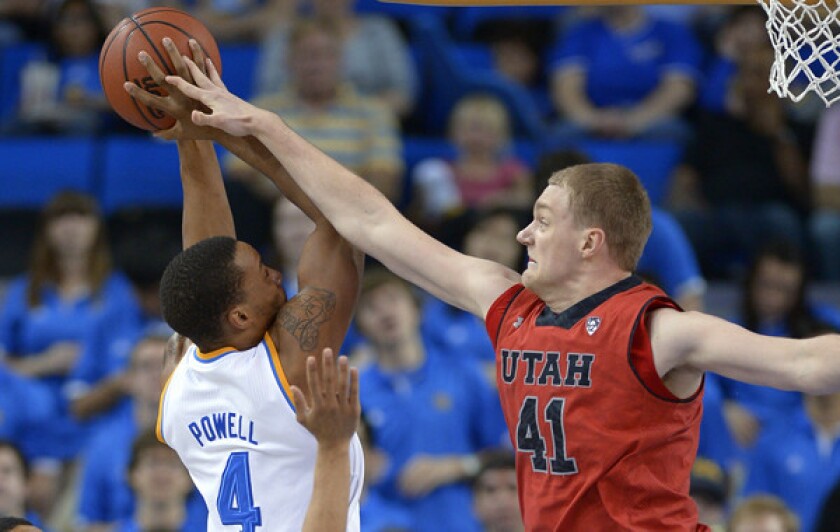 UCLA assistant coach Duane Broussard calls it an "Etch A Sketch" mindset. Jordan Adams shakes blank all memories from previous games.
Asked Saturday about shooting 39% in Pac-12 Conference play, Adams shrugged and said, "I just put it behind me."
He might want to keep the tape this time.
Adams, the team's leading scorer, had 24 points in the Bruins' 80-66 victory over Utah in Pauley Pavilion. He made 10 of 14 shots, as the Bruins (20-5 overall, 9-3 in Pac-12 play) used another scorched-earth second half to get tantalizingly close to first place.
Kyle Anderson had 16 points, 10 rebounds and five assists. Norman Powell had 13 points. The defense did the rest. Utah (17-8, 6-7), a 50% shooting team, shot 41% from the field.
All of which allows the Bruins to call the Pac-12 a race. For nearly two months, it was close to a victory lap for second-ranked Arizona.
But the Wildcats' loss to Arizona State on Friday left an opening. The Bruins are one game out of first place.
"You start the season trying to win the championship," Coach Steve Alford said. "We're one game back in that chase. The guys know that. We don't harp on it."
The Pac-12's unbalanced schedule doesn't give the Bruins another crack at the Wildcats, who beat them in Pauley Pavilion this season. But neither did UCLA have a second chance at Oregon a year ago, yet still leapfrogged the Ducks.
That got done on the road, and has to again.
UCLA had a 6-3 conference road record last season. Arizona, California and Oregon were 5-4 each on the road and finished one game back.
The Bruins and Wildcats each play four of their last six games away from home.
"Road wins will put us where we want to be in the chase that starts in March," Powell said.
But Powell said, "We're one game behind Arizona. We don't want to fall two or three games behind. Stay focused on the next team."
That would be California on Wednesday night. The Bruins have lost three consecutive games in Berkeley and were routed on their last two visits to Haas Pavilion.
"It's a crazy environment," Powell said. "Their students get into it."
It's hard to say what UCLA students get into. Few bothered to show up for Saturday's game. What they missed was a get-out-of-my-funk performance by Adams, who had labored throughout conference play.
"You didn't hear teammates talking, 'Jordan is not making shots.' " Alford said. "It was, 'Let's try to find Jordan better shots.' That's a good environment, especially if you're Jordan."
It wasn't too bad for his teammates Saturday.
"It's so easy to find him because he cuts so well," Anderson said. "It also gets the defense to cheat over and that frees up a lot of other guys."
Adams stood out in a meat-and-potatoes first half.
The Bruins went scoreless for nearly 3 minutes 55 seconds at one point. It caused no damage, as the Utes were blanked for 2:26 of that stretch. Adams made two three-point baskets to get UCLA a 33-31 halftime lead.
UCLA scored the first 12 points of the second half. It was the third consecutive game in which they have buried an opponent after halftime. Adams made five of six shots in the second half. His jumper gave the Bruins a 58-42 lead with 10:00 left.
"Everyone plays me differently, so I try figure it out and adjust," Adams said.
Alford said the adjustment was pace. Adams "didn't hurry," he said.
"He got into a good rhythm today," Alford said.
Not that Adams will remember that tomorrow.
Twitter: @cfosterlatimes
---