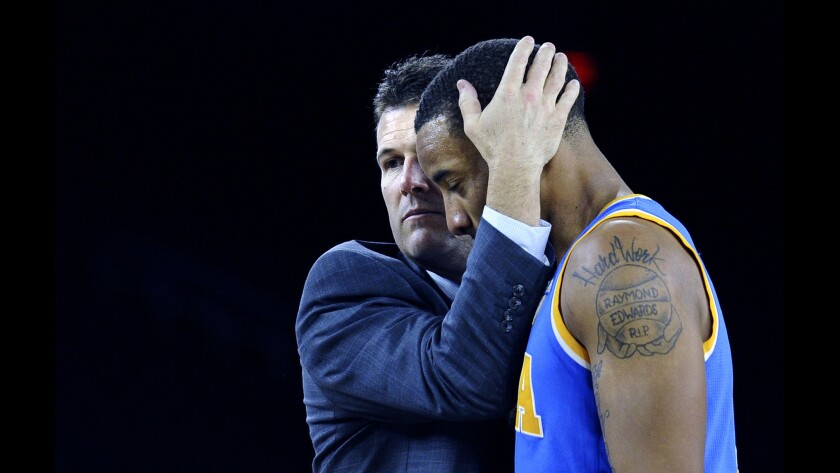 Reporting from Houston —
Exactly 38 minutes had passed since UCLA's season ended, and Norman Powell sat at a locker, not yet ready to take off the uniform he had worn for four years.
"It's my last year ever wearing these four letters across my chest," he had said moments before, so as teammates around him changed into street clothes, Powell lingered. Soon, he was the only player left in uniform. He sat and stared.
Forty minutes earlier, with less than a minute left in UCLA's 74-62 loss to Gonzaga in the first South Regional semifinal game, Coach Steve Alford took Powell out of the game, embraced him and whispered in his ear. Powell sat on the bench and thought back on his career. Tears welled until he put a towel over his head.
Until Friday, it had been a charmed NCAA tournament for the Bruins. Few expected them to make the tournament at all, and even fewer expected a run into the tournament's second week. It ended there after a hopeless shooting effort.
Neither team struck a rhythm outside. UCLA shot 38.8% from the field. Gonzaga, one of the best shooting teams in the nation, shot 40.3%.
Powell was the only UCLA player who stayed sharp. He scored 16 points and collected five rebounds, and early on, when the Bruins couldn't put the ball in, he kept them in the game.
"That's just my mentality," Powell said. "Stay in attack mode."
None of his teammates, though, played as well as they had in the first two tournament games. Tony Parker had 16 points and 11 rebounds, but he had trouble guarding Gonzaga center Przemek Karnowski. Bryce Alford made only three of 11 shots and scored eight points. Isaac Hamilton had 11 points. Kevon Looney had nine points and eight rebounds.
"We came out flat," Looney said. "Our pace on offense wasn't good."
At one point in the first half, after a particularly bad offensive stretch, Steve Alford called a timeout. He turned to an assistant.
"Our offense sucks," he said.
It was a fair assessment, though Gonzaga was not much better.
For a span of 6 minutes 29 seconds in the first half, neither team made a field goal. They missed 19 tries in a row. Only six games since 2009 have had more consecutive misses, according to kenpom.com.
Powell broke the streak.
Gonzaga led by seven at the half, and after the break UCLA scored six in a row. Somehow, the lead was just one.
Gonzaga Coach Mark Few called timeout.
Gonzaga made a tactical switch. Its versatile offense pivoted its focus inside.
After the timeout, the Bulldogs started pounding the ball down low and scored the next 12 points. UCLA never threatened again.
Karnowski scored 18 points on eight-for-11 shooting, with nine rebounds. Forward Domantas Sabonis made six of nine for 12 points. Both teams scored 42 points in the paint, and Gonzaga outrebounded UCLA, 50-39.
With less than 10 minutes to go, Gonzaga stretched the lead to 14. Bryce Alford had a fastbreak layup. He missed. His shoulders slumped.
"I don't remember the last time I did that," he said.
A few possessions later, Hamilton missed the rim on two layups.
"It was one of those nights," Looney said.
In 2006, in the same round of the tournament, Gonzaga famously squandered a 17-point lead to UCLA. Afterward, Adam Morrison was left in tears on the floor.
This time, Gonzaga led by as many as 19 points, and there would be no comeback.
In the locker room, Bryce Alford's eyes were red and puffy. Steve Alford told the players he was proud of what they had accomplished. Powell said UCLA had exceeded expectations.
"I think we proved that we're a good team and that we should've been here," Powell said. "Despite what everybody's saying, this is a team that should've been here."
Powell was whisked to a news conference. When he returned, he reflected on his final season, a special one, he said, because the team felt like it was his.
"I've always been the afterthought," he said.
Next, he said, he will take a few days and begin preparation for the NBA draft. But for now, he soaked in some final seconds with UCLA.
Finally, it was time, so he rose and, right before he changed out of his jersey for the final time, a little smile crept across his face.
---