As a go-to UCLA receiver, Jordan Payton is open for business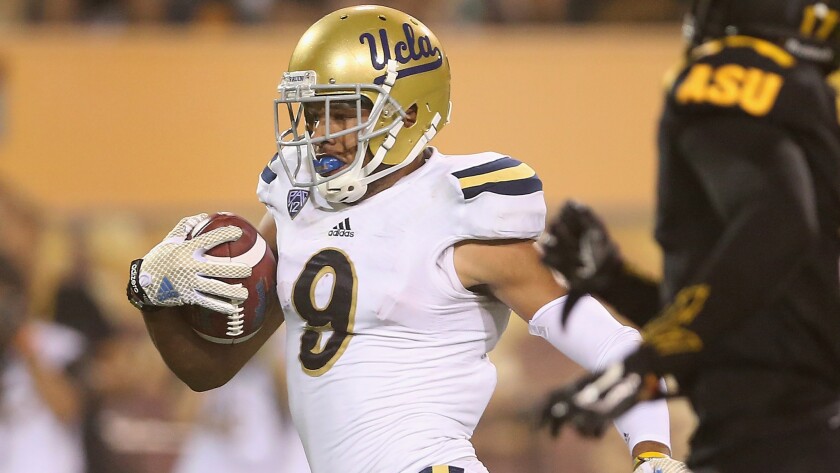 UCLA's Jordan Payton has always been a receiver.
Just ask his mom.
Kathy Payton made that clear in Las Vegas years ago. Her son was an 8-year-old playing for a Pop Warner team, or rather he was watching from the sideline as a backup lineman.
"We were losing the game and I knew Jordan could catch," Kathy Payton said. "I went down at halftime and asked the coach, 'Why don't you put Jordan in? Throw Jordan the ball.' He brushed me off a little. I told him again, 'He can really catch the ball. Give him a chance.'"
Payton was sent in as a receiver with his team losing badly in the second half. He caught a long touchdown pass between two defenders on his first play.
"I credit my mom," Payton said.
Now opposing Pac-12 defensive coordinators, cornerbacks and fans know where to address their complaints.
Payton has become a prominent receiver on a national level, ranking 17th with an average of 104.3 yards per game this season. His 80-yard touchdown reception in a 62-27 victory over Arizona State on Thursday was another for the highlight bin.
But as difficult as Payton is to cover, he is even more difficult to define,
He has a dry sense of humor delivered with a stoic expression, creating a personality that quarterback Brett Hundley describes as unique.
Payton locks in, laser-like, on football preparation, but can walk off the field and into another life — he and two friends started their own clothing line as high school seniors.
He said he stores up his anger to release on game day, but when asked what he's angry about, he grinned and said, "I'm one of the happiest guys around."
Best just to stick to calling him a receiver, just not a "possession" receiver.
"I hear that and I hear 'slow,'" the 6-foot-1, 215-pound junior said. "I get frustrated when they try to label you. I try to prove that wrong every game."
Which seems to be the root of that stored-up anger.
"Now you're starting to figure it out," Payton said, again smiling.
It takes time to pull back the layers that make up Payton.
The first impression shows a strong, quick receiver, who runs pass patterns as if he had a global positioning device installed. He leads the team this season with 24 receptions for 417 yards and three touchdowns.
"He's a hassle," UCLA defensive back Ishmael Adams said. "It doesn't matter how close you are, how much you hold him or anything like that, he's going to find a way to catch the ball."
Arizona State got a dose of that to start the second half. Payton was held by a defender early in his route yet kept going. Hundley found him alone down the sideline.
"A lot of receivers would have just stopped and held up their hands and shouted, 'Hey, he held me,'" Coach Jim Mora said. "Not Jordan. Rather than an overthrown ball and a first down, we got a touchdown."
Said Payton, "What, I'm going to let a guy hold me down?"
Rhetorical questions are a Payton staple.
His way of looking at things "is just hard to explain," Hundley said. "He's funny. He's a character. He's a little different." But, Hundley added, "He is consistent. He is going to find a way to get open."
Yet beyond this scouting report lurks a much more developed person.
"He's got a lot of integrity," Mora said. "He's not a rah-rah, yes-sir guy. He's just dependable."
Mora taps into that trait, pairing Payton up with top recruits on official visits. Good move, Kathy Payton said. After all, Payton talked her into sending him to UCLA.
"They came in at the last moment because Coach Mora had just been hired," she said. "We were ready to go to Washington. Jordan started saying, 'I have to go to UCLA. Coach Mora is the best.' He hadn't even made a visit. I gave in. He can talk anybody into something."
That determination has opened doors. Kathy Payton said her son and two friends founded Long Awaited Clothing while in high school because "they were just tired of buying other everybody else's clothes."
Sterling Root and Charles DuPont, the other founders, are handling things while Payton plays college football — he can't promote a business, under NCAA rules.
"Jordan is one of those guys who has football, but when football is over he is doing his own thing," Kathy said.
But when it is time for football, Payton is all in. He had a football in his hand when he was 3. He played catch with his brother, Michael, who played at Oregon State in 2000. He has been refined by UCLA receiver coach Eric Yarber, who coached Michael at OSU.
The work seems complete. His routes are clean. His hands are glue-like. His size allows him to batter defenders as much as they batter him.
It seems to make Payton a perfect … uh … possession receiver.
Payton laughed at the label and said, "You put me on film and I'm not going to blow you out of the water. But when you play me, you have to respect that I'm going to go by you."
Because he's a receiver.
Just ask his mom.
---
Get the latest on L.A.'s teams in the daily Sports Report newsletter.
You may occasionally receive promotional content from the Los Angeles Times.