USC earns third straight win over UCLA, 95-71, in Pac-12 tournament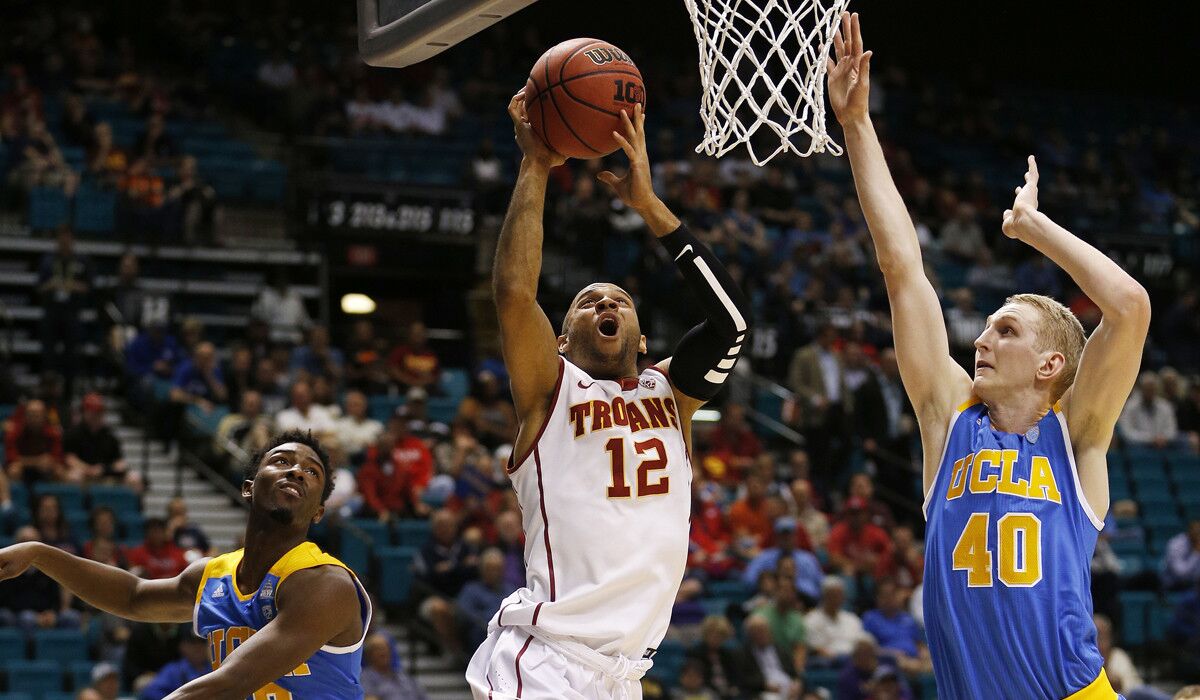 Reporting From LAS VEGAS —
Officially, the game, UCLA's season and probably USC's stint in NCAA tournament purgatory, ended at 8:08 p.m. Wednesday.
Effectively, it was over before halftime, in USC's 95-71 victory in the first round of the Pac-12 Conference tournament. If ever one sequence captured two widely divergent seasons, it was this one.
With less than two minutes left in the first half, USC forward Chimezie Metu threw down an alley-oop over UCLA's 7-foot center, Thomas Welsh. The next possession, he was presented with another lob.
Metu jumped, caught the ball with one hand, cocked it back, then slammed it over a hopeless Gyorgy Goloman.
Goloman was whistled for a foul, right as the ball scorched through the net and hit him in the face.
"Check the footage and look at the bench's reaction after that dunk," USC guard Julian Jacobs said.
"Chimezie," Jacobs continued, "is superior, athletically."
USC (21-11) won the same way it had in its first two meetings with UCLA this season: with athleticism, flash and authority. Its 24-point win was its largest over UCLA since 1945.
USC had lost six of its last eight games entering the contest, but the convincing win should make selection Sunday less tense.
On Monday, Jacobs predicted USC would earn an NCAA tournament bid with a win over UCLA. On Wednesday, he said he was under a gag order.
"It's not really my job to comment on that," Jacobs said. Then he laughed. "I've been instructed."
The Trojans, the seventh seed, will play second-seeded Utah in the quarterfinals on Thursday.
Meanwhile, UCLA Coach Steve Alford said he would give the players some time off, a sign that any postseason tournament is unlikely.
The Bruins (15-17) won only two games in February and March. They were the only Pac-12 team to lose to Washington State. Their losing record is the program's fourth since John Wooden became coach, in 1948.
In his postgame news conference, Alford addressed a fan base simmering with frustration.
"If I'm a fan, I'm upset too," Alford said.
Several times, he claimed responsibility for a conference season he called "unacceptable."
"It falls on me," Alford said. "This is where the buck stops and starts. I've just done a really poor job of getting to these guys over the last two and a half months."
USC never trailed. The Trojans scored the game's first 11 points.
By the end of the first half, USC had made eight three-pointers. By that point, UCLA had made 10 field goals.
"We wanted to ram it up their throats because they beat us three times last year," Jacobs said. "And they're a great team, well coached, but it's definitely personal. We wanted to make a statement."
USC outrebounded UCLA, 52-30,
"They just ran us to death," UCLA forward Tony Parker said. "They outran us, they outworked us, they outrebounded us by 22. Just unacceptable all around."
USC made 11 of 23 three-point attempts overall, and six USC players scored in double figures. A seventh scored nine points.
Bennie Boatwright led the Trojans with 19 points and added nine rebounds. Metu recorded his first double-double with 10 points and 11 rebounds.
"The freshmen played beyond their years this evening," USC Coach Andy Enfield said.
For UCLA, Parker scored five points with three rebounds. Bryce Alford made two of 11 shots for 11 points. Welsh led the team with 12 points.
USC hadn't defeated UCLA three times in a row in the same season since 1942. And so, in a buoyant postgame locker room, on the whiteboard, someone scrawled two items.
On top: 1942.
Below: 3-0.
zach.helfand@latimes.com
---
Get the latest on L.A.'s teams in the daily Sports Report newsletter.
You may occasionally receive promotional content from the Los Angeles Times.