UCLA's Josh Rosen is having a Heisman-caliber season, but he's not in discussions for award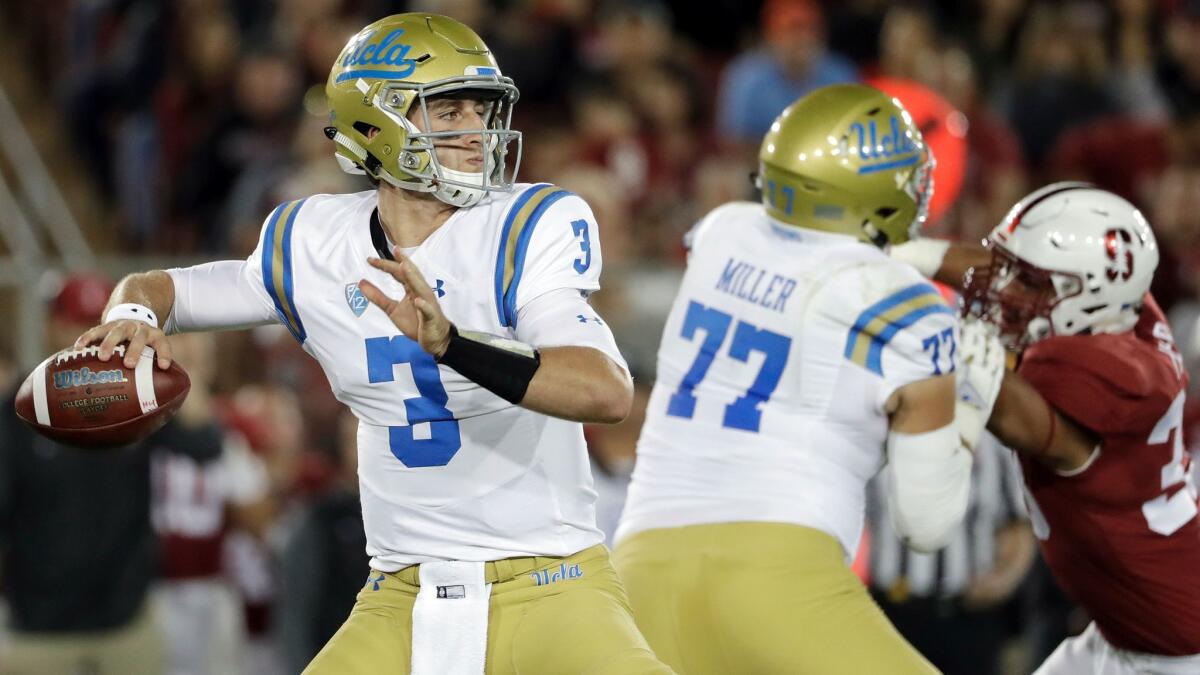 Reporting from TUCSON, Ariz. —
Coaching a major college football team does not insulate Jim Mora from the chatter that washes over the casual fan. The UCLA coach flips on the television or the radio just like everybody else, exposing himself to the opinions of those who purport to be experts.
Mora was recently listening to commentary on the Heisman Trophy race when he noticed one name absent from the discussion: his own quarterback, Josh Rosen.
Rosen would seem to have the credentials to place himself among the frontrunners. The junior leads the nation's top-ranked passing attack and is on pace to throw for more than 5,000 yards, which would be a Pac-12 Conference season record.
Rosen has reached the 2,000-yard threshold in only five games, the fastest of any Bruin in school history, and has passed for at least 300 yards in seven consecutive games, the longest active streak in the nation.
Two numbers, more than any others, explain why Rosen remains an outsider despite his production: 3-2.
That's UCLA's record heading into a game against Arizona on Saturday night at Arizona Stadium. Like the Bruins, the Wildcats are 3-2 overall, 1-1 in Pac-12 Conference play.
There's no mystery about what's needed to bolster Rosen's Heisman candidacy.
"If we win and Josh keeps playing like he's playing, then he's going to vault right into the discussion," Mora said. "But when we go to Memphis and we go to Stanford and we don't win, no matter how well he plays, the looming thing is, well, their defense didn't play well, they can't stop the run and they lost and that overshadows what we're doing offensively and what Josh is accomplishing as an individual."
Winning a national championship or even a conference title has never been a prerequisite for winning the Heisman. Ten players who won the award have been on teams with three losses, including USC's Marcus Allen in 1981.
But it's a steep dropoff from there. No Heisman winner has played for a team with four losses since Oklahoma's Steve Owens in 1969, and only one player — Notre Dame's Paul Hornung, in 1956 — won the award while playing on a team with a losing record.
Among the current frontrunners, only Stanford tailback Bryce Love plays for a team with two losses. Penn State running back Saquon Barkley, Washington State quarterback Luke Falk and San Diego State running back Rashaad Penny all play for undefeated teams, and Oklahoma quarterback Baker Mayfield plays for a team that has one loss.
Rosen is nowhere to be found among an ESPN poll of frontrunners that goes 10 deep, or SI.com's list of its top five candidates. Yahoo! Sports does not put Rosen among its five leading contenders, though he did appear in the "Also considered" category.
Rosen said he doesn't care about hearing his name in awards discussions.
"I would give up all the hype to be 5-0," Rosen said. "There's nothing compared to the year in high school where we went 16-0 at St. John Bosco and I would give anything to have that again. Anything."
Rosen has completed 64.9% of his passes for 2,135 yards and 17 touchdowns with three interceptions. He's generated 427 passing yards per game to help the Bruins rank No. 6 in total offense, with 550.8 yards per game, despite a plodding run game that ranks No. 109 nationally.
Rosen's growth is evident in his statistics versus a comparable number of games as a freshman and sophomore. As a freshman through five games, Rosen completed 60.7% of his passes for 1,243 yards with nine touchdowns and five interceptions. At the same point last season, he completed 60.1% of his passes for 1,515 yards with eight touchdowns and four interceptions.
None of those numbers approach the efficiency he's achieved this season while compiling a touchdown-to-interception ratio of 5.67-to-1.
"He was phenomenal as a freshman and he's an even better player now," Arizona coach Rich Rodriguez said. "There's nothing he doesn't do well. I mean, he moves well, he's athletic, he can make all the throws, he's a tough guy, he can take some shots and stay in the pocket. I'm really impressed with him. I'm glad he's eligible for the draft. He needs to go now."
Rosen has also taken on additional game-planning and game management responsibilities in helping his team navigate the nuances of a defense.
"A lot of it is play-caller intentions, what coach is trying to get done on each play and how the chains might change a read on each play even though the defense gives the same look," Rosen said. "You find out a lot more of the smaller games within a game the longer you delve into football."
You also discover that some things never change when it comes to college football's most prestigious award. Winning the Heisman rarely happens without lots of winning.
Follow Ben Bolch on Twitter @latbbolch
Get the latest on L.A.'s teams in the daily Sports Report newsletter.
You may occasionally receive promotional content from the Los Angeles Times.