Physicality is helping UCLA receivers with their blocking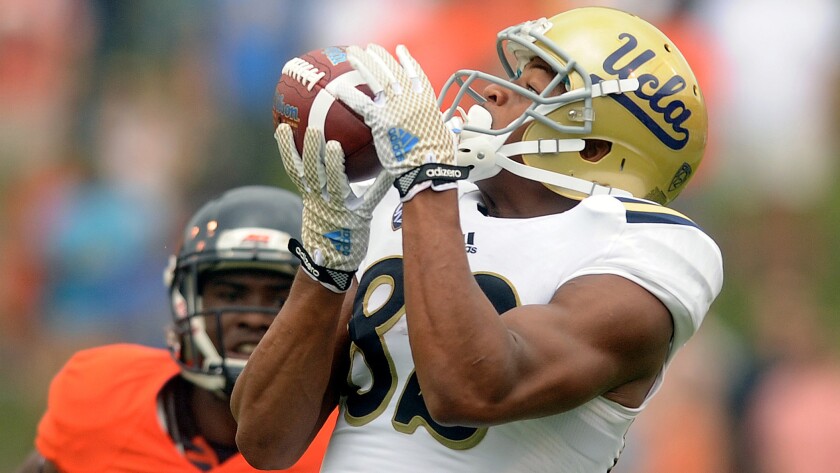 It is no secret that UCLA's offense purrs when quarterback Brett Hundley is on the move. An improved running game has also pushed the Bruins along this season.
UCLA receivers have had a hand in both areas, becoming skilled at down-field blocking, which can turn short gains into long ones.
"We like being physical," receiver Eldridge Massington said. "Defensive players like to hit us. Most of the time, receivers don't like to hit back. We do."
Massington and Jordan Payton have been particularly effective at clearing paths.
"I've seen unselfish play, putting the team before themselves," receivers coach Eric Yarber said. "They take pride in it."
Yarber said that there is a domino effect, which his receivers understand.
"All receivers want the ball," Yarber said. "They know if they block down field, there's a chance to spring the running backs. That helps the run game out. As the run game gets going, there is a better chance to get play-action passes down the field. They see the big picture."
Running back Johnathan Franklin credited receiver Shaquelle Evans with providing key blocks on several of his long runs when both men played for UCLA in 2012.
Payton has said he learned to be a better blocker from playing with Evans.
Said offensive coordinator Noel Mazzone: "In this style of offense, where the ball goes horizontal a lot, to have guys be a little physical and stick on blocks, control the corners and outside linebackers, means a lot."
It's an acquired skill, especially with a quarterback who will take off when receivers are covered.
"They have to get into scramble mode," Yarber said. "Once he crosses the line of scrimmage, they need to come back and block, and we've done a good job of that."
Hundley has 564 yards rushing this season.
"We've gotten pretty good at picking up blocks once we see him get out of the pocket," Payton said. "You see him tuck that ball, you hit someone."
He gets around
This is Mazzone's third UCLA-USC game, but he has a long history with rivalry games, and his teams have an 8-6 record.
He coached at Mississippi (1995-98 and 2004-05), Auburn (1999-2001), Oregon State (2002) and Arizona State (2010-11).
Mazzone was 3-3 in the Egg Bowl (Mississippi-Mississippi State), 1-2 in the Iron Bowl (Auburn-Alabama), 1-0 in the Civil War (Oregon State-Oregon) and 1-1 in the Territorial Cup (Arizona State and Arizona). UCLA is 2-0 against USC since Mazzone came to Westwood.
Regarding the UCLA-USC rivalry, Mazzone said, "I have been in the Iron Bowl and this is the same kind magnitude as that."
Twitter: @cfosterlatimes
---
Get the latest on L.A.'s teams in the daily Sports Report newsletter.
You may occasionally receive promotional content from the Los Angeles Times.