How UCLA matches up against St. Bonaventure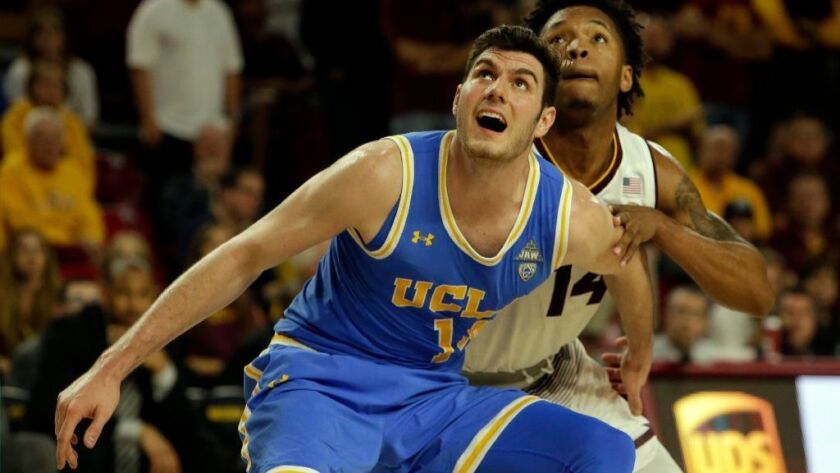 No. 11 UCLA vs. No. 11 St. Bonaventure
TUESDAY AT UNIVERSITY OF DAYTON ARENA, DAYTON, OHIO
How they got here: UCLA won two of its last three games, beating USC and Stanford, to slip into the NCAA tournament as one of the final four teams selected. St. Bonaventure finished second in the Atlantic 10 Conference and had won 13 consecutive games before falling to Davidson in a conference tournament semifinal.
Last 10 games: UCLA 6-4; St. Bonaventure 9-1.
Record vs. NCAA tournament teams: UCLA 3-5; St. Bonaventure 3-3.
Best victories/worst losses: UCLA defeated Kentucky, 83-75, in New Orleans in December and downed Arizona, 82-74, in Tucson in February, becoming the only team to beat the Wildcats on their home court in the last two seasons. The Bruins' two worst losses came against Colorado, including a 68-59 setback at home in January. St. Bonaventure defeated Syracuse, 60-57, in overtime in December and Rhode Island, 77-74, in February. The Bonnies lost to Niagara, 77-75, in their season opener.
Common opponents: None.
St. Bonaventure lineup: Starters – G Jaylen Adams (19.8 ppg, 5.4 apg), G Matt Mobley (18.5 ppg, 5.0 rpg), F LaDarien Griffin (8.7 ppg, 6.5 rpg), G Idris Taqqee (5.4 ppg, 4.8 rpg), C Amadi Ikpeze (4.7 ppg, 3.1 rpg). Top reserves – G/F Courtney Stockard (12.9 ppg, 6.4 rpg), F Josh Ayeni (5.3 ppg, 2.8 rpg), G Izaiah Brockington (4.4 ppg, 1.3 rpg).
UCLA lineup: Starters – G Aaron Holiday (20.3 ppg, 5.8 apg), G Prince Ali (9.0 ppg, 3.1 rpg), F Kris Wilkes (13.8 ppg, 5.0 rpg), F GG Goloman (7.3 ppg, 4.3 rpg), C Thomas Welsh (13.0 ppg, 10.7 rpg). Top reserves – G Jaylen Hands (10.1 ppg, 3.9 rpg), F Alex Olesinski (4.4 ppg, 3.9 rpg), F Chris Smith (4.1 ppg, 1.9 rpg).
It's a fact: St. Bonaventure has a strong familiarity with the University of Dayton Arena, though the memories aren't pleasant. The Bonnies lost to Dayton, 82-72, during conference play in early January, snapping an eight-game winning streak.
Follow Ben Bolch on Twitter @latbbolch
---
Get the latest on L.A.'s teams in the daily Sports Report newsletter.
You may occasionally receive promotional content from the Los Angeles Times.