UCLA quarterback Devon Modster announces he's transferring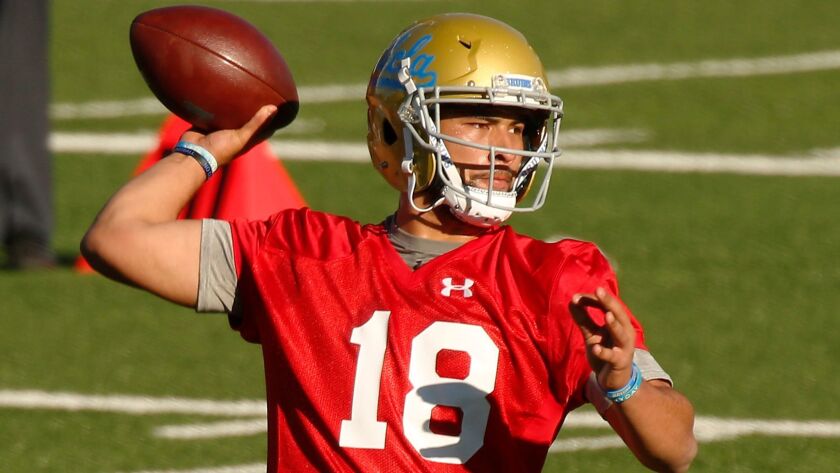 Devon Modster, who went from a candidate to be UCLA's starting quarterback to a third-stringer, announced Friday that he was transferring.
"Excited for a new chapter!" Modster wrote on Twitter while thanking former Bruins coach Jim Mora and his successor, Chip Kelly.
"I'd like to thank Coach Kelly and the strength coaches for continuing to allow me to continue to play the game I love, BUT I've decided to leave UCLA and pursue other opportunities."
The redshirt sophomore's departure comes only a few days before the start of fall classes next week.
Modster lost a three-way battle with graduate transfer Wilton Speight and freshman Dorian Thompson-Robinson to become the team's starter in training camp. Speight won the job but was replaced by Thompson-Robinson in the second quarter of the season opener against Cincinnati after suffering a back injury.
Thompson-Robinson played well in his first start against Oklahoma before struggling last weekend throughout the Bruins' 38-14 loss to Fresno State. Kelly never turned to Modster despite his performing admirably last season while Josh Rosen was sidelined with concussions.
Modster played only after Thompson-Robinson was forced to the sideline for one play by rule when his helmet came off against Oklahoma. Modster handed the ball off.
Speight has increased his activity in practices this week, prompting speculation that he could be available to return when UCLA (0-3) faces Colorado (1-2)) on Sept. 28 in Boulder in its Pac-12 Conference opener.
Modster's departure leaves redshirt sophomore Matt Lynch, redshirt freshman Austin Burton and freshman walk-on Josiah Norwood as the remaining backups. Lynch is the only one of the trio with college experience after having played last season at the end of a blowout loss to Utah.
Displaying a strong and accurate arm, Modster completed 64.6% of his passes last season for 671 yards and four touchdowns with no interceptions. In his finest moment, he guided the Bruins on their game-winning drive against California that secured a bowl berth. A month later, with Kelly watching from a luxury suite high above the field, Modster passed for 295 yards and two touchdowns during a loss to Kansas State in the Cactus Bowl.
Known for being quiet, Modster said during training camp that he had strengthened his leadership skills in the offseason while shaving some body fat from his 6-foot-1, 215-pound frame.
Asked about the qualities Kelly was seeking in a starter, Modster said the coach "wants a quarterback that's going to move him down the field, who's consistent and doesn't make dumb decisions."
Modster said he would support whoever won the starting job. On Friday, that winner was backing Modster on his way to a new school.
"All love bro!" Speight tweeted. "Can't wait to watch you succeed."
---
Get the latest on L.A.'s teams in the daily Sports Report newsletter.
You may occasionally receive promotional content from the Los Angeles Times.