Long snapper Johnny Den Bleyker has come through in the clutch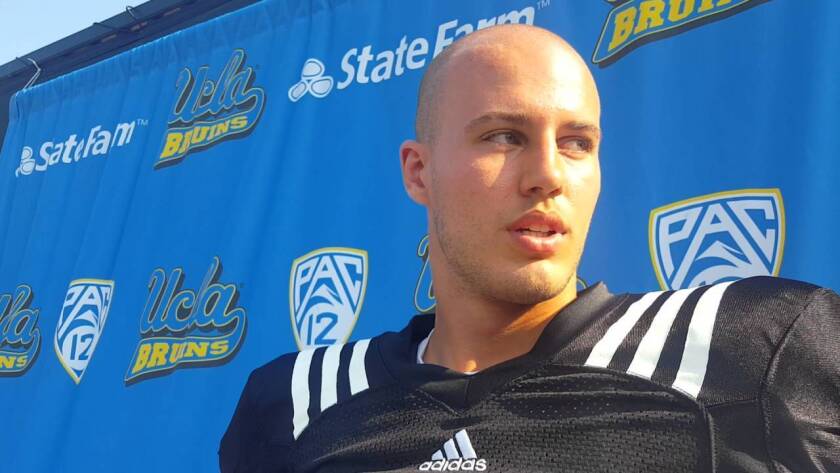 Long snappers usually prefer being shrouded in anonymity. It means they're not making any massive blunders.
Johnny Den Bleyker could have been a headliner twice now in his UCLA career, for all the right reasons.
Last season, he fell on a fumble after ripping the ball out on a Stanford punt return. Earlier this month, he pounced on a fumbled punt return against Fresno State.
Den Bleyker received only a passing mention in most accounts of those games because the Bruins were blown out.
At least he gave his mother, Cathy, a nice memory on her birthday. She had asked him to make a play in her honor before the game against Fresno State on Sept. 15.
"She said, 'You've got to go do something special for me,'" Den Bleyker, a junior, recalled Sunday.
He went out and recovered the fumble that set up Bolu Olorunfunmi's two-yard touchdown run in the third quarter.
The Bruins made massive improvements in their punt and kickoff coverage against Fresno State after struggling earlier in the season. All three of their kickoffs went for touchbacks and the Bulldogs' only punt return went for minus-two yards.
Den Bleyker is part of a strong group of Bruins specialists. He's on the watch list for the newly created David Binn Award, which goes to the top long snapper in the nation. Stefan Flintoft is on the watch list for the Ray Guy Award, which goes to the nation's top punter, and J.J. Molson is on the watch list for the Lou Groza Award, which goes to the nation's top kicker.
Flintoft was the Ray Guy Award punter of the week after averaging a net of 48.8 yards against Fresno State. That included one that went for a career-high 70 yards. Molson has made the only field goal he's tried this season, sustaining the group's perfectionist mentality.
"Having three guys that are in there with a really strong mindset, we want to go out and compete and be the best we can be," Den Bleyker said. "Being surrounded by that culture, it really helps."
Thankfully, his one slipup came in a game that didn't count. He sailed a snap over Flintoft's head during the spring game in April when the team tried a bizarre formation in which it put only three players on the field — the long snapper, punter and punt returner.
"It's not usually just me and Flintoft out there," Den Bleyker said. "Just seeing him, we got a little psyched out."
Quarterback quandary?
UCLA coach Chip Kelly said quarterback Devon Modster, who announced he was transferring on Friday, informed him that he intended to go to a junior college in hopes of playing immediately.
Modster had been elevated to the No. 2 quarterback on the depth chart in recent weeks with Wilton Speight unavailable because of a back injury he sustained in the opener.
Should Speight remained sidelined, the primary backup would be either redshirt sophomore Matt Lynch or redshirt freshman Austin Burton.
Kelly said he was unsure if Speight was going to fully participate in practice Sunday, but noted that he would not automatically reclaim the starting job he had won in training camp once fully recovered.
"Whoever gives us the best opportunity against Colorado or Washington or whoever we're going to play," Kelly said, "is going to be the guy that's going to play."
The Bruins (0-3) open Pac-12 Conference play against Colorado (3-0) on Friday in Boulder.
Etc.
Linebacker Jaelan Phillips returned to practice after being absent on Friday. … Linebacker Elijah Wade was a full participant in practice after being slowed by injuries in recent weeks, but linebacker Je'Vari Anderson and receiver Christian Pabico were wearing yellow jerseys to signify they were recovering from injuries. … Kelly said linebacker Mique Juarez remained "out" for unspecified reasons.
Twitter: @latbbolch
---
Get the latest on L.A.'s teams in the daily Sports Report newsletter.
You may occasionally receive promotional content from the Los Angeles Times.