Josh Rosen's return will be closely watched during UCLA's spring game
The fun started almost immediately after UCLA's coaches held a draft to divvy up teams for their spring game.
Players scanned the rosters to see whether they would be competing alongside or against close friends and roommates. The talent level on each side was widely assessed. A prominent alumnus even provided a lighthearted directive.
"To the ucla defensive line," Takkarist McKinley, a former member of that line, wrote on Twitter, "DO NOT TOUCH ROSEN. we all seen how our season went without him lol"
The Bruins finished 4-8 in 2016, largely as a result of the shoulder injury that sidelined Rosen midway through the season after the offensive line failed to protect its star quarterback. Rosen's return will be among the most closely watched developments Saturday afternoon at Drake Stadium during the Bruins' annual spring showcase.
UCLA is staging an actual game as opposed to a glorified practice for the first time since 2014 partly to inject some joy back into the program after the misery of last season. It also helps that the Bruins have avoided the kind of major injuries this spring that forced Rosen sit out half of his sophomore season. Linebacker DeChaun Holiday sustained a shoulder injury that required surgery and cornerback Denzel Fisher hurt his elbow, but no one appears to have endured a setback that could affect his availability for fall camp.
Rosen won't be off limits to jarring hits, with Bruins coach Jim Mora saying his quarterbacks would be "live." Asked whether that included Rosen, Mora repeated, "Quarterbacks will be live." UCLA once lost two quarterbacks for a season during a span of 10 minutes in the same spring practice in 2008, though Ben Olson and Patrick Cowan were not hurt as a result of contact.
Rosen has been inconsistent this spring. He's shown the talent that is expected to make him one of the top picks in the 2018 NFL draft, completing long touchdown passes to receivers Darren Andrews and Jordan Lasley.
He's also rapped his knuckles on his helmet in disgust after a poorly thrown pass was intercepted. His demeanor was questioned before one play by new offensive coordinator Jedd Fisch, who loudly ordered Rosen to get back into the huddle and try again.
"We want to train our quarterbacks to be NFL quarterbacks," Fisch explained later. "That is the mentality."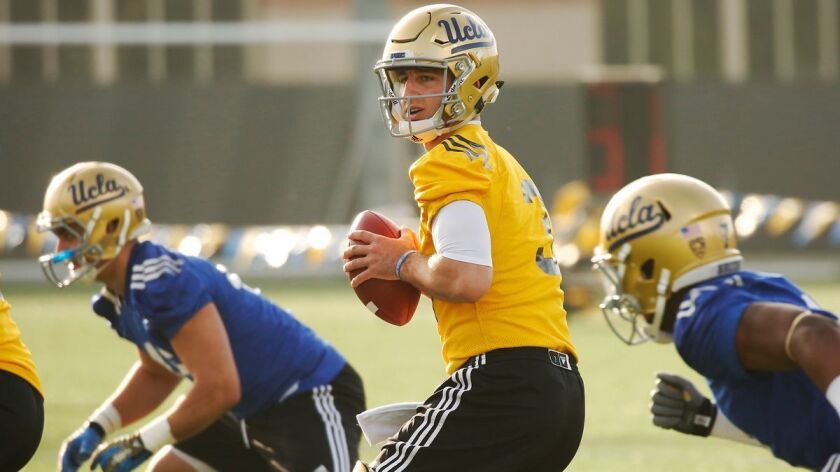 Rosen will be part of a Blue team that also features Andrews and tailback Soso Jamabo. Fisch has said only Rosen, center Scott Quessenberry and left tackle Kolton Miller have secured starting spots on the offense, but compelling cases could also be made for tight end Caleb Wilson and running back Jalen Starks, two of the standouts of spring practice.
Wilson might have the best hands of any Bruins pass catcher and the 265-pound Starks has occasionally required half the defense to drag him down. The top defenders of the spring have included defensive back Adarius Pickett, who snagged two interceptions in the same practice, and defensive lineman Rick Wade, who routinely beat his counterparts on the offensive line.
Freshman defensive back Darnay Holmes and defensive end Jaelan Phillips have been the highest-impact early enrollees, Holmes blocking a field-goal attempt and showing he could compete for immediate playing time in a talented secondary. Phillips' explosiveness off the edge is reminiscent of a young McKinley, who was selected by the Atlanta Falcons on Thursday with the 26th pick in the NFL draft.
UCLA's spring game will feature lineups interspersed with first- and second-team players to make things as competitive as possible. There will be 12-minute quarters and a running clock, with the game to be followed by an autograph session and an Adidas surplus sale.
Mora is infusing the game with championship pedigree by allowing UCLA women's soccer coach Amanda Cromwell to guide the Blue team and Bruins gymnastics coach Valorie Kondos Field to lead the White team as honorary coaches. Both coaches have won national titles with their respective teams. They will try to get creative Saturday, with each coach allotted one trick play to run.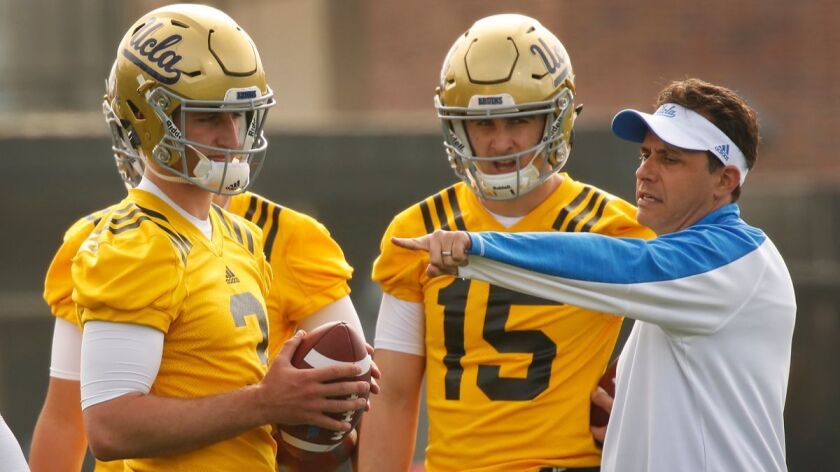 "They make all the calls, whether it's go for it on fourth [down] to a timeout in a two-minute situation, so they have the reins," linebackers coach Scott White said. "They're the head coach in every sense."
Rosen and his teammates are trying to get back into contention in the Pac-12 Conference after finishing last season tied for fourth place in the South Division.
The Bruins' defense was well ahead of its offense until about the midpoint of spring practice, when the running backs and receivers started catching up. The unit that is deemed to have "won" practice runs sprints afterward, the reasoning among coaches being that those players continue to improve while their teammates watch.
Rosen remaining upright by late Saturday afternoon would be considered a win for all involved.
::
Spring fling
What: UCLA spring football showcase.
Where: Drake Stadium.
When: 1 p.m. Saturday.
TV: Pac-12 Networks.
Cost: $5 advance sale, $10 day of game at 310-UCLA-WIN.
Twitter: @latbbolch
---
Get the latest on L.A.'s teams in the daily Sports Report newsletter.
You may occasionally receive promotional content from the Los Angeles Times.