USC barely played way into NCAA tournament, and will have to do it again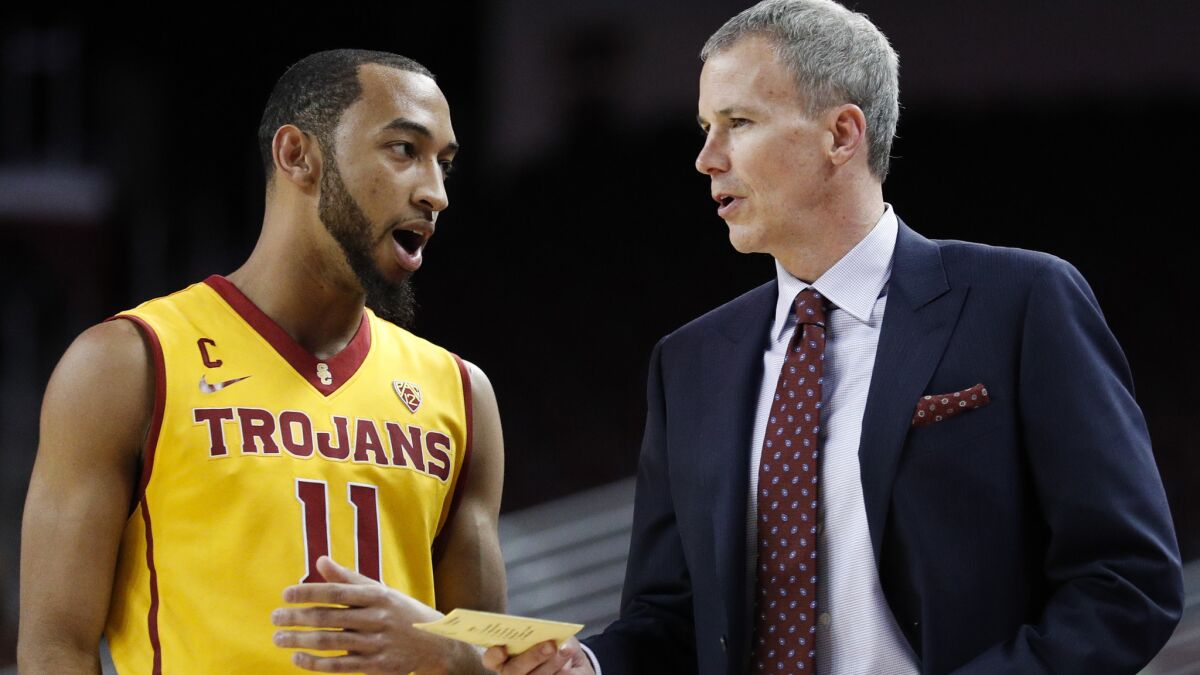 Andy Enfield walked out of the USC coaches' offices early Sunday afternoon leading a small parade toward college basketball's judgment day. Behind him were his three children, his wife, Amanda, and a panting, weeks-old pug named Cali that Enfield claimed was the Trojans' good luck charm as they awaited their NCAA tournament fate.
"What do you think?" he said to two people.
One suggested USC would end up in a play-in game in Dayton, Ohio.
"I'll take it," Enfield said. Then he went to watch the selection broadcast.
When he emerged 45 minutes later, he was cradling the puppy, dressed in a petite USC shirt, and he was smiling: USC had made it into the tournament. It had, indeed, been put in the play-in game in Dayton.
The Trojans squeaked into the field of 68 as a No. 11 seed in the East Region. They'll play Providence, also a No. 11 seed, Wednesday at 6 p.m. It is a tantalizing matchup for USC. Last March, Providence ended USC's season in the final seconds of the NCAA tournament's first round.
The winner of the rematch will play Friday in Tulsa against No. 6 Southern Methodist, a team USC defeated at home in November.
The extra game and quick turnaround adds a degree of difficulty. But point guard Jordan McLaughlin said, "Growing up as a kid, you dream about these type of moments and these type of events."
Or in Enfield's words, "We're a team that's excited to be here."
USC did not know whether it would get in Sunday. The Trojans had positioned themselves well after compiling an undefeated nonconference record, but their status had slipped. By Saturday afternoon, ESPN analyst Joe Lunardi moved USC out of his projected field. Some assistants spent the evening fretting over RPI rankings and bubble-team resumes.
Enfield had spent the two days after USC's elimination in the Pac-12 Conference tournament Thursday mostly away from basketball. On Saturday, he accompanied his family to USC's beach volleyball match in Manhattan Beach. He later attended the basketball games of his three children. In between, they played tennis.
"I've been playing with a puppy for two days," Enfield said. "So I didn't really watch basketball."
He had maintained all week that he wasn't worried about USC's candidacy.
"We thought we were in the tournament. We thought we deserved to be," Enfield said. "We didn't know what seed. Of course, there's always a small chance when you take it out of your hands — but we felt confident with 24 wins."
The decision came down to USC, Kansas State and Syracuse battling over two final at-large spots. USC's advantage was its 24-9 record. Kansas State lost 13 games, Syracuse 14.
That was enough to buoy USC and overcome a turbulent ending to the season, when it lost five of its last eight games. USC was the second-to-last at-large team in the field. Kansas State was last and Syracuse did not receive an invitation.
The ticket to the tournament also offers a chance at redemption. USC's season ended last year after collapsing late against Providence. USC led for much of the game but lost track of Providence's Rodney Bullock on an inbound pass, and he scored a layup with 1.5 seconds remaining to win, 70-69.
Both teams underwent significant renovations in the off-season. USC lost two starters, point guard Julian Jacobs and Nikola Jovanovic to the professional ranks. It lost another significant contributor, Katin Reinhardt, amid a wave of transfers. After losing leading scorer Bennie Boatwright for much of the middle of this season, contributions from freshmen such as De'Anthony Melton and Jonah Mathews carried the Trojans into tournament position.
Providence was powered a year ago by point guard Kris Dunn and forward Ben Bentil. Both left for the NBA. Now Bullock has emerged as the Friars' engine.
The pain from that loss gnawed at USC. Last week, Enfield was asked about that final inbound play.
"You brought the bad memories up," he said.
Sophomore forward Chimezie Metu said he was excited to learn he would have a chance for revenge.
"I think we all are," Metu said. "First off, I think we're really excited to be even be in the tournament. And then getting a chance to play them again is just awesome."
The rest of the East region includes the No. 1 overall seed and defending champion, Villanova, and No. 2 seed Duke, one of the hottest teams in the country. To reach the regional semifinal, USC would likely have to go through No. 3 Baylor.
Advancing in the tournament would be the next step in the program's evolution in Enfield's fourth season. McLaughlin said a second consecutive tournament appearance already validated USC's growth.
"We built it up to where we want it to be, a tournament team every year so far these last two years," McLaughlin said. "It just shows that it's working and we're on the right track to where we want to be."
Follow Zach Helfand on Twitter @zhelfand
---
Get the latest on L.A.'s teams in the daily Sports Report newsletter.
You may occasionally receive promotional content from the Los Angeles Times.