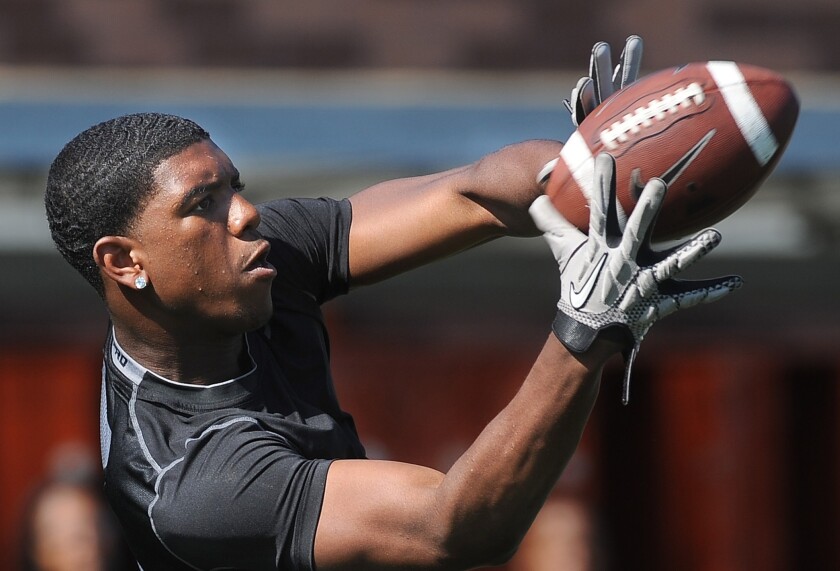 USC coaches assigned receivers Marqise Lee and Darreus Rogers as training camp roommates, a move that appears to be paying big dividends.
Lee, the All-American, remains sidelined because of a bone bruise. But his influence is rubbing off on Rogers, who is flourishing in his absence.
"Darreus has done really good things every practice," Coach Lane Kiffin said Monday night after the second of the day's two workouts.
Rogers, at 6 feet 2 and 210 pounds, dominated Sunday's practice, making tough catches over the middle, ripping the ball from the hands of defensive backs and out-jumping cornerbacks for touchdowns. He practiced Monday morning but sat out part of the evening workout with ice on his left shoulder.
Lee and sophomore receiver Nelson Agholor have pushed Rogers to study the playbook, and they also have imparted advice.
"Marqise tells me to relax, he tells me I've been doing this since I was little and just go out there and do what I do," Rogers said Saturday, the day after Lee was injured. "Nelson, he just always stays on me, pushing. He's telling me, 'It's never good enough. There's always room for work.' His work ethic is crazy.
"That's why I look up to Nelson and Marqise. Their work ethic is crazy."
Agholor did not participate in most drills Monday, opening more opportunities for Rogers, senior De'Von Flournoy and sophomore Victor Blackwell.
Flournoy was slowed by an apparent knee injury last week, but he made several impressive plays the last two days. After jamming a finger on the first day of camp, Blackwell has overcome a slow first week and is making plays.
"There's not a ton of game experience there," Kiffin said of Flournoy, Blackwell and Rogers, adding, "We've still got a lot of growth in that group that we're going to have to have."
Pinner catching on
Sophomore fullback Jahleel Pinner continues to make tough catches on short and long passes.
"It's just more repetitions," said Pinner, who played at Mission Viejo High. "I'm getting more comfortable, and it's getting easier."
Pinner did not have a reception as a freshman, but that could change in his second season.
In the last decade, Brandon Hancock, David Kirtman and Stanley Havili were USC fullbacks who gave the Trojans formidable pass-catching threats.
"That's what I want to be," Pinner said, "so that's where I'm trying to get to right now."
Quick hits
Kiffin said Monday evening's practice was the Trojans' best during training camp USC and the L.A. Sports Council Foundation will hold their annual "Touchdown For Youth" program on Sept. 21 when the Trojans play host to Utah State at the Coliseum. A $30 tax-deductible contribution from individuals or corporations enables an economically disadvantaged youngster to attend the game. USC distributes the tickets to youth groups affiliated with the athletic department. Information: (213) 482-6333.
Twitter: @latimesklein
---