Sam Darnold in, Max Browne out as USC starting quarterback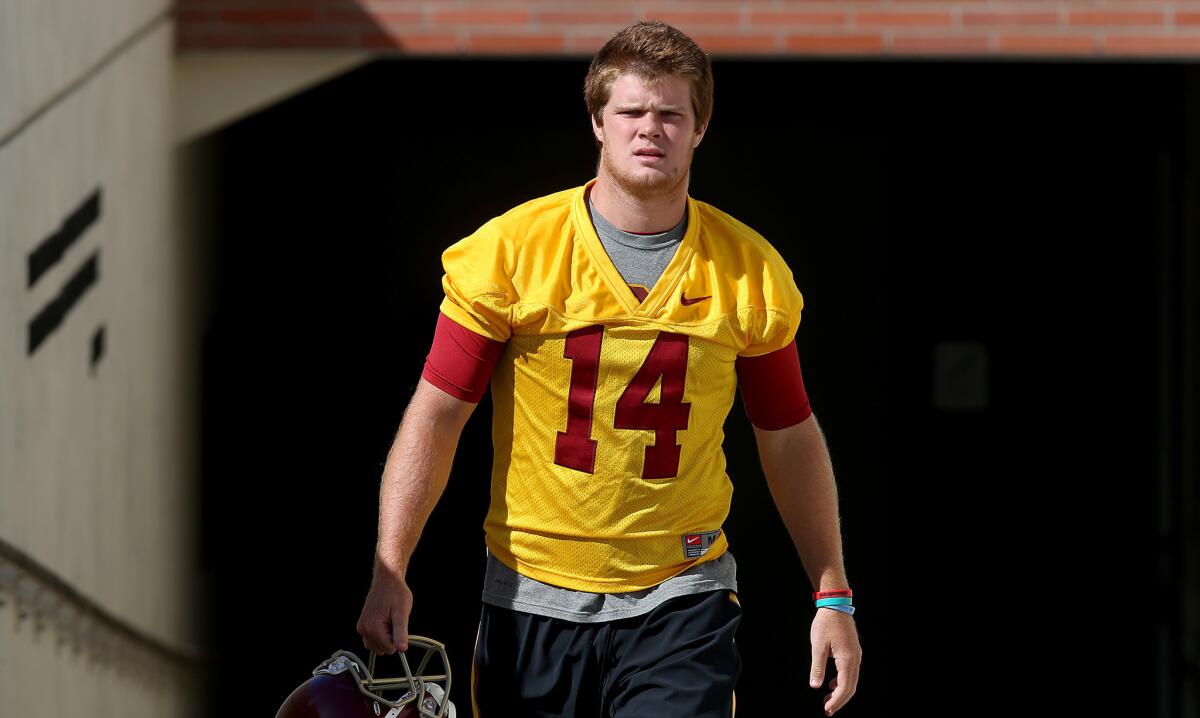 The idea nestled into Clay Helton's mind somewhere over the Central Coast, as USC flew back from Stanford on Saturday evening. USC's offense had been lurching and mostly toothless. He decided then that a review was in order.
Helton's Sunday was consumed by film from USC's first three games. He was watching for one thing, he said: quarterback play. By that evening, he'd reached a decision.
After USC's Sunday walk-through, Helton summoned Max Browne. The offense wasn't working, Helton told him. It needed a change.
Browne would no longer be the starter, Helton told him, before announcing it to the team, then the public, on Monday. Helton was entrusting the job to the younger, more mobile Sam Darnold.
"It surprised me for sure," Browne said.
The shakeup comes in the wake of a rare 1-2 start at USC, with a crucial game at Utah looming on Friday. It also likely starts a countdown clock on Browne's USC career. Browne, a redshirt junior graduate student, acknowledged that a transfer is probable after the season.
"He is not the reason we're 1-2. He is not the scapegoat here," Helton said. He added: "But the realism of football is when you're 1-2, and you've scored one touchdown against Alabama and Stanford, I wanted to see a spark in our offense. I hope Sam can bring that."
Browne had edged out Darnold in a tightly contested battle in spring practice and summer training camp. Darnold made the decision difficult. A big, powerful runner, Darnold possessed mobility that injected wrinkles into USC's offense. His big arm and command of the offense impressed coaches.
At the time, Helton vowed that Browne would have time to show he could start without having to worry about losing the job.
"I've always thought that you give the opportunity to the quarterback to show what he can do," Helton said during training camp. "And hopefully that's multiple games. ... I never want a guy to be looking over his back all the time."
But, Helton added, lack of production over those multiple games could lead to a change.
USC's worrisome start to the season shaved Browne's margin for error. Helton is now 1-4 as USC's full-time coach.
And USC never seemed fully committed to letting Darnold wallow on the bench. He played significant minutes in USC's first two games, and played at the end of USC's game against Stanford on Saturday.
Browne has completed 55 of 87 passes this season for 474 yards. He has accounted for two touchdowns with two interceptions and has been sacked six times.
Darnold has completed 14 of 22 passes for 136 yards and two touchdowns with one interception. He has not been sacked.
Tellingly, 22 passes in three games are more than Browne threw in his first two seasons.
"I'm always going to do what I feel is in the best interest of our team," Helton said. And right now, meaning the situation we are in, I just thought it was time to make a change."
Darnold, who also learned of the change in a Sunday evening meeting with Helton, said he was "stoked to finally get that opportunity."
"I had no idea," he said. "I just knew I was going to be ready when my number was called."
Browne, a redshirt junior, said he'd already begun thinking about his options for the future. As a graduate student, Browne is eligible to transfer after the season and play immediately.
"You think about it right away," he said. "You think about all the possibilities at hand. But at the end of the day, it's only Week 4. There's a lot of ball to play."
Helton said both quarterbacks would continue to compete, but Browne said he did not think recapturing the starting role was much of a possibility.
"I know how these things work," Browne said. "I mean usually once the young guy goes, you know how it is. But I'll be ready. I owe it to my teammates."
Quick hits
Freshman offensive lineman E.J. Price did not attend practice on Monday for personal reasons, according to a USC spokesman. … Safety John Plattenburg practiced after being out about a month because of a concussion.
zach.helfand@latimes.com
Twitter: @zhelfand
Get the latest on L.A.'s teams in the daily Sports Report newsletter.
You may occasionally receive promotional content from the Los Angeles Times.