With 'Thor' out, Clay Helton will look to the rest of USC's defense to step up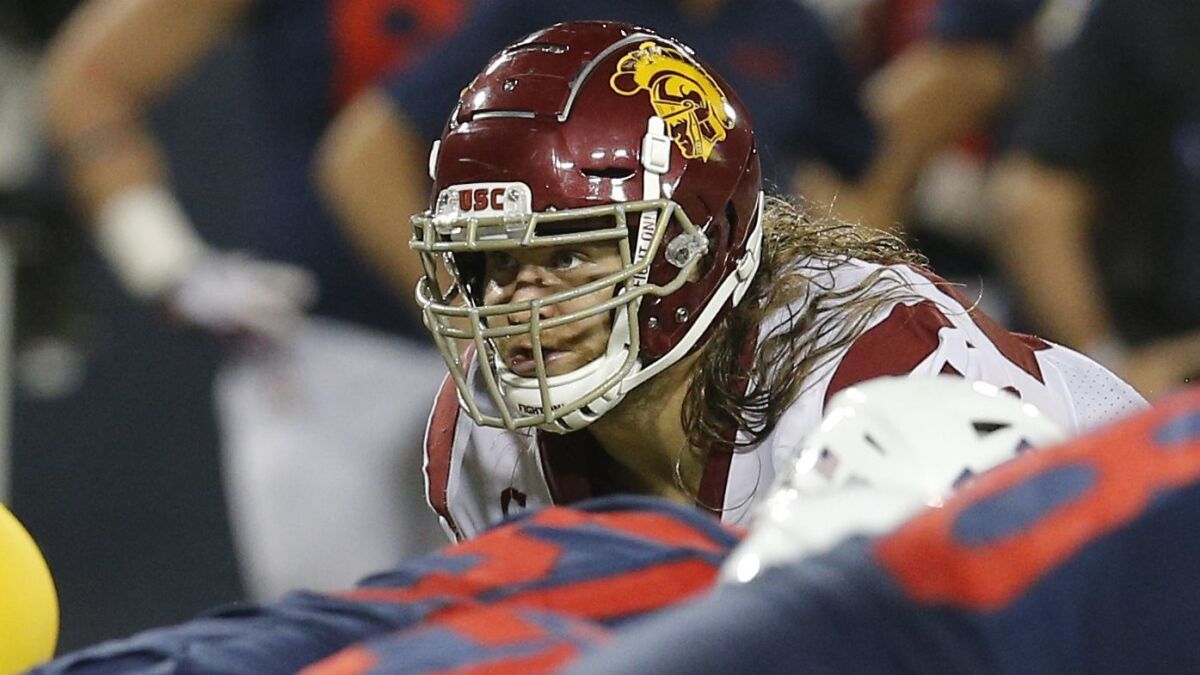 Clay Helton has compared Porter Gustin to the superhero "Thor." Now, with Gustin out for the season because of a broken ankle, USC will ask a collection of talented players to be the Trojans' version of "The Avengers," the superteam of heroes that aims to defeat the forces of evil through combined strength and smarts.
All of USC's outside linebackers and defensive ends will be asked to do more to fill Gustin's "predator" role in Clancy Pendergast's scheme. No one can step in for Gustin's larger-than-life presence on his own. The Trojans know it can only be done together.
"We have talented kids," Helton said, "and whether it's Hunter [Echols], whether it's Christian Rector, Jordan Iosefa, Kana'i Mauga, those guys are going to play very well. It's hard to replace a Porter Gustin from the totality of what he brings, from leadership, being a captain, but we have players who are going to make plays. There's no doubt in my mind about that. It just always feels better when Porter's sitting beside you, but now it's somebody else's turn."
First up in the rotation is likely to be Rector, the junior defensive lineman from South Pasadena. When Gustin left the lineup last season because of a toe injury after the third game of the season, Rector picked up the mantle with five sacks in the next four games.
The difference this season is that Gustin had almost single-handedly provided the Trojans' pass rush with seven sacks. In 2017, the Trojans had Uchenna Nwosu and Rasheem Green also bringing the heat on opposing quarterbacks. This year, Rector was supposed to provide that help to Gustin, but thus far, he has no sacks to go along with three quarterback hurries.
"He's been close," Pendergast said. "He's had a lot of production from a quarterback hurry standpoint, and he just hasn't gotten the sacks he had last year. There's a lot of things that he does for us that are kind of unsung, whether it be movement up front or taking on a tight end that maybe the eye of the game doesn't really see. But I've been pleased with the way he's played. I think his plays will come. He and I have talked about it. He's not going to press. He's going to do what we ask him to do."
In Gustin's role, Rector will have more freedom to operate on the perimeter. He had two sacks against Utah last season playing the "predator" role.
"Watching myself last year there are definitely things I could have improved on," Rector said. "I think I've developed as a player. Looking at the Utah game, I had two sacks, but I was just thrown out there not having experienced that position. Now I've had a year under my belt. It's definitely a new mindset going into this game, going into playing that role."
Utah will rarely choose to throw drop-back passes. USC will have to force the Utes into that scenario by stopping their zone-read running scheme with quarterback Tyler Huntley and running back Zack Moss on first and second down. The predator Saturday will be asked to defend the edge in the run game more often than pursue the quarterback.
It seems likely Rector will see a lot of early-down work and, if he needs a break or it's a clear passing situation, the Trojans could count on Echols, a redshirt freshman, and Mauga, a true freshman, to make an impact.
Of Echols, Helton said, "He can provide fresh legs if Christian gets a lot of snaps in the game. He's done a great job of coming in for Porter. He's got great pass rush ability. He's extremely slippery off the edge."
Pendergast said USC has not altered its plan this week without Gustin. But the players know that the dynamic has changed.
"Somebody's got to step up, me included," Rector said. "I've got to be more vocal, show these young guys what it's about."
Linebackers not yet cleared
Helton did not have an update on the status of middle linebackers Cameron Smith (hamstring) and Palaie Gaoteote (concussion-like symptoms). Helton said Tuesday that Gaoteote felt positive about his chances of playing Saturday.
"Tomorrow's a pivotal day," Helton said. "We'll see over the next 48 hours. Both are close. Obviously they've got to be medically cleared, and I'll get with both of them and see how they're feeling and their confidence level and go from there."
Twitter: @BradyMcCollough
---
Get the latest on L.A.'s teams in the daily Sports Report newsletter.
You may occasionally receive promotional content from the Los Angeles Times.