Wonder-filled trip of a lifetime along the Alaska Highway
A floatplane on Schwatka Lake, Whitehorse, Yukon Territory.
(Dennis Macdonald / Getty Images)
Three friends, an RV and a thirst to explore: Welcome to the ultimate road trip along the Alaska Highway. No billboards or motels, just 3,000 miles of glorious wilderness, scenery and memories.
We crossed the border into Canada in a driving rain at 11 p.m. on June 1. I didn't want to think about the twisting mountain road ahead. And I didn't want to dwell on the thought that the torrential rain might be a bad omen. So I went to sleep.
That's the beauty of a road trip, especially a road trip in an RV. You just nod off and let your travel companions deal with it.
Three of us had set forth early that morning on what I called the Ultimate Road Trip, from Seattle to Anchorage. We'd flown into Seattle from our individual Southern California homes and spent an hour getting instructions on how to drive, gas up and dump the waste tanks on our rented 30-foot RV.
We planned to return the mega-beast 14 days and 3,000 miles later in Anchorage and fly home. It wasn't enough time, but it was all we had to spare.
The trip had been my idea. Like a lot of travel obsessions, it began with a map and a hazy idea of what we might see and encounter. I wanted to explore parts of the 1,387-mile-long Alaska Highway, a.k.a. the Alcan, constructed in a hurry during World War II to connect the contiguous United States to Alaska.
The rough road resulted in many a wrecked military vehicle in its early days, and it continued to break axles and blow tires for civilians for at least half a century. Today it pits and shatters a lot of windshields — we hit one 85-mile-stretch that was gravel — but for the most part, it's been tamed.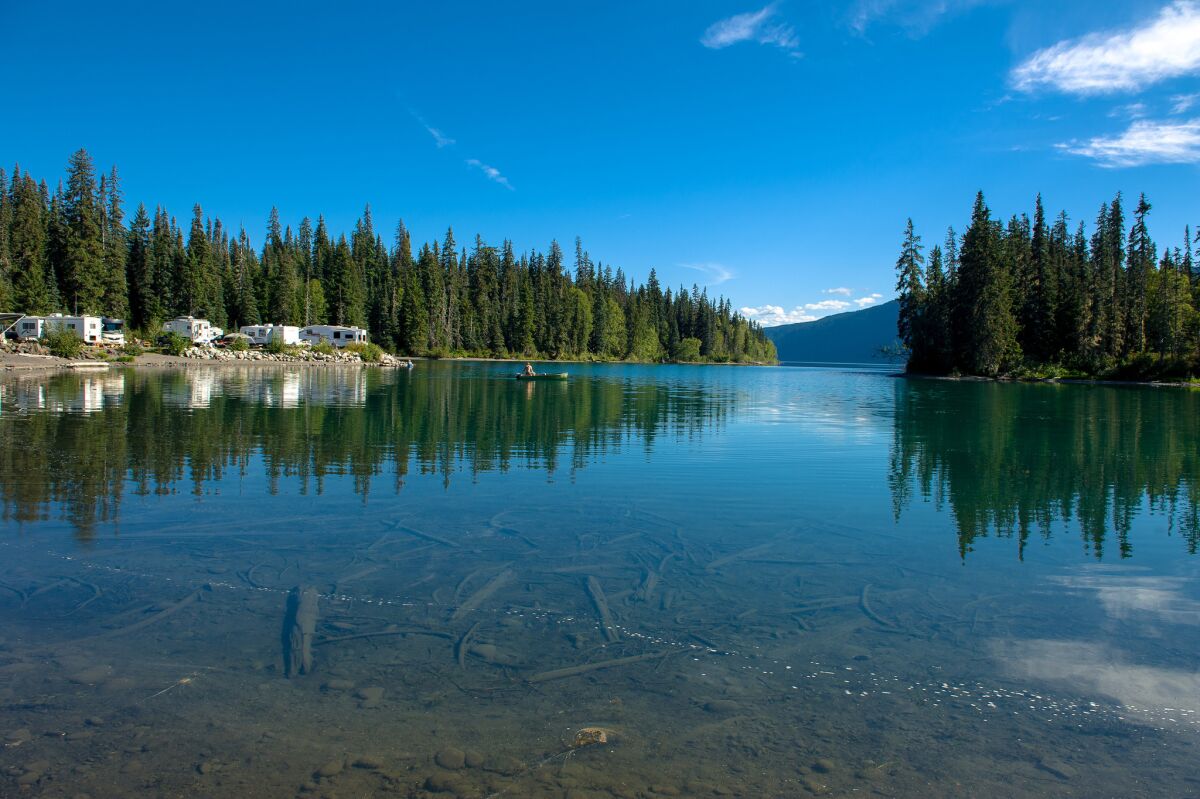 And any inconvenience was far outweighed by the wonders we saw. Forget about billboards, motels and hamburger stands. Instead, we found phenomenal wilderness in the backcountry of Alaska and Canada's British Columbia and Yukon Territory.
Climate change has affected the north — experts say that most glaciers in Alaska and British Columbia are shrinking — but the countryside is lush and green with overflowing lakes, rivers and creeks. Glaciers hang from high mountains, and waterfalls spill down rock surfaces. Purple and yellow wildflowers carpet the roadsides; grizzlies, caribou and moose roam. Every turn brings a stunning new vista.
Yes, there are mosquitoes, but honestly, I got only one bite. And usually, the buggers harass me endlessly.
Small towns flew by, places where residents told us, "I thank God every day I'm lucky enough to live here." We pictured ourselves abandoning the L.A. megalopolis and setting up housekeeping in some of them, places where life moves to its own rhythms.
But the three of us, friends who had worked together for years, pulled up short when we thought about braving winter in a place such as Tok, Alaska, which prides itself on being the "coldest inhabited place in North America."
Our itinerary was daunting. There's so much to see and so many amazing things to learn about one of the world's last great frontiers.
I loved all of it, despite the rushed schedule. It's the greatest drive on the continent; the ultimate road trip.
Taking a detour with dramatic coastlines and quirky towns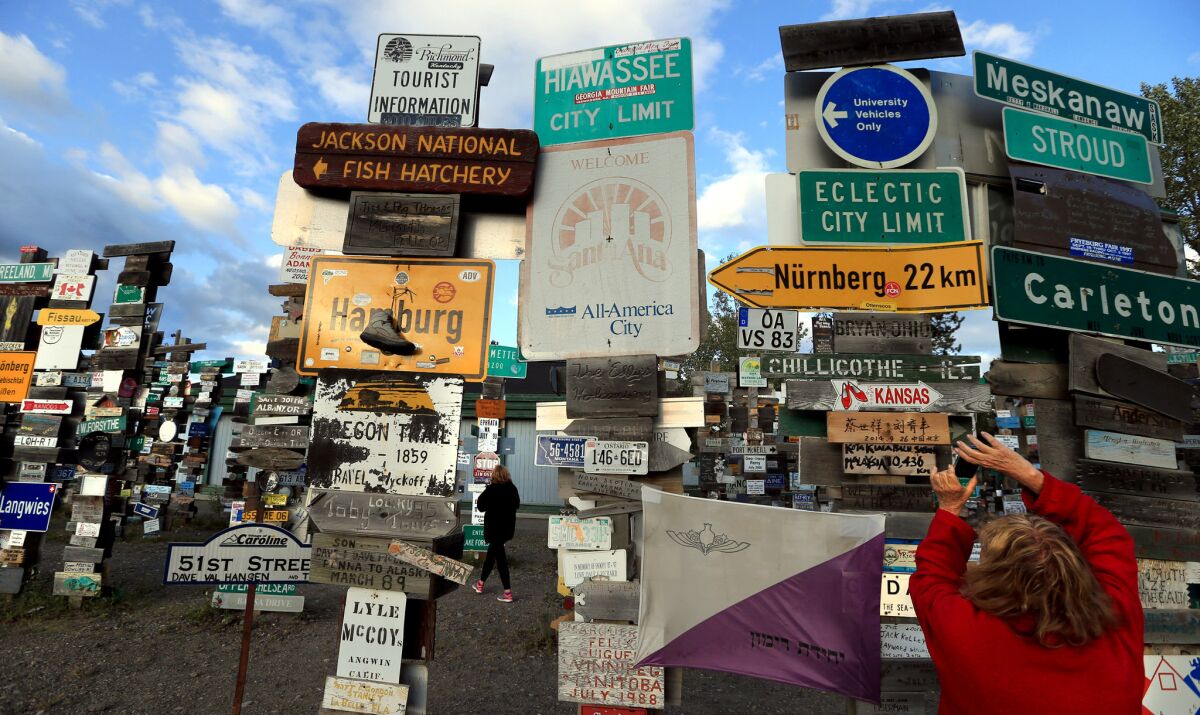 When we left on our 3,000-mile journey, it never occurred to us that we'd spend the largest part of our time steering our 30-foot RV through British Columbia. This massive Canadian province sucked up six days of our time, but we never regretted it.
It's hard not to fall in love with a place that offers dramatic coastlines, towering mountains and raw, wildlife-packed wilderness. Especially when you factor in the quirky little communities along the route, particularly in rustic northern British Columbia.
We visited places such as Smithers, a picturesque town with an alpine look where City Council member Gladys Atrill bemoaned the receding local glaciers but told us, "I say thank you every day for what a wonderful place I live in."
And then there's Stewart, a town of 400 souls that bumps up against the border of Misty Fiords National Monument, a 2.3-million-acre Alaska wilderness preserve. Stewart, at the head of a 90-mile-long fiord, is colorful and laid back. When we had dinner here, our waitress greeted us by asking if we'd brought the rain. "We really need it," she said. "Glad you came."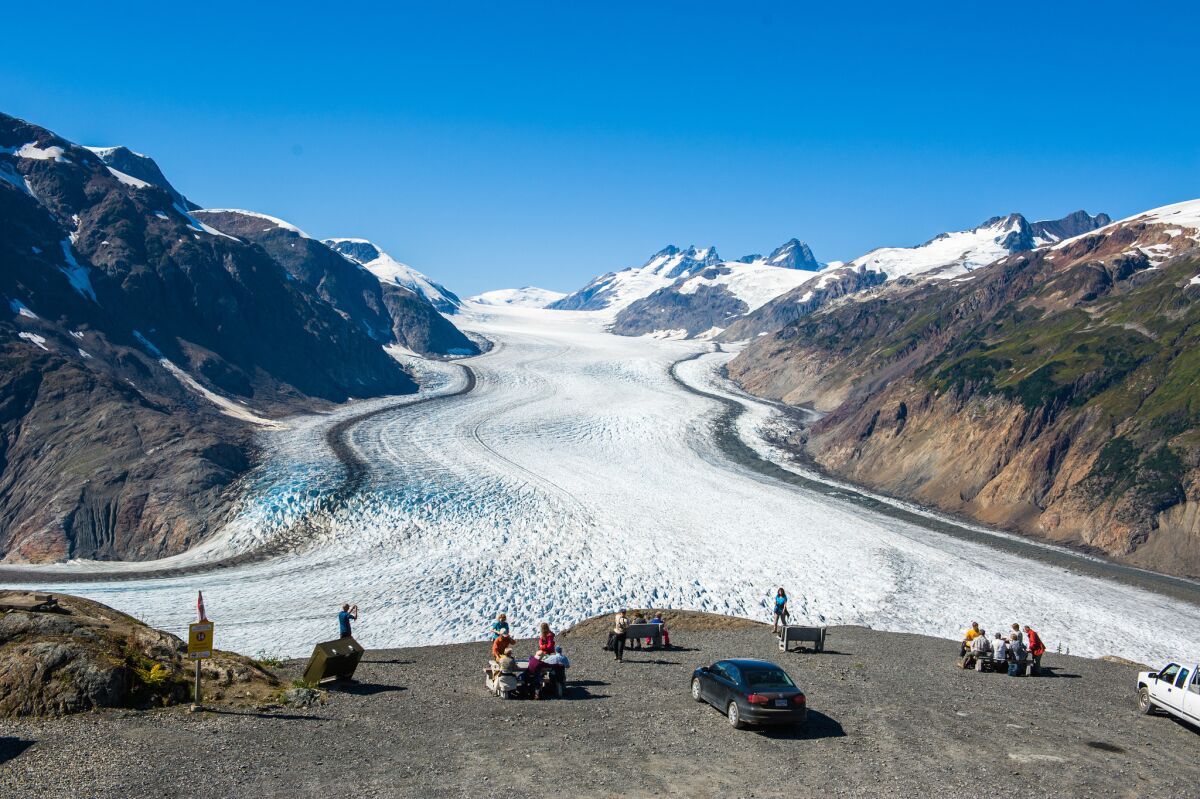 We'll never forget Hyder either, a tiny Alaska town of less than 100 that can be reached only by boat or by driving through British Columbia. One of the town's main claims to fame is its bar, the Glacier Inn, where visitors have papered the walls with $90,000 worth of U.S. and Canadian bills. "They put their names on the bills," said our waitress. "Then they can come back and still get a drink if their mining claim plays out."
We were able to tour beautiful Stewart and raucous Hyder because we took a long detour. The Alaska Highway runs from Dawson Creek, British Columbia, to Delta Junction, Alaska, a length of 1,387 miles. Like a lot of travelers, we skipped the first few hundred miles of it to take the Stewart-Cassiar Highway (Highway 37), a more direct route north for westerners.
The road, which passes near Stewart and Hyder, is considered one of British Columbia's most scenic and remote highways, offering 450 miles of mountain vistas, icy alpine lakes and very few outposts of civilization. We rarely saw traffic while on this route.
We intercepted the Alaska Highway at Watson Lake, in the Yukon, where more than 72,000 signs from around the globe welcome travelers. The Sign Post Forest got its start in 1942 during construction of the highway when a homesick Danville, Ill., resident posted a placard from his hometown. Watson Lake encourages visitors to post their own signs. It's a wacky and fun attraction — the perfect welcome to a region known for its offbeat communities and larger-than-life scenery.
Top off the gas tank, beware 'frost heaves,' and more tips for the drive
It took a world war to get the Alaska Highway built. And it takes a fight every summer to keep it from destroying vehicles.
The road, punched through more than 1,500 miles of Canadian and Alaskan wilderness, took shape over about nine months in 1942. The attack on Pearl Harbor, followed by Japanese threats to the West Coast, caused the scramble to complete it quickly to create a land route to Alaska from the lower 48.
During the peak of construction, more than 17,000 men worked on the road, with crews laboring from both north and south. They completed the highway in record time, but it wasn't easy to navigate. It had pontoon bridges, steep grades and a washboard surface — at best.
Fast forward to 2015. The road is shorter now and engineered more deliberately, but it can still be a pain for drivers and public works departments.
"My advice: You should always travel with two pillows," said Gwen Watson, owner of the Raven Motel in Haines Junction, Yukon Territory. "A pillow for your head and one for your behind. It's part of the Yukon experience."
I understood what she meant the next day. Haines Junction is a few miles from a section of the Alaska Highway that's undergoing major repairs. We hit 85 miles of mostly gravel. Shake, rattle and roll. Pillows would have helped.
Hundreds of miles of roadway in the Yukon and Alaska, like this section of the highway, are built on permafrost, ground that freezes in winter and thaws in summer. The result is a phenomenon called "frost heaves," or giant potholes. Hit them going faster than about 20 mph in a big vehicle and you can be in trouble.
Road construction — seemingly a constant in some areas — causes more delays while you queue up waiting. Meanwhile, drivers make small talk, admire the scenery and exchange information.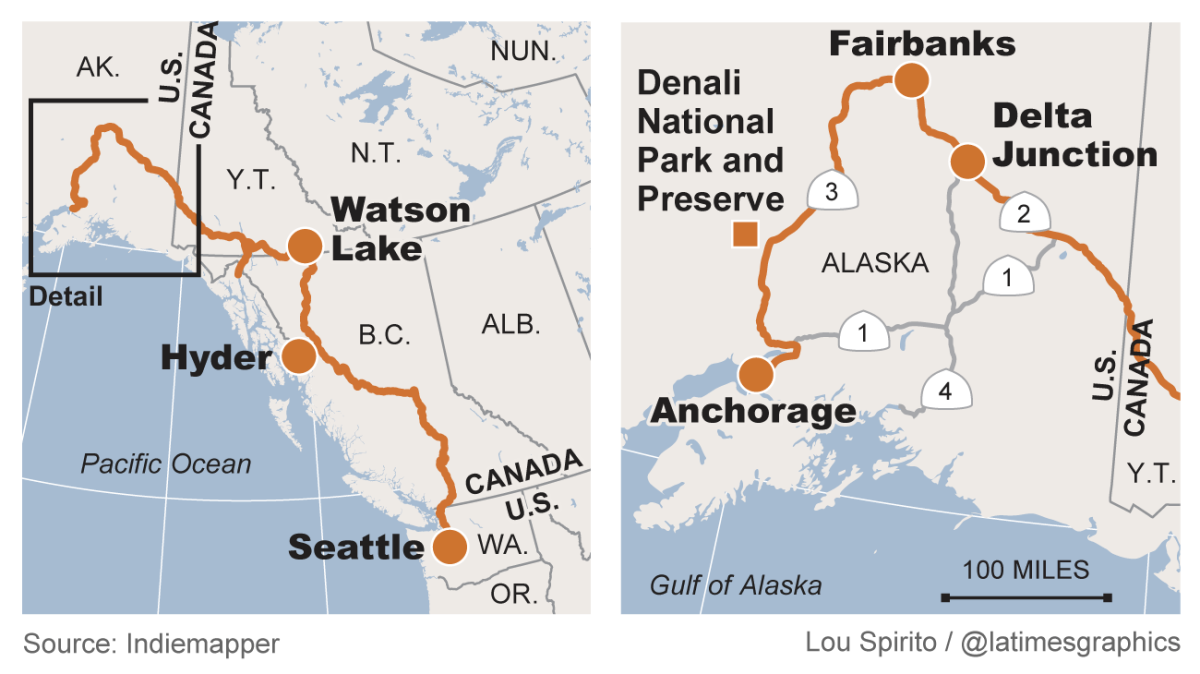 Here are more tips:
Many businesses along the Alaska Highway are seasonal, opening in May and closing in September.
Purchase a copy of the Milepost, ($34.95, https://www.themilepost.com), the bible of travel in Alaska and northwestern Canada. It's great for planning purposes and while you're on the road.
Gas is expensive in Canada, costing $5 or more per gallon. Happily, the exchange rate now is favorable for U.S. residents. Hotel rooms and RV parks are relatively inexpensive. Camping is even less, especially in government-run provincial parks, which are usually outstanding.
If you pool expenses, as our group did, camp and eat picnic food, you can get a travel bargain and see some of North America's most amazing scenery.
Buy gas early in the day and top off the tank whenever you can. Some roads have few stations.
Keep your headlights on at all times; it's the law in most areas.
It can be difficult to rent an RV during peak season and even harder to find a company that allows one-way drop-offs. (One company that does is Alaska Travel Adventures, https://www.bestofalaskatravel.com). Some will waive a drop-off fee if they need a vehicle moved from one area to another.
Road trip to Alaska, by the numbers
Seattle to Anchorage:
Miles driven: 2,993
Fuel used: 351 gallons (30-foot RV)
Fuel economy: 8.5 miles per gallon
Amount spent on gas: $1,224.32 (all dollar figures are U.S.)
Price range per gallon: $3.04 per gallon in Nooksack, Wash., to $5.14 per gallon in Destruction Bay, Yukon Territory, and Meziadin Junction, British Columbia
Fuel cost per mile: 41 cents
RV rental for two weeks: $2,674
(Alaska Travel Adventures rental fee includes $39 a day for unlimited mileage. Daily rental rates depend on date and size. One-way drop-off fees may apply, depending on direction and date.)
The best way to travel the Alaska Highway
From LAX, Alaska offers nonstop service to Anchorage, and Delta and Alaska offer connecting service (change of planes). Restricted round-trip fares begin at $445, including taxes and fees.
From LAX, Alaska, Delta, Virgin America and United offer nonstop service to Seattle, and Delta, Alaska, Southwest, United and Virgin America offer connecting service (change of planes). Restricted round-trip fares begin at $225, including taxes and fees.
If you're driving from Washington state, enter British Columbia and take the Gold Rush Trail (Highway 97) north to Prince George, British Columbia; the Yellowhead Highway (16W) to Hazelton, British Columbia; and the Stewart-Cassiar Highway (37) north to the Alaska Highway (1) in the Yukon Territory. Follow it into Alaska (Highway 2), where it ends at Delta Junction. Continue north on Highway 2 to Fairbanks, follow Highway 3 south to Denali National Park and Anchorage.
WHERE TO RENT RVs
Alaska Travel Adventures, 9085 Glacier Highway, Suite 301, Juneau, Alaska; (800) 323-5757, https://www.bestofalaskatravel.com. Rentals from 21 to 31 feet long are available in Seattle and in Alaska in Skagway, Fairbanks and Anchorage. Daily rental rates depend on the date and size of vehicle. One-way drop-off fees may apply.
Great Alaskan Holidays, 9800 Old Seward Highway, Anchorage; (888) 225-2752, https://www.greatalaskanholidays.com. Rentals from 22 to 33 feet long; pick-up and drop-off in Anchorage only. Daily rental rates depend on date and size of vehicle.
ABC Motorhome and Car Rentals, 3875 Old International Airport Road, Anchorage; (800) 421-7456, https://www.abcmotorhome.com. Camper vans and truck campers, plus RV rentals from 22 to 32 feet. Daily rental rates depend on date and size of vehicle. Main pick-up and drop-off is in Anchorage, but may also be available in Seward, Whittier and Fairbanks for an additional fee.
WHERE TO STAY
Evergreen Bed & Breakfast, 1208 Ryder St., Hope, British Columbia; (604) 869-9918, https://www.evergreen-bb.com. Nicely decorated B&B with large rooms, RV parking and gourmet breakfasts. Internet. Close to the Trans-Canada Highway. Doubles from $100 a night.
Mountain Shadow RV Park & Campground, Iskut, British Columbia; (250) 234-3333, https://www.mtshadowrvpark.com. Two miles north of Iskut on the Stewart-Cassiar Highway. Well-maintained sites overlook a mountain lake. Internet. Cute cabins and tent camping also available. RV sites from $20, tent sites $14-$20, cabins from $56.
River's Edge Resort RV Park, 4200 Boat St., Fairbanks, Alaska; (907) 474-0286, www.riversedge.net. Large, full-service RV park on the outskirts of town. Some trees, restaurant and store. Internet. From $40 a night.
WHERE TO EAT
Alpenhorn Bistro & Bar, 1261 Main St., Smithers, British Columbia; (250) 847-5366, https://www.alpenhornbistro.com. Join the locals at this fun restaurant in the center of lovely Smithers. Try the locally made brats, $14.27, or the BYO Wok, which allows guests to choose the sauce, ingredients and protein in their stir-fried creations, $13.46. Entrees from $8.59.
Wolf It Down Restaurant, Mile 627 Alaska Highway, Watson Lake, Yukon Territory; (867) 536-2307, www.nuggetcity.com. Not a lot of ambience in this lonely section of the Yukon, but the food is good and hearty, and there's a bakery, gas station and RV park on the premises. Entrees from $14.50. Try the homegrown strawberry-rhubarb pie, $6.45.
Starfire Thai Cuisine, 4th and Spring streets, Skagway, Alaska; (907) 983-3663, https://www.starfirealaska.com. If you're growing tired of fresh halibut and salmon, this small restaurant offers a tasty change of pace. Five types of curry, several wok dishes and favorites such as pad thai ($17). Entrees $13-$19.
TO LEARN MORE
Visit British Columbia (Canada) Tourism & Travel Information, https://www.hellobc.com
State of Alaska Vacation & Travel Information, https://www.travelalaska.com
Yukon (Canada) Larger Than Life Tourism Information, https://www.travelyukon.com
MORE:
Take a road trip through French Basque country
It's the unplanned fun that kids love on family's S.F.-to-Yellowstone trip
---
Get our L.A. Goes Out newsletter, with the week's best events, to help you explore and experience our city.
You may occasionally receive promotional content from the Los Angeles Times.