With parts of Yosemite closed because of the Ferguson fire, here's what you need to know about what's open, what's closed and how to get a refund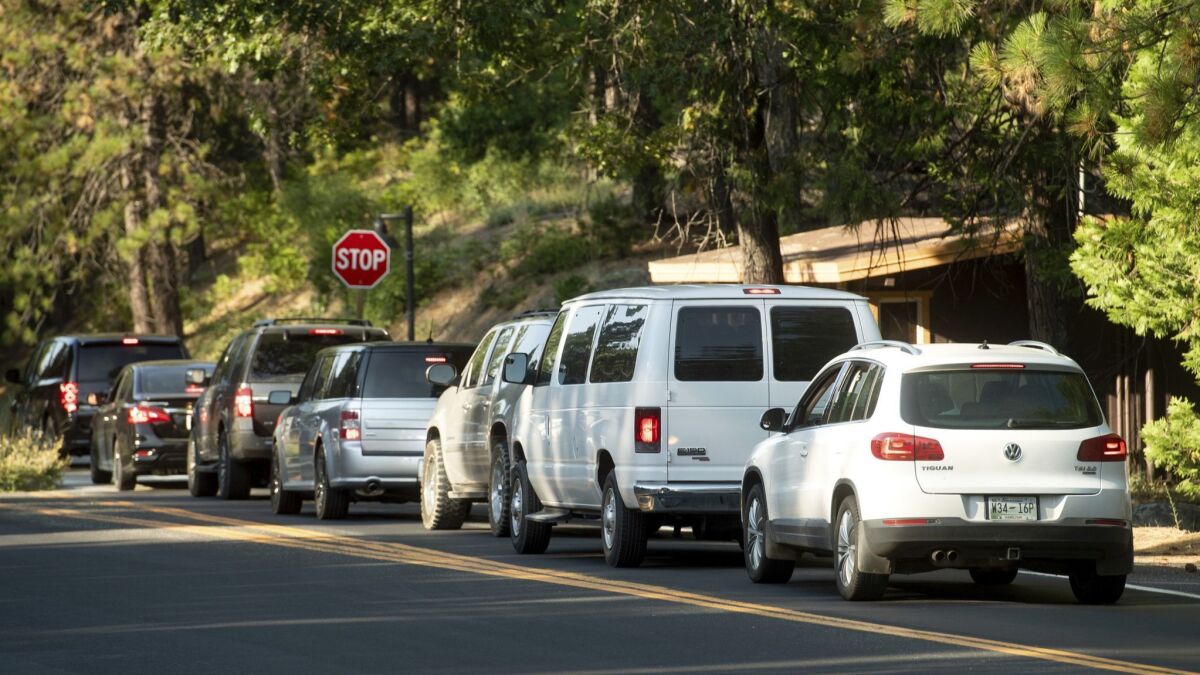 If you were planning to visit Yosemite Valley this weekend, it's time for Plan B. The valley as well as the Wawona area of Yosemite National Park closed Wednesday to support firefighting operations in the Ferguson fire.
Visitors who had reservations for hotels, tent cabins, campgrounds and visitor activities inside the southern and western parts of the park Wednesday to Sunday will be eligible for rebooking or refunds.
About 1,000 reservations will be canceled, according to media reports.
Yosemite Valley, Wawona areas of the national park to close through Sunday because of the Ferguson fire »
Here's a rundown of what's open, what's closed and what you need to know about Yosemite's closures, which officials say will remain in effect through Sunday.
Entrances and roads
California 140, one of the main roadways on the park's west side, has been closed from Midpines to Big Oak Flat Road almost since the fire began July 13. The Arch Rock Entrance is closed, and the park's South Entrance and Mariposa Grove of Giant Sequoias closed Wednesday.
California 41 from Wawona to the tunnel entry into Yosemite Valley closed Wednesday.
Visitors in those areas had been asked to leave.
However, Tioga Road (California 120) and the Tioga Pass Entrance, about 87 miles northeast of the South Entrance, will remain open. That means you could do some backcountry exploring at Tuolumne Meadows or Hetch Hetchy.
Hotels and tent cabins
If you have a reservation in the Majestic Yosemite Hotel (formerly the Ahwahnee Hotel), Yosemite Valley Lodge and Half Dome Village tent cabins, you will be allowed to change your reservation dates or receive a refund, spokeswoman Lisa Cesaro said.
Guests who were forced to leave their lodgings by noon Wednesday won't be charged for additional nights, but they also won't receive any compensation for the curtailed visit.
Only people who were scheduled to stay Wednesday until Sunday may be eligible for an easing of the cancellation policy.
You may also receive a refund if you booked an activity such as horseback rides or a rafting tour.
However the cancellation policy — forfeit the deposit of a night's lodging if you cancel less than seven days before your reservation — remains in effect for places on the the east side of the park, such as White Wolf Lodge, Tuolumne Meadows Lodge and the High Sierra Camps. Those sites, as well as the Hetch Hetchy area, remained open as of Tuesday.
Tenaya Lodge in Fish Camp is also open.
Campgrounds
Recreation.gov makes reservations for many of Yosemite's campgrounds on the west side, such as Lower Pines, Upper Pines, Hodgdon Meadow and Crane Flat.
Its website said campers concerned about heavy smoke and conditions who have reservations may receive a full refund by calling (888) 448-1474. Right now, there are no reservations being taken for some of the sites.
The Wawona Campground, nearest the fire, is closed and will remain closed indefinitely. Reservations through Aug. 6 will be canceled and fully refunded, the website said.
Resources
The Ferguson fire has burned more than 36,000 acres as of Tuesday evening, according to the U.S. Forest Service. It is 25% contained.
To learn more about the Ferguson fire, go to InciWeb.
To learn more about the hazardous air quality caused by the fire, go to San Joaquin Valley's air quality website. The Wildland Fire Air Quality Response Program gives smoke updates too.
Check for national park alerts and updates at Yosemite National Park.
ALSO
Cruise Critic readers choose their top destinations. Alaska's Glacier Bay freezes out the competition
Here's another 'only in Las Vegas': You won't find this exclusive small-batch tequila anywhere but here
Virgin Voyages will debut first ship in 2020 with policy that bans single-use plastics
Get our L.A. Goes Out newsletter, with the week's best events, to help you explore and experience our city.
You may occasionally receive promotional content from the Los Angeles Times.