Californian who shocked officer with stun gun on Jan. 6 sentenced to 12 years in prison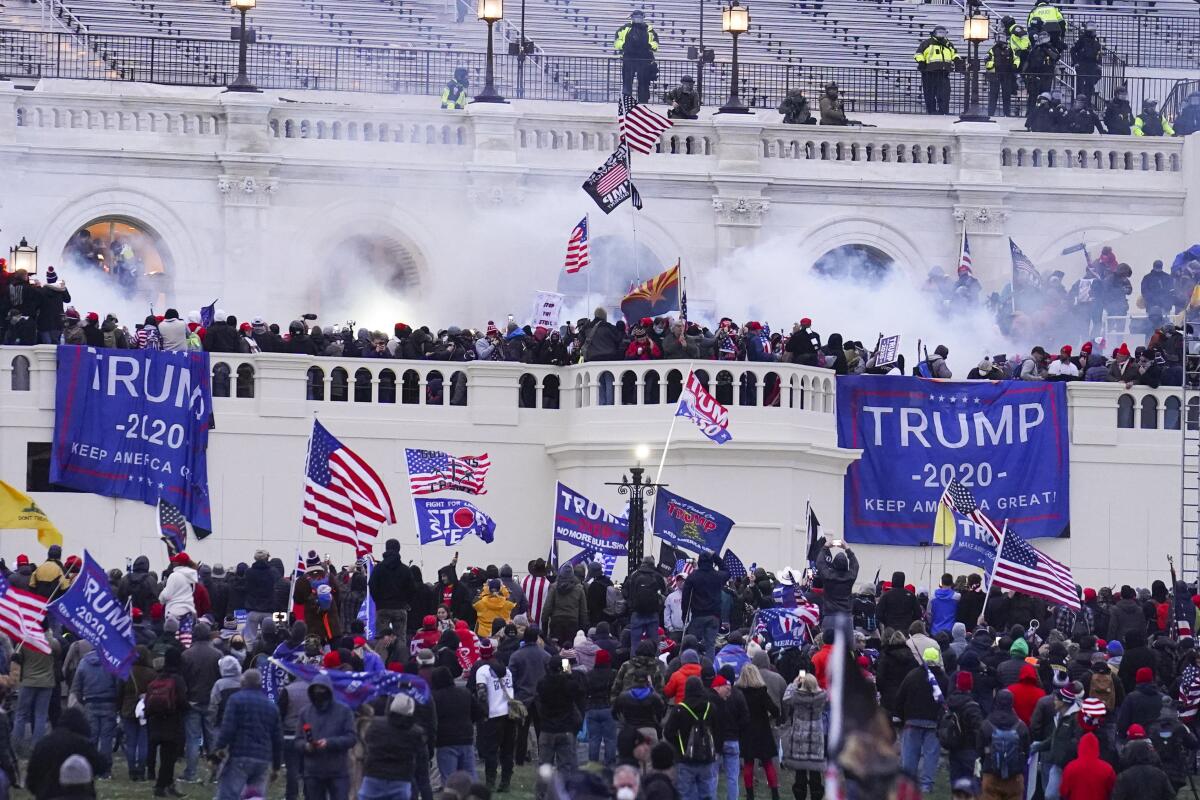 WASHINGTON —
A California man who drove a stun gun into a police officer's neck during one of the most violent clashes of the U.S. Capitol riot was sentenced on Wednesday to more than 12 years in prison.
Daniel "D.J." Rodriguez of Fontana yelled, "Trump won!" as he was led out of the courtroom where U.S. District Judge Amy Berman Jackson sentenced him to 12 years and seven months behind bars for his role in the Jan. 6, 2021, attack. Only two of the hundreds of other Jan. 6 defendants sentenced to date have received longer prison terms.
The judge said Rodriguez, 40, was "a one-man army of hate, attacking police and destroying property" at the Capitol.
"You showed up in D.C. spoiling for a fight," Jackson said. "You can't blame what you did once you got there on anyone but yourself."
Metropolitan Police Officer Michael Fanone's body camera captured him surrounded by a mob and screaming in pain after Rodriguez shocked him with a stun gun.
Another rioter had dragged Fanone into the crowd outside a tunnel on the Capitol's Lower West Terrace, where a line of police officers was guarding an entrance to the building. Other rioters began beating Fanone, who lost consciousness and suffered a heart attack after Rodriguez pressed the stun gun against his neck and repeatedly shocked him.
Jay Johnston, actor and voice of Jimmy Pesto on "Bob's Burgers," has been arrested on suspicion of participating in the Jan. 6 attack on the Capitol.
Fanone addressed the judge before she imposed the sentence. The former officer described how the Jan. 6 attack prematurely ended his law enforcement career and turned him into a target for supporters of former President Trump who cling to the lie that Democrats stole the 2020 election from the Republican incumbent.
Fanone left the courtroom in the middle of Rodriguez's statement to the judge, though he didn't miss an apology from Rodriguez, who has been jailed for more than two years and will get credit for that time.
"I'm hopeful that Michael Fanone will be OK someday," Rodriguez said. "It sounds like he's in a great deal of pain."
Fanone said he left the courtroom because he didn't care to hear his assailant's "rambling, incoherent" statement.
"Nothing he could have said to me today would have made any difference whatsoever," he said.
Prosecutors had recommended a 14-year prison sentence for Rodriguez, who pleaded guilty in February to charges including assaulting Fanone. They also sought a fine of nearly $100,000 to offset the cost of Fanone's medical bills and medical leave.
Markus Maly's prison sentence is significantly lower than the punishment that prosecutors sought for his role in the Jan. 6, 2021, insurrection.
Fanone's injuries ultimately ended his career in law enforcement. He has written a book about his Jan. 6 experience and testified in front of the House committee that investigated the insurrection, which disrupted the joint session of Congress for certifying President Biden's 2020 electoral victory.
"Rodriguez's criminal conduct on January 6 was the epitome of disrespect for the law; he battled with law enforcement at the U.S. Capitol for hours, nearly costing one officer his life, in order to stop the official proceeding happening inside," prosecutors wrote in a court filing.
Rodriguez pleaded guilty to four felony charges, including conspiracy and assaulting a law enforcement officer with a deadly or dangerous weapon. He entered the plea about two weeks before his trial was scheduled to start in Washington.
On Jan. 6, 2021, Rodriguez attended Trump's "Stop the Steal" rally before joining the mob of rioters who attacked police.
"Rodriguez made his way to the front of the line of rioters battling the officers, yelling into his bullhorn at the beleaguered line," prosecutors wrote.
Rodriguez used a fire extinguisher against officers in the Lower West Terrace tunnel, and shoved a wooden pole at the police line before another rioter, Kyle Young, handed him what appeared to be a stun gun, according to prosecutors.
The Pennsylvania restaurant owner screamed death threats directed at then-House Speaker Nancy Pelosi while storming the U.S. Capitol.
Fanone was at the front of the police line when another rioter, Albuquerque Cosper Head, wrapped his arm around the officer's neck and dragged him out onto the terrace steps, then restrained Fanone while other rioters attacked him. Rodriguez shocked Fanone's neck with the stun gun, below the left ear of his police helmet.
When Fanone managed to retreat, he collapsed behind the police line before he was taken to a hospital.
"Once inside, when officers were able to revive him after 2 minutes and 21 seconds, the first thing Officer Fanone asked was 'did we take back that door?'" prosecutors wrote.
Rodriguez entered the building and smashed a window with a wooden pole before leaving Capitol grounds.
Head was sentenced to more than seven years in prison after pleading guilty to an assault charge.
Young also was sentenced to more than seven years in prison for his role in the officer's assault. He had grabbed Fanone by the wrist while others yelled, "Kill him!" and "Get his gun!"
An Alabama man has been sentenced to nearly two years in prison for storming the U.S. Capitol and invading the Senate floor with a knife on his hip.
During an interview with FBI agents after his March 2021 arrest, Rodriguez said he believed that he was doing the "right thing" on Jan. 6 and that he had been prepared to die to "save the country." He cried as he spoke with the agents, saying he was "stupid" and ashamed of his actions.
In the days leading up to the attack on the Capitol, Rodriguez spewed violent rhetoric in a Telegram group chat called "PATRIOTS 45 MAGA Gang."
"There will be blood. Welcome to the revolution," he wrote a day before the attack.
Rodriguez's attorneys said he idolized Trump, seeing the former president "as the father he wished he had."
"Mr. Rodriguez trusted Trump blindly and admired Trump so much that he referred to him as 'dad' in his social media chats leading up to Jan. 6th," defense attorneys wrote, requesteding their client be sentenced to five years and five months in prison.
Jackson, the judge who sentenced Rodriguez, also convicted his co-defendant, Edward Badalian, on three riot-related charges and acquitted him of a fourth after a trial without a jury. She is scheduled to sentence Badalian on July 21.
More than 1,000 people have been charged with federal crimes related to the Jan. 6 attack. Over 700 of them have pleaded guilty or been convicted at trial. Approximately 550 of those have been sentenced, over half of them to prison, with terms ranging from seven days to 18 years.
Sign up for Essential California for news, features and recommendations from the L.A. Times and beyond in your inbox six days a week.
You may occasionally receive promotional content from the Los Angeles Times.