Woman who threatened Pelosi with hanging gets 27 months in prison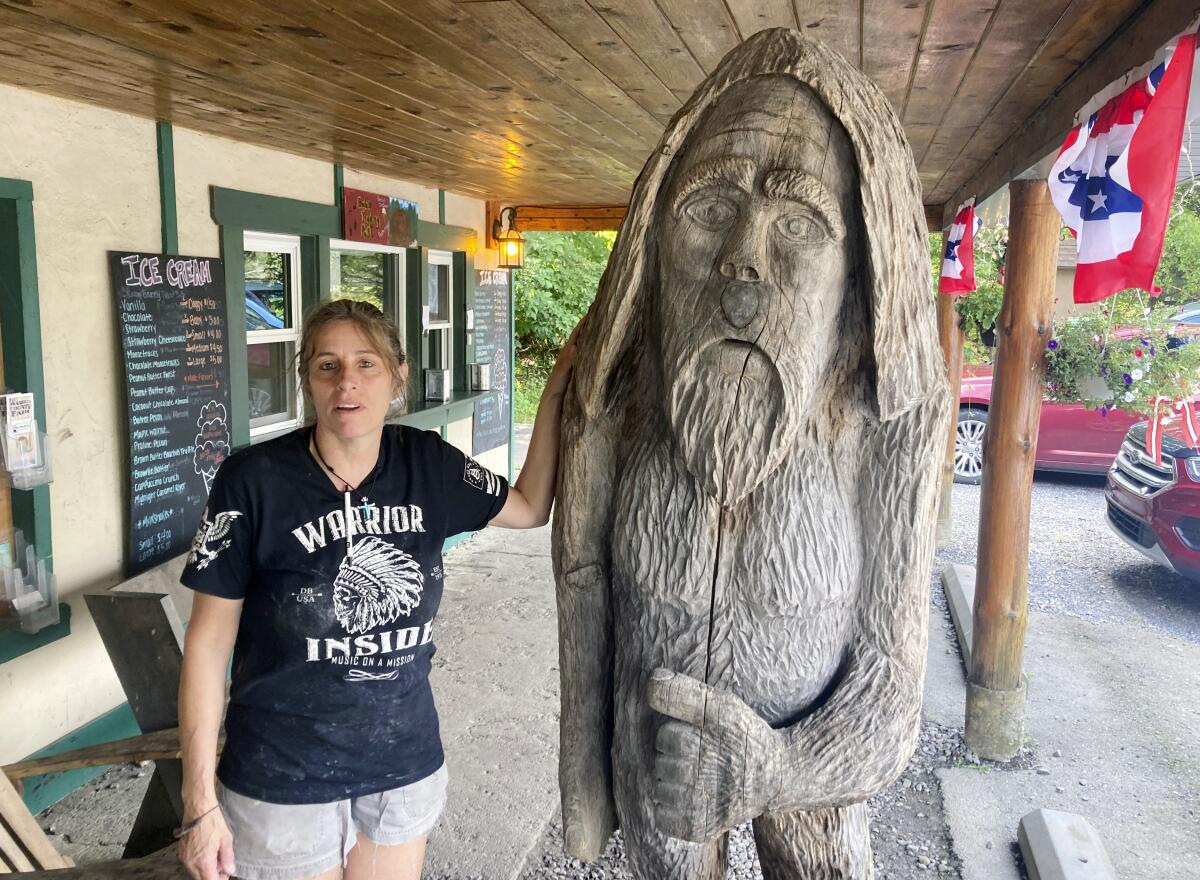 A Pennsylvania restaurant owner who screamed death threats at then-House Speaker Nancy Pelosi while storming the U.S. Capitol was sentenced Tuesday to more than two years in prison.
Pauline Bauer was near Pelosi's office suite on Jan. 6, 2021, when she yelled at police officers to bring out the California Democrat so the mob of supporters of President Trump could hang her.
In January, U.S. District Judge Trevor McFadden convicted Bauer of riot-related charges after hearing trial testimony without a jury. The judge sentenced her to two years and three months of imprisonment, giving her credit for the several months she has already served in jail, court records show.
Prosecutors had recommended a prison term of six years and six months.
Bauer, 55, of Kane, Pa., was part of the mob that forced police officers on the East Plaza to retreat. After forcing her way into the Capitol, she accosted officers who were trying to secure the Rotunda, shoving one, and yelled at them to "bring them out or we're coming in," according to federal prosecutors.
An Arkansas man who propped his feet up on a desk in Nancy Pelosi's office during the U.S. Capitol riot is convicted of joining mob attack.
"They're criminals. They need to hang," she screamed. "Bring Nancy Pelosi out here now. We want to hang [her]. Bring her out."
Other rioters shouted threats against Pelosi as they roamed through the Capitol.
"Bauer's threat to hang Speaker Pelosi was real, imminent, and placed the Speaker of the House in danger," prosecutor James Peterson wrote in a court filing.
Bauer traveled from her north Pennsylvania home to attend Trump's "Stop the Steal" rally Jan. 6 in Washington. She had attended a similar rally the day before in Harrisburg, Pa.
She came to Washington with at least five other people who have been charged in the Capitol riot, including co-defendant William Blauser, who pleaded guilty to a misdemeanor charge. Last year, McFadden ordered Blauser to pay a $500 fine but didn't sentence him to incarceration or probation.
McFadden convicted Bauer of all five counts in her indictment, including a felony charge that she obstructed the Jan. 6 joint session of Congress that certified Joe Biden's 2020 electoral victory.
Some rioters who stormed the U.S. Capitol on Jan. 6, 2021, are trying to profit from their participation in the insurrection while they face legal consequences.
Defense attorney Komron Jon Maknoon said Bauer never intended to interfere with the process of certifying the electoral college vote. She "genuinely regrets her past actions" and doesn't pose a threat to the public, he wrote.
"The international spotlight showcasing her at her worst has deeply affected her," Maknoon wrote.
Prosecutors said Bauer lied during her trial testimony, giving a bogus explanation for her confrontation with police and claiming she didn't remember threatening Pelosi.
Bauer has used "sovereign citizen" extremist rhetoric and filed "nonsense" court documents while defending herself, prosecutors said.
More than a year before the trial, McFadden ordered Bauer to be jailed for several months for violating conditions of her release. She had claimed that the court has no authority over her and told the judge she doesn't want "any lawyering from the bench."
An Alabama man has been sentenced to nearly two years in prison for storming the U.S. Capitol and invading the Senate floor with a knife on his hip.
During a 2021 interview, Bauer said her arrest on Capitol riot charges led to a mixed reaction from neighbors in Kane, a town on the edge of the Allegheny National Forest.
"A lot of people say that they're proud of me for standing up for my rights," she told the Associated Press.
Bauer said her restaurant, Bob's Trading Post, was thriving before the COVID-19 pandemic. She became known in her hometown as an outspoken critic of lockdown measures that cost her business.
More than 1,000 people have been charged with federal crimes for their conduct on Jan. 6. More than 500 of them have been sentenced, with more than half receiving prison terms ranging from one week to 18 years.

Sign up for Essential California for the L.A. Times biggest news, features and recommendations in your inbox six days a week.
You may occasionally receive promotional content from the Los Angeles Times.