Bodies of U.N. workers and interpreter found in Congo, prompting calls for investigation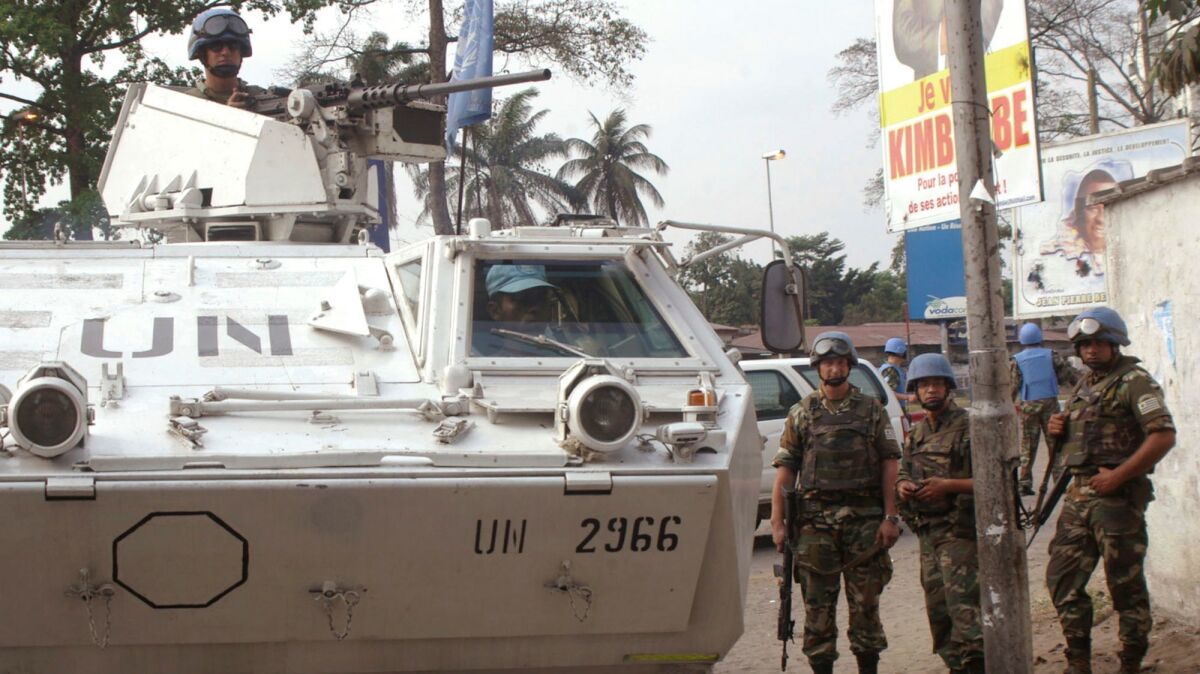 Reporting from Johannesburg, South Africa —
The bodies of two United Nations investigators and their Congolese interpreter were found in a shallow grave Monday in the troubled Kasai-Central province of the Democratic Republic of Congo.
American Michael J. Sharp of Kansas, Swede Zaida Catalan and Congolese Betu Tshintela were reporting on the conflict in Kasai-Central, a province roiled by months of violence.
U.N. Secretary-General Antonio Guterres confirmed late Tuesday that the bodies located south of the city of Kananga were those of Sharp and Catalan. Congolese authorities said Tshintela's body was also found.
Sharp and Catalan were members of the U.N. Group of Experts, which reports to the Security Council on the Congolese conflict, arms trafficking, rights abuses and crimes against humanity. They were investigating rights abuses in the village of Bunkonde when they were abducted by armed men.
In addition to the three victims, three Congolese working with the group have been reported missing: Isaac Kabuayi, the team's driver, and two motorcycle drivers. Motorcycles often are the only means of transport to remote areas in Congo.
"Tonight I have no words except to thank you all for your support and prayers," Sharp's father, John Sharp of Kansas, posted on his Facebook page, which had become a rallying point for prayers and support. "Maybe words will come in time."
Michael Sharp, known as M.J., was an alumnus of Eastern Mennonite University and worked as the eastern Congo coordinator for the Mennonite Central Committee before joining the U.N. in 2015.
Catalan's last activity on Twitter in early March was to retweet a quote someone posted attributed to Buddha. "Three things cannot be long hidden: the sun, the moon and the truth," read the item that summed up her belief in her humanitarian work.
Nikki Haley, the U.S. ambassador to the U.N., offered "prayers and heartfelt condolences" to the families.
"It is always difficult to lose a brave American dedicated to service. Michael was working on the front lines of what we try to do at the United Nations every day: find problems and fix them," she said. "He selflessly put himself in harm's way to try to make a difference in the lives of the Congolese people. His courage and desire to serve others is an example for us all."
Swedish Prime Minister Stefan Lofven said Catalan was working to strengthen peace in a country long beset by violence and destruction.
"Zaida Catalan worked tirelessly for peace and justice and risked her own life to save others. We share the sense of loss and despair with her family and friends, while also feeling a deep sense of gratitude for her work," he said.
Guterres called on Congolese authorities to mount a thorough investigation to learn how the team died, adding that the U.N. would conduct its own inquiry.
"Michael and Zaida lost their lives seeking to understand the causes of conflict and insecurity in the DRC in order to help bring peace to the country and its people," he said.
Humanitarians and analysts who knew the two U.N. experts paid tribute to their courage and dedication to working for peace.
Michael Sharp believed strongly in the mission of helping Congo achieve peace, a journey ended far too early
— Sasha Lezhnev, Enough Project policy analyst
"Michael Sharp believed strongly in the mission of helping Congo achieve peace, a journey ended far too early. May his belief not die in vain," Enough Project policy analyst Sasha Lezhnev tweeted.
Ida Sawyer of Human Rights Watch called for an independent international investigation to establish how the team died and uncover the causes of violence in the region to help end abuses and violence there.
"We express our deepest condolences to the families, colleagues and friends of Michael and Zaida, who lost their lives while seeking truth, justice and an end to the violence and abuse that Congolese in the Kasai region and beyond have long suffered," Sawyer said in a statement.
At least 400 people have been killed in violence in Kasai-Central, an opposition stronghold and one of the poorest and least developed parts of the country, after a rebellion last year. More than 200,000 people have been displaced by the violence. On Saturday, about 40 police were decapitated in Kasai-Central, allegedly by the Kamuina Nsapu rebel force.
The regional trouble began with the death of a local chief and his succession by his son, Jean-Pierre Mpandi, according to the Congo Research Group, an analytical organization run by Congo expert Jason Stearns. After the government refused to recognize him as local leader, Mpandi created Kamuina Nsapu and was killed by the Congolese army in August.
Since then violence has escalated with the rebel group reportedly recruiting children as young as 5 to fight, while Congolese security forces, including police, have been accused of firing on civilians.
In February, video of Congolese soldiers opening fire on civilians in the region surfaced, including women and children. Another video showed at least eight children who had been shot, surrounded by men in uniform.
In one town, Tshimbulu, 84 rebels were killed, according to a report by the International Crisis group, an area where mass graves have been unearthed.
The U.N. force MONUSCO has condemned abuses by Kamuina Nsapu fighters and the use of disproportionate force by Congolese forces.
Violence has deepened in several parts of Congo as President Joseph Kabila has refused to step down at the end of his second term in office in December.
"While much of this violence is rooted in local causes, it directly challenges state authority and serves as a warning that the political crisis at the national level is further destabilizing the country's provinces," the International Crisis Group report warned.
A deal that allowed Kabila to stay in office until the end of 2017 appears increasingly fragile. Catholic bishops mediating peace talks between the Kabila's allies and the opposition pulled out Tuesday because of lack of progress on implementing the transition agreement.
As violence spreads in one of Africa's most complex and troubled nations, the U.S. wants to cut the cap on the U.N. peacekeeping force in Congo by 25%, Reuters reported Monday, citing diplomats. MONUSCO is the U.N.'s most expensive peacekeeping operation, at about $1.2 billion a year, with a troop cap of 19,815 and 16,893 soldiers on the ground. U.S. President Donald Trump's budget seeks to slash funding for the U.N.
Negotiations on the renewal of MONUSCO's mandate are underway. Haley, the U.S. ambassador to the U.N., told the Council of Foreign Relations in New York on Wednesday that the U.N. peacekeeping mission was helping a government that is "corrupt and preys on its citizens."
"The U.N. peacekeeping mission is mandated to partner with the government. In other words, the U.N. is aiding a government that is inflicting predatory behavior against its own people," Haley said. "We should have the decency and common sense to end this."
Twitter: @RobynDixon_LAT
MORE WORLD NEWS
'Brexit' begins as Britain gives formal notice of withdrawal from the EU
When Ecuador elects a new president, will Julian Assange still have a safe haven at its London embassy?
Peru's brutal season of floods leaves 94 dead, 700,000 homeless
---
UPDATES:
3:08 p.m.: This article was updated with additional details
This article was originally published at 5:50 a.m.
Must-read stories from the L.A. Times
Get the day's top news with our Today's Headlines newsletter, sent every weekday morning.
You may occasionally receive promotional content from the Los Angeles Times.