'Brexit' begins as Britain gives formal notice of withdrawal from the EU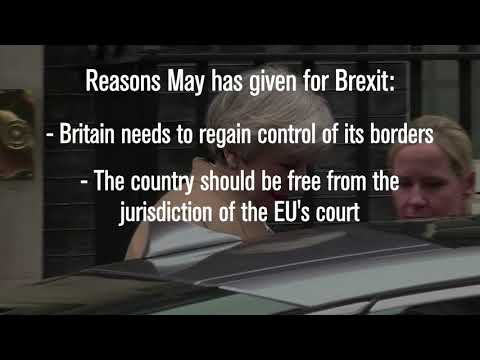 After Theresa May triggered Article 50 of the Lisbon Treaty, EU Council President Donald Tusk said "we miss you already." (Sign up for our free video newsletter here http://bit.ly/2n6VKPR)
Reporting from London —
The formal two-year process governing Britain's departure from the European Union began in earnest Wednesday as a letter was delivered to the president of the European Council giving official notice that the country wishes to withdraw from the political and economic confederation.
The letter, signed by Prime Minister Theresa May and several pages long, will fundamentally shape the future of Britain and Europe for generations to come.
The letter was handed over by Sir Tim Barrow, Britain's ambassador to the EU, and European Council President Donald Tusk released a brief statement on Twitter acknowledging receipt.
At a news conference in Brussels, Tusk appeared somber and said: "This is about damage control."
"Our goal is clear," he said. "To minimize the cost for the EU citizens, businesses and member states."
The move comes after the British public voted 52% to 48% last June, following a bruising referendum campaign, to leave the 28-member bloc after more than four decades.
During a statement to lawmakers in the House of Commons minutes after the letter was delivered, May said this was a "historic moment from which there can be no turning back."
She struck a conciliatory tone and pledged to "get the right deal for every single person in this country." She also implored all sections of society, regardless of how they voted, to use this moment to unite.
"We can, together, make a success of this moment and we can, together, build a stronger, fairer, better Britain — a Britain that our children and grandchildren are proud to call home," she said.
In recent months, May has driven home the point that she does not want the "Brexit" to be seen as Britain turning its back on its European neighbors, but instead, finding a new way to exist as an independent, sovereign nation while maintaining robust economic, trade and intelligence ties with the continent.
But she faces tough challenges, not just in Europe but on home soil.
The Scottish Parliament voted Tuesday in favor of a second independence referendum within two years, once the terms of Britain's exit deal are known.
And in Ireland, there are concerns about the future stability of the peace process as a land border could be reinstated between mainland Ireland, which is in the EU, and Northern Ireland, which will become part of post-Brexit Britain.
Today's letter formally triggers Article 50 of the Lisbon Treaty, kickstarting the two-year withdrawal process.
During the next 24 months, the two sides will attempt to hammer out terms of a divorce which, if all goes to plan, would see Britain officially ceasing to be a member of the EU at the end of March 2019.
Despite the tones of optimism espoused by members of May's government, there remains deep skepticism and uncertainty in many quarters — both in Britain and Europe — about what the future holds.
Decades' worth of regulations and agreements on issues such as immigration, trade and the rule of law will have to be unraveled.
The fate of British nationals living abroad and EU nationals living in Britain is unclear, but the issue is high on the priority list as talks get underway.
There is also the issue of a hefty "divorce bill" Britain may be asked to pay which, according to some estimates, could be around $62 billion.
On Thursday, May's government is expected to publish its Great Repeal Bill, which will convert existing EU law into domestic legislation. Tusk is expected to publish a draft of his negotiation guidelines Friday.
The other 27 members of the EU are scheduled to meet for a special summit April 29 to adopt these negotiating guidelines, but formal face-to-face talks are not expected to begin until May.
Boyle is a special correspondent. Special correspondent Catherine Stupp in Brussels contributed to this report.
ALSO
Lawmakers in Scotland back referendum on independence from Britain
European Union nations plan a 'Brexit' summit — without Britain — to make the process 'the least painful'
As EU celebrates 60th anniversary, Turkey considers a vote on joining
Sign up for Essential California for the L.A. Times biggest news, features and recommendations in your inbox six days a week.
You may occasionally receive promotional content from the Los Angeles Times.