Mexico's presidential campaign takes shape, with 3 candidates formally accepting party nominations
Reporting from Mexico City —
Three presidential candidates formally accepted the nominations of Mexico's main political parties on Sunday, entering what is shaping up to be a crowded, six-person race to the July 1 election.
In dueling rallies in the capital, Andres Manuel Lopez Obrador, Ricardo Anaya and Jose Antonio Meade addressed key domestic issues such as violence, corruption and the economy, and also relations with the United States.
Lopez Obrador of the leftist Morena party, the early front-runner in what is his third bid for the presidency, proposed to tackle insecurity by creating a federal public security department and a national guard incorporating both police and military forces.
"Those who violate human rights will be rigorously punished," he said, in allusion to abuses by Mexican security forces. "There will be no torture in our country."
Lopez Obrador also criticized Trump administration plans for what he called an "unnecessary" wall along the U.S.-Mexico border. He vowed a friendly and cooperative relationship with Washington but said that "if construction of the wall we consider a violation of human rights is insisted upon, we will recur to the United Nations to defend the rights of Mexicans."
Anaya, from the conservative National Action Party, was sworn in as the candidate of a coalition with the left-leaning Democratic Revolution Party.
Clad in a dark blazer and white dress shirt, he paced the stage of a Mexico City auditorium like a tech executive announcing a new product as he made his pitch to supporters on violence, corruption and inequality.
To combat poverty, he proposed to grow the economy by boosting competition and investment, and progressively increasing the minimum wage.
"The best social policy is economic policy, and well-paid jobs," Anaya said.
He also promised respectful relations with the United States but said his government would not let Washington take advantage of it.
"At the right time I will say personally to the president of the United States, and I will say it in his language so there will be absolutely no confusion ... Mexico will not pay a single cent for that wall," Anaya said.
And at a packed stadium, Meade officially became the first non-member presidential candidate for the governing Institutional Revolutionary Party, or PRI, in its nearly 90-year history.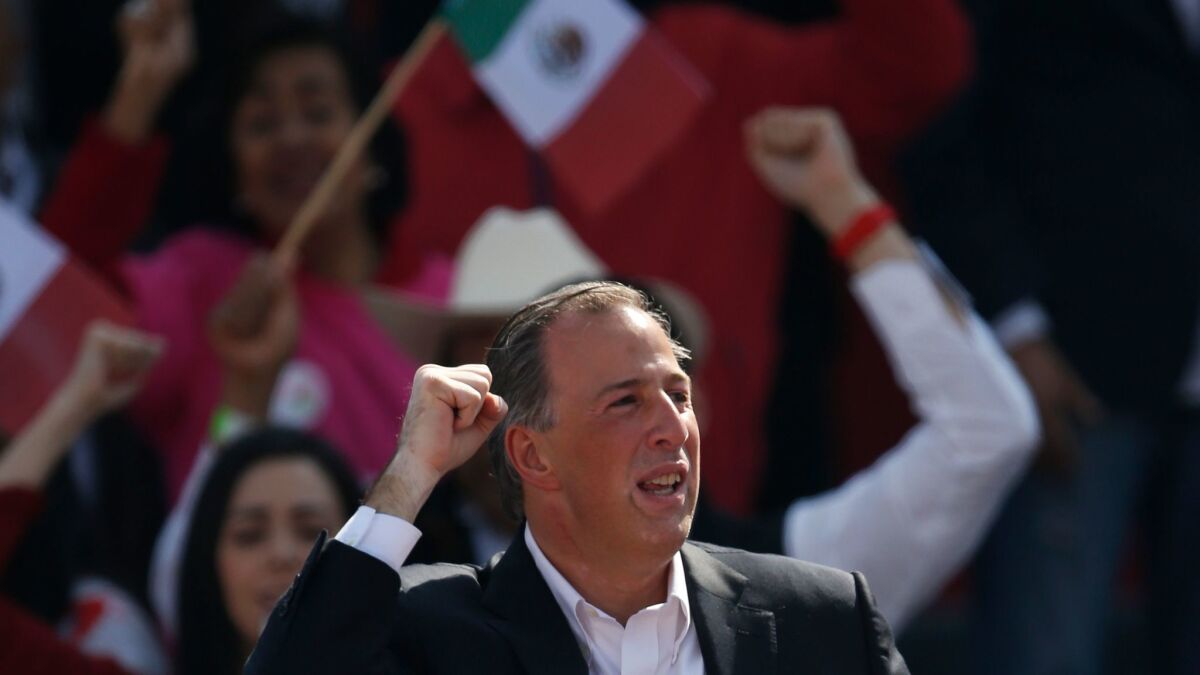 Meade promised to create a "national registry of the needs of every person" that his government would follow up on if elected — things like scholarships, medicines and support for small businesses and transportation.
"Needs are always personal. Government support will be as well…. There is no effort that can be spared, nor time to lose," Meade said to supporters waving Mexican and PRI flags.
He, too, vowed to confront violence and graft.
"I have been with those who face the challenge of security every day," Meade said. "They ask us to take away the weapons, the money and the assets from the criminals and the corrupt, and that is exactly what we will do."
None of the three nominations had been in doubt during the so-called pre-campaign period, which began in December.
They are expected to face competition from independents for the first time in modern Mexican history, with three candidates from outside the traditional parties poised to be on the ballot pending ratification by electoral authorities.
---
Must-read stories from the L.A. Times
Get the day's top news with our Today's Headlines newsletter, sent every weekday morning.
You may occasionally receive promotional content from the Los Angeles Times.