South Korean court approves arrest warrant for former President Lee Myung-bak in corruption scandal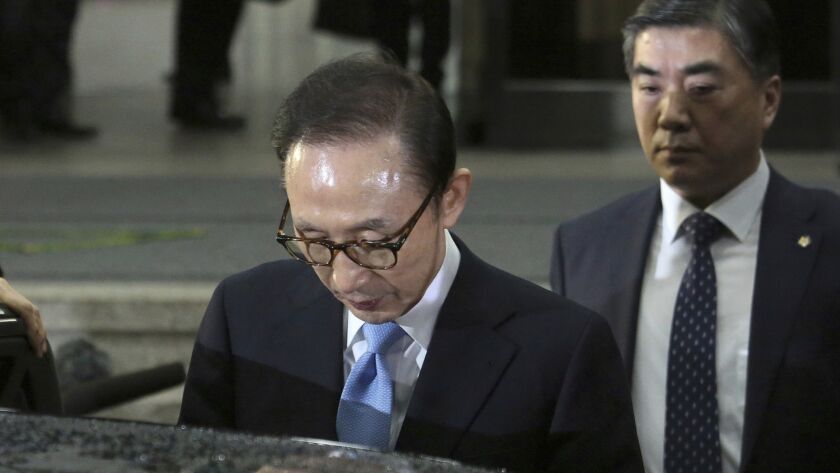 Reporting from SEOUL —
A South Korean court on Thursday issued an arrest warrant for yet another former president, Lee Myung-bak, on financial misconduct charges during and after his time in office.
The ruling by the Seoul Central District Court allows prosecutors to detain Lee immediately for up to 20 days before he is formally charged.
Lee is accused of taking a total of $10 million in bribes from business groups and his intelligence agency. Prosecutors say he used a private company to establish illicit slush funds totaling $33 million.
The former president, a conservative who held the office from 2008 to 2013, could soon be in jail because — as the court agreed with prosecutors — the fear is that he might destroy evidence central to a widespread investigation into his activities and those of his close family and associates.
He is the fourth South Korean leader since the nation began democratic presidential elections in the late 1980s to face jail time.
Lee, 76, joins his successor, Park Geun-hye, who was impeached, ousted and jailed last year and faces a lengthy prison sentence on corruption charges if convicted.
The charges against Lee represent a stunning fall from the top echelons of South Korean society, business and politics. The former president was a top executive at Hyundai, among the nation's largest companies, before winning election as mayor of Seoul, the capital, and ultimately the presidency.
He has been accused and cleared on questions of corruption in the past.
A conservative who took a hard line on North Korea, leading to a decade of tension with the totalitarian nation, Lee was also known to be close with former President Obama. The New York Times once reported that the two men shared a close bond — a "man crush" — particularly when discussing the issue of education.
The Lee case centers on potential misdeeds involving an auto-parts company that appears to be controlled by the former president's family.
There are also questions about suspected bribes paid by Lee aides using funds from the National Intelligence Service during his tenure as president, when he oversaw leadership of the agency.
On March 14, Lee consented to more than 20 hours of questioning by prosecutors, who said they considered him a "suspect." They sought the arrest warrant several days later.
"I stand here with a heavy heart," Lee told reporters outside the prosecutors office in Seoul after the questioning. "I'm very sorry for causing concern to the people."
In the past, Lee has dismissed the investigation into him as "political revenge."
South Korea has grown accustomed to seeing its presidents investigated. In addition to Lee and Park, two other former presidents, Chun Doo-hwan and his successor, Roh Tae-woo, were charged in the mid-1990s — after they left office — with improperly collecting tens of millions of dollars from businesses during their tenures.
The two men, former army colleagues, also faced sedition charges related to a coup and an earlier violent crackdown against pro-democracy protesters. They were later pardoned.
Another former president, Roh Moo-hyun, committed suicide as prosecutors probe his family on corruption charges.
Stiles is a special correspondent.
---
Must-read stories from the L.A. Times
Get all the day's most vital news with our Today's Headlines newsletter, sent every weekday morning.
You may occasionally receive promotional content from the Los Angeles Times.