South Korea's ousted President Park Geun-hye is arrested in connection with bribery scheme
Reporting from Seoul —
South Korean authorities on Friday arrested former President Park Geun-hye in connection with the corruption investigation that led to her ouster, saying she abused her office and participated in a bribery scheme involving at least one of the nation's largest companies.
In an extraordinary scene that played out before dawn on live nationwide TV, Park was taken in a long police motorcade to a detention facility just south of Seoul.
The scandal-marred former leader — the daughter of an iconic former South Korean military dictator — already has been impeached, removed from office and stripped of public support. She now will lose her freedom as prosecutors seek a formal indictment in the next 20 days.
The decision to jail Park resulted from an eight-hour court hearing in Seoul on Thursday after which a judge determined that the evidence compiled by prosecutors in recent months warranted detention.
The court made its decision early Friday morning local time. "Most charges have been vindicated and there is a concern over destruction of evidence, so the grounds and need for arrest is acknowledged," said Judge Kang Bu-young.
South Korea's Yonhap news agency reported that Park looked "grim-faced" as she was ordered sent to the detention facility. It is the same jail where many others arrested in connection with the case are held pending trial.
Neither prosecutors nor her defense lawyers were immediately available for comment after the court's decision.
On Thursday morning, Park, looking stern and dressed in a dark blue suit, had arrived at the Seoul Central District Court complex for the hearing. She entered through the same door as everyday defendants, but her arrival included an array of cameras. She offered no statement.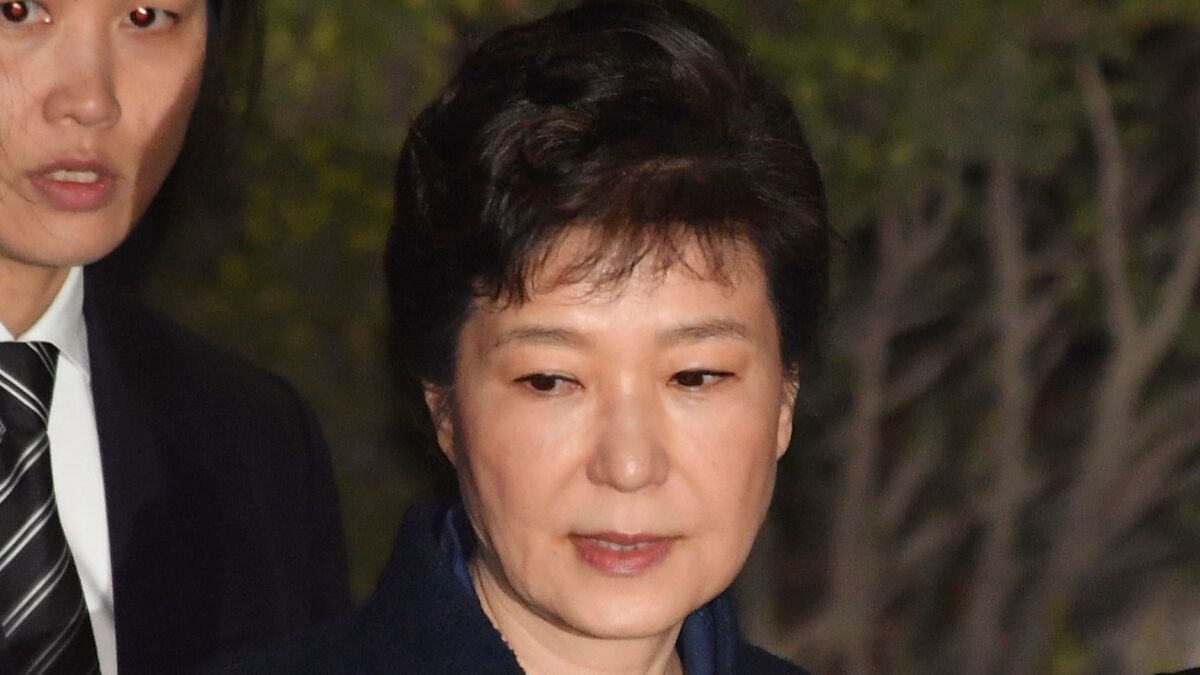 Last week, before being questioned at length by prosecutors, she flashed a respectful smile as she entered an adjacent building in the justice complex. "I feel apologetic toward the nation's citizens," she said then. "I'll cooperate in the questioning sincerely."
Her arrest is the latest dramatic twist in a national saga that began unfolding in October when a South Korean news report revealed that Park allowed a friend outside the government to edit her speeches. The case since has ensnared more than two dozen people.
After the report, the case quickly snowballed. In recent months, two sets of prosecutors have pursued Park during what evolved into a sprawling public corruption investigation that has gripped the nation. It has altered presidential politics here, with the potential to change the country's relationship with its neighbors and the United States — and prompted historic street rallies not seen since the pro-democracy movement in the late 1980s.
A presidential election to replace Park is set for May 9, and political analysts say the scandal could end nearly a decade of control by the ousted president's former ruling conservative party.
The National Assembly already had impeached Park, but she remained protected by presidential immunity until a constitutional court validated that decision on March 10, making her a civilian. Park then moved back to her home in Seoul's trendy Gangnam district. Soon after, prosecutors made their move.
The first step was getting Park to sit for questions last week, and prosecutors said the former president denied most of the criminal allegations. Then, earlier this week, they sought to detain the former president in an effort to prevent what they worried could be the destruction of evidence — and to show that the disgraced leader would be treated just like numerous other South Koreans who've been swept up and jailed in the investigation.
Those charged include a close confidant at the center of the case, as well as several of her top aides and the de facto leader on the nation's largest conglomerate, Samsung Group. Other corporate titans also have faced related scrutiny in recent weeks.
The case centers on Park's friendship — dating back to the days of her father's tenure in the 1960s and '70s — with Choi Soon-sil, the daughter of a deceased South Korean cult leader. Prosecutors have said that Choi, who had no government position, used her clout with Park to receive millions of dollars in payments from the nation's top companies to firms she controlled.
They allege that Park was complicit in the scheme and that she directed aides to find official ways to reward the donors. In one case, authorities have said that Samsung's de facto leader, Lee Jae-yong, directed funds to Choi and received presidential support for a controversial merger. He remains jailed, and the company has denied any wrongdoing.
Lee Hu Seop, a Seoul resident, was among the South Koreans who attended the candlelight vigils by the hundreds of thousands calling for Park's ouster, week after week, since last fall. He said the criminal turn in Park's case this week could help lead to a heightened sense of justice in the country, which has a history of collusion between government and businesses and a culture that favors elites.
"I believe that symbolically the candles beat government authority," said Lee, 32, of the street rallies, some of which stretched more than a mile across a wide central thoroughfare in Seoul. "It was a terrible incident, but the younger generation was able to take more interest in politics. I hope that the next president rebuilds the system."
The arrest makes Park the third former president to be jailed in connection with criminal wrongdoing since the country began allowing direct elections of presidents in the late 1980s. Another former president committed suicide in 2009 after questioning by prosecutors and scrutiny of his family.
Park is the daughter of Park Chung-hee, a former South Korean general who ran the country as a strongman dictator. He is credited with starting the country's transition from a poor, agrarian society in the decade after the Korean War to the export-driven economic success it is today.
Park Chung-hee's spy chief assassinated him in 1979, five years after his wife and Park Geun-hye's mother, Yuk Young-soo, was killed in a botched attempt on his life — an event that brought Park back to South Korea from school in Europe as a young woman.
After her mother's death, the younger Park served essentially as acting first lady and helped her father host dignitaries in the presidential complex, known as the Blue House for its distinctly colored roof. She returned there in 2013 after winning the election, only to see her presidency begin to unravel last fall — as it has for other leaders and their families over the years.
"Many Korean ex-presidents have been indicted, arrested and even convicted," said David Kang, an international relations professor at USC who directs the university's Korean Studies Institute. "However, it is a tragic next chapter to a tragic life."
Stiles is a special correspondent.
ALSO
How unusual would it be for South Korea to arrest its deposed president? Not as unusual as you might think
China pushes back on tougher U.S. approach to North Korea
Tillerson warns of possible military strike on North Korea
---
UPDATES:
12:50 a.m.: This article was updated with Park being taken to detention facility in motorcade, judge's remarks.
This article was originally posted at 11:30 a.m.
---
Must-read stories from the L.A. Times
Get the day's top news with our Today's Headlines newsletter, sent every weekday morning.
You may occasionally receive promotional content from the Los Angeles Times.