Rogue police officer known as Venezuelan Rambo is cornered by government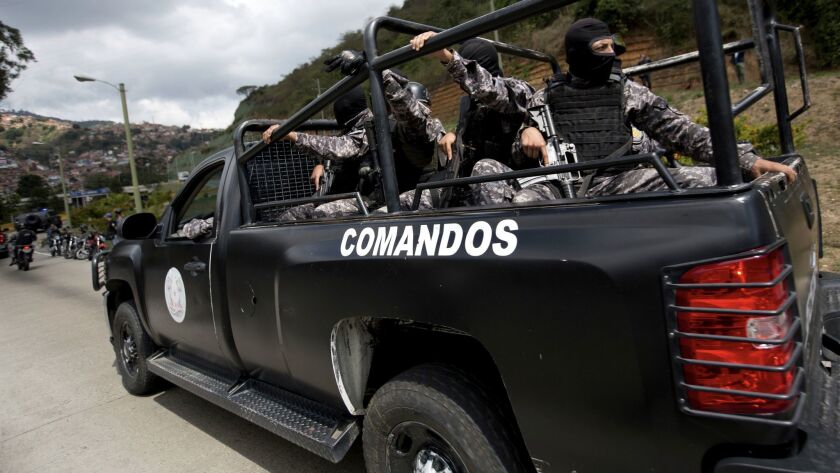 Reporting from Caracas, Venezuela —
Venezuelan authorities said Monday they had surrounded and captured members of a rebel group whose leader hijacked a helicopter in June and dropped grenades on the Supreme Court and Interior Ministry. His fate was unclear.
According to an Interior Ministry press release, police surrounded a house in the impoverished El Junquito area of western Caracas and exchanged gunfire with the rebels, leaving two police dead and five wounded. An unspecified number of rebels were killed and five captured, according to the statement.
The group's leader, Oscar Perez, 37, who formerly was a pilot and inspector with the police intelligence agency known by its Spanish initials, CICPC, sent videos out over his social media account (link in Spanish) Monday morning saying that he and his men were cornered and trying to surrender to police but that the authorities kept firing.
"We aren't firing and they keep attacking us…. They want to kill us," said Perez, who was dressed in military fatigues, brandished a rifle and appeared bloodied. Others in the house were heard in the background yelling, "Please don't shoot, there are civilians here."
The Venezuelan Information Ministry didn't respond to requests for more details on the police operation and whether Perez had escaped, been killed or captured.
The mess in Venezuela didn't happen overnight. Here's how two successive presidents chipped away at democracy »
Details of the police operation were still sketchy late Monday afternoon. Residents in the neighborhood said the operation began before daylight at 5 a.m. The government has released no names of those killed, wounded or captured.
"These terrorists, who were heavily armed with high caliber weapons, opened fire on the officials trying to capture them and tried to detonate a vehicle loaded with explosives," according to the Interior Ministry statement.
Perez had managed to escape an intense nationwide manhunt since the June attack. He has been described by officials of President Nicolas Maduro's government as a deserter, but others opposed to the government see him as a symbol of anti-government resistance and refer to him as "Rambo."
During Perez's hijacking of a helicopter in June, he displayed a banner with the letters "350 Libertad," referring to an article of the constitution that gives citizens the right to ignore orders of an abusive government.
The June hijacking of the chopper came at the end of three months of sometimes violent protests against the Maduro government that left 130 dead and an estimated 4,000 injured. Several hundred demonstrators were detained. Marchers protested against food shortages, a collapsed economy and Maduro's autocratic governing style.
The Perez group also faces charges for a Dec. 18 attack on a national guard installation in San Pedro de los Altos, in Miranda state.
A woman who identified herself as Perez's mother also sent messages out over social media Monday to say her son wanted to surrender. "He is fighting for his country, for Venezuela," she said, adding that she is holding the government responsible for her son's life.
Special correspondents Mogollon and Kraul reported from Caracas and Bogota, Colombia, respectively.
ALSO
Pro-government candidates dominate Venezuelan election; opposition cries foul
These Venezuelans left their lives behind to escape political turmoil. From L.A., they pick up the protest
Gustavo Dudamel's tour with Venezuelan youth symphony canceled by President Maduro
---
Must-read stories from the L.A. Times
Get the day's top news with our Today's Headlines newsletter, sent every weekday morning.
You may occasionally receive promotional content from the Los Angeles Times.