Improving conditions for Mexican farmworkers: The how is the trick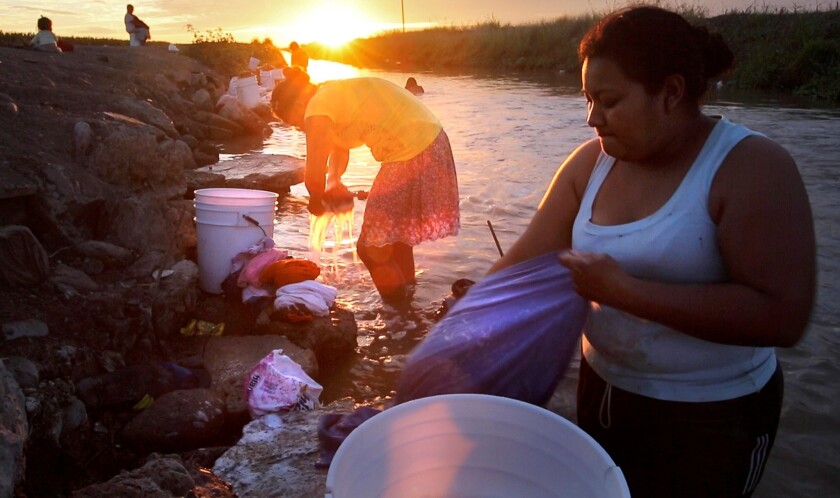 Some of Mexico's largest export farms have acted in recent weeks to improve conditions for farmworkers — installing toilets and beds, reforming pay methods and ousting stores from labor camps that charge inflated prices to a virtually captive clientele.
Then last week, the drive to end abusive practices endured by thousands of laborers received another boost.
Mexico's produce industry, acting under the leadership of the secretary of agriculture, created an alliance aimed at improving conditions across the nation's fertile produce regions. And Wal-Mart, which imports more fruits and vegetables from Mexico than any other U.S. company, disclosed its own efforts to force improvements up and down its supply chain.
The moves came two months after The Times documented mistreatment of farm workers at these sprawling export agribusinesses.
The question now confronting the Mexican industry, and its American retail partners, is how these changes will actually work, what it will take to move from the broad strokes announced in press releases into actual life-changing improvements for peasant workers at loosely regulated farm labor camps.
One thing is clear: Wal-Mart and other U.S. retailers will probably have to take on a bigger role in enforcing worker standards, a potentially costly prospect.
"Retailers are stuck between a rock and a hard place," said Jim Prevor, a leading produce industry analyst. "On the one hand, they really don't want to take on this responsibility.… It's expensive, and in many cases they don't even have that capability. But on the other hand they feel that consumers care and want the retailer to assure whatever is sold in their stores meets certain standards."
Read the series: Product of Mexico
It is unclear how much it would cost agribusinesses, which number in the hundreds, to create better living conditions for produce workers.
Some would have to upgrade their housing and bathroom facilities, replacing old, corrugated metal siding with modern materials. Others would have to outfit their dormitories with beds and better ventilation. Some would have to subsidize new labor camp stores that offer everyday goods at cost.
The main expenses would involve instituting and maintaining a robust auditing system that ensures that workers' rights, including weekly access to wages, are honored.
Wal-Mart for years has had teams of inspectors overseeing its suppliers, visiting farms and holding seminars on how to comply with Wal-Mart standards.
But the failures of the oversight system, as reported in The Times' "Product of Mexico" series, suggest that the current approach is superficial. And that's why establishing a better verification system will be key for any plan to succeed.
It can be a difficult task, especially when farms have labor camps scattered in remote locations and owners aren't always forthcoming about their operations.
"When you go down to these places, you basically see what they choose to show you," said Devon Zagory, a produce industry consultant who has audited farms in Mexico. "You're relying entirely on this company and their openness and transparency to tell you where their worst secrets are so you can go and give them a hard time about it."
Monitoring systems that focus on surprise or multiple inspections annually and interviewing workers are among the best ways to get a clearer picture of labor conditions, say experts. But such audits take longer and cost more, added expenses that conflict with Wal-Mart's cost-crunching approach.
The inspection and certification industry includes for-profit companies, which seek to certify compliance with standards laid out by the companies that hire them, and nonprofit organizations, such as Fair Trade USA, that maintain their own social-responsibility standards.
Some growers with good reputations on labor issues say, though not publicly, that Wal-Mart consistently partners with producers with the lowest prices, regardless of labor conditions.
Such an approach is risky, as more consumers demand that their food be produced in an ethical manner. The extra cost is less damaging than the tarnished reputation of being linked to labor abuses, for Wal-Mart as well as other retailers, said Emily Miggins, a former sustainability manager at Safeway.
Audits, she said, rarely cost more than $1,400. "It's a pretty great deal to assure that you don't have child or forced labor taking place behind your product," she said. "At a minimum, these retailers need to take a little more pride in their product, in their brand, in their labor."
The industry has risen to challenges in the past. It swiftly established standards when the U.S. government and retailers beefed up food safety requirements. But the industry has not reached a consensus on standards for social responsibility.
Farms are left trying to meet different standards for different buyers, a time-consuming and costly task. Experts said American retailers should work together to reach a consensus on basic worker welfare standards. They could even team up and share costs to bring down audit expenses, they said.
Most large U.S. retailers and restaurant chains import Mexican produce. Safeway, Albertsons, Kroger and Darden, which operates the Olive Garden chain, did not comment on last week's developments.
Read the series: Product of Mexico
Company stores trap Mexican farmworkers in a cycle of debt
Desperate workers on a Mexican mega-farm: 'They treated us like slaves'
In Mexico's fields, children toil to harvest crops that make it to American tables
Follow @ricardin24 on Twitter
---
Must-read stories from the L.A. Times
Get all the day's most vital news with our Today's Headlines newsletter, sent every weekday morning.
You may occasionally receive promotional content from the Los Angeles Times.