U.S.-led coalition cuts off road, stranding Islamic State convoy in Syria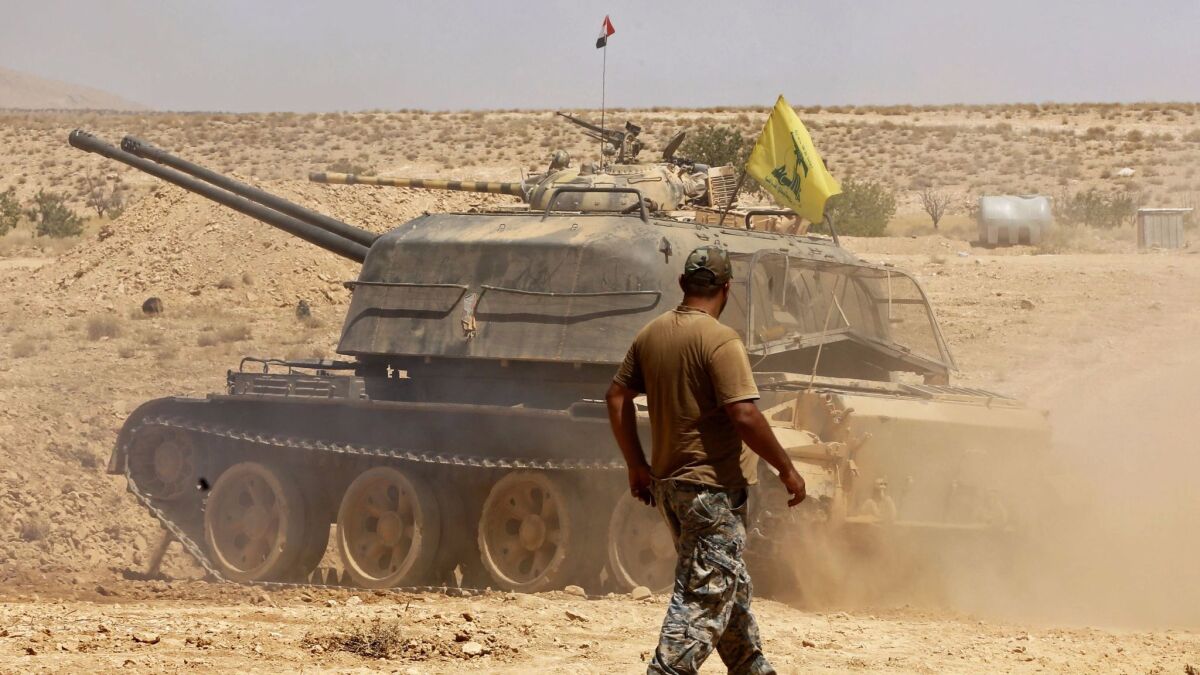 Reporting from amman, jordan —
In the years after the 2003 U.S.-led invasion of Iraq, cities in the oil-rich province of Dair Alzour in neighboring Syria became corridors for would-be Islamist militants sneaking in to fight what they called "the Crusaders."
Fear of that history repeating itself spurred coalition warplanes on Wednesday to cut the road to Dair Alzour, in an operation meant to stop an Islamic State convoy heading to the province as part of a withdrawal agreement between the jihadis and Hezbollah, the Lebanese Shiite Muslim militant faction.
"We struck the road to crater it, and we destroyed a small bridge to prevent the convoy from moving east to ISIS-held territories," said coalition spokesman Col. Ryan Dillon in a phone interview on Wednesday, referring to Islamic State by an acronym.
A statement issued later by the coalition added that the strike in Syria had also targeted "individual vehicles and fighters that were clearly identified as ISIS," but did not strike the convoy.
"The coalition was not a party to any agreement between the Lebanese Hezbollah, the Syrian regime and ISIS," the statement said. "Russian and pro-regime counter-ISIS words ring hollow when they cut deals with and allow terrorists to transit territory under their control."
Russia is the top international ally of the Syrian government, and has been instrumental in its campaign against both Islamic State as well as rebels, some supported by the West, seeking to topple Syrian President Bashar Assad. Hezbollah, which is considered a terrorist group by the United States, has also been a leading supporter of Assad. As a Shiite group, it is naturally opposed to Islamic State, which is Sunni and considers Shiite Muslims to be apostates.
"ISIS is a global threat; relocating terrorists from one place to another, for someone else to deal with, is not a lasting solution," the coalition statement said. "This is just further evidence of why coalition military action is necessary to defeat ISIS in Syria."
This month, Hezbollah and both the Lebanese and Syrian armies had fought to oust Islamic State from the militants' last redoubt in the mountainous Qalamoun region between the two countries.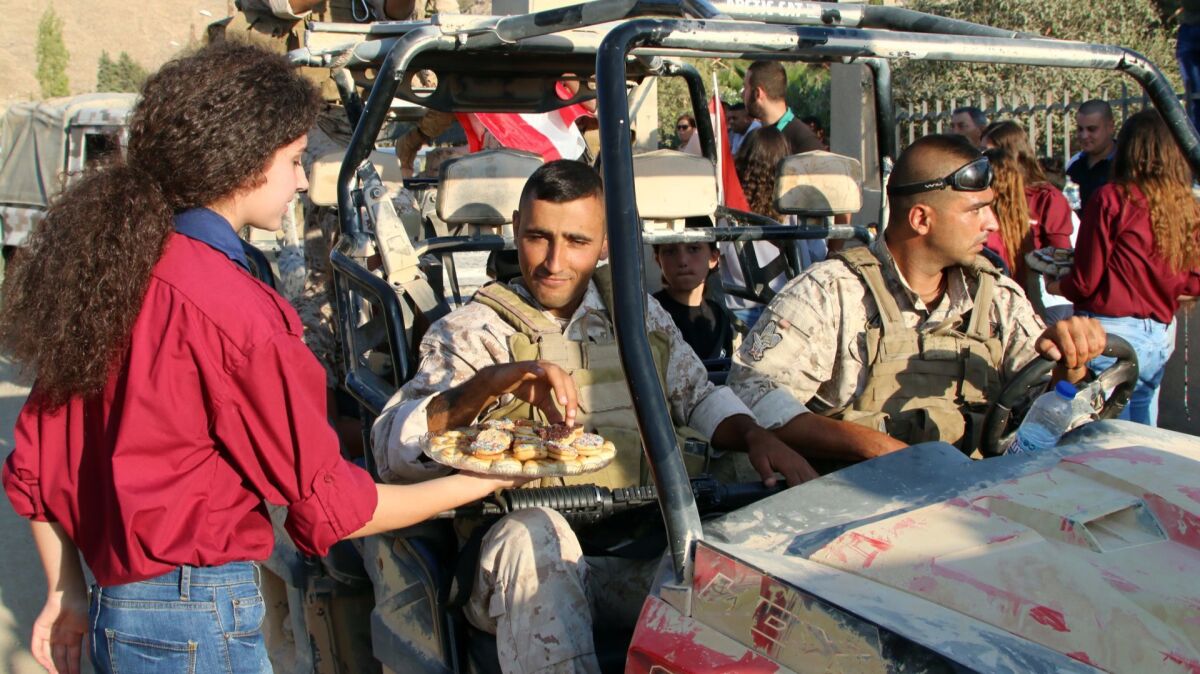 Facing certain defeat, approximately 300 Islamic State fighters along with 300 of their family members were given safe passage to the Islamic State-held city of Bukamal in exchange for the bodies of Lebanese soldiers kidnapped — and later killed -- by the group in 2014.
Most cities in Dair Alzour, including Bukamal, remain in Islamic State hands.
By Wednesday morning, the convoy, comprising 17 buses and 11 ambulances, according to a statement by Hezbollah-affiliated media, had reached the last point of government control on the road linking the central Syrian province of Homs to Dair Alzour, where those on board were to be transferred to vehicles provided by Islamic State.
The deal, however, provoked widespread condemnation from Baghdad. Haider Abadi, Iraq's prime minister, denounced the agreement at a news conference Tuesday.
"This is very worrying for us. We consider it an insult to the Iraqi people. Transporting this number of terrorists through large distances to east Syria near Iraq is unacceptable," said Abadi, adding that there "no justification to negotiating with terror."
"We fight terrorists in Iraq. We don't expel them to Syria. We kill them in Iraq. We ask the Syrian government to investigate in this matter and that there is total cooperation to destroy terror, not taking them from one area to another."
Hezbollah chief Hassan Nasrallah took a conciliatory tone in a statement responding to Abadi, saying that the agreement had transferred the militants from one Syrian territory to another, and that, in any case, Hezbollah's strategy was always "to destroy the terrorists' abilities" and not contain them.
He added that it would have been "easy and possible" for Hezbollah to have finished off Islamic State in the area, but the deal had been forged so as to determine the fate of the kidnapped Lebanese soldiers.
Although this was the first publicly announced agreement with Islamic State, other groups — including some backed by the United States — have quietly forged withdrawal deals in the past with the militants.
In July 2016, the Syrian Democratic Forces, an alliance of Kurdish and Arab militias supported by the coalition, had given Islamic State fighters 48 hours to leave the town of Manbij in northern Syria with their individual weapons. A similar offer was made in the SDF's assault on the city of Tabqa this year.
In Iraq, initial plans for the campaign to retake Mosul had called for giving the militants an exit to the western desert leading to Syria before the Popular Mobilization Forces, a mostly Shiite grouping of paramilitary groups, overran the area.
Dillon, however, said that those agreements had been done "with our partners," and that the militants were struck as soon as they broke free from the area specified in the deals.
"We are not bound by these agreements here. Hezbollah is not our partner," said Dillon, adding that the coalition would strike the convoy if it could discriminate between the militants and their families.
"I will say that whenever and wherever we can strike ISIS fighters within the laws of arms conflict, then we will."
Bulos is a special correspondent.
Twitter: @nabihbulos
Must-read stories from the L.A. Times
Get the day's top news with our Today's Headlines newsletter, sent every weekday morning.
You may occasionally receive promotional content from the Los Angeles Times.