The bookstores of Koreatown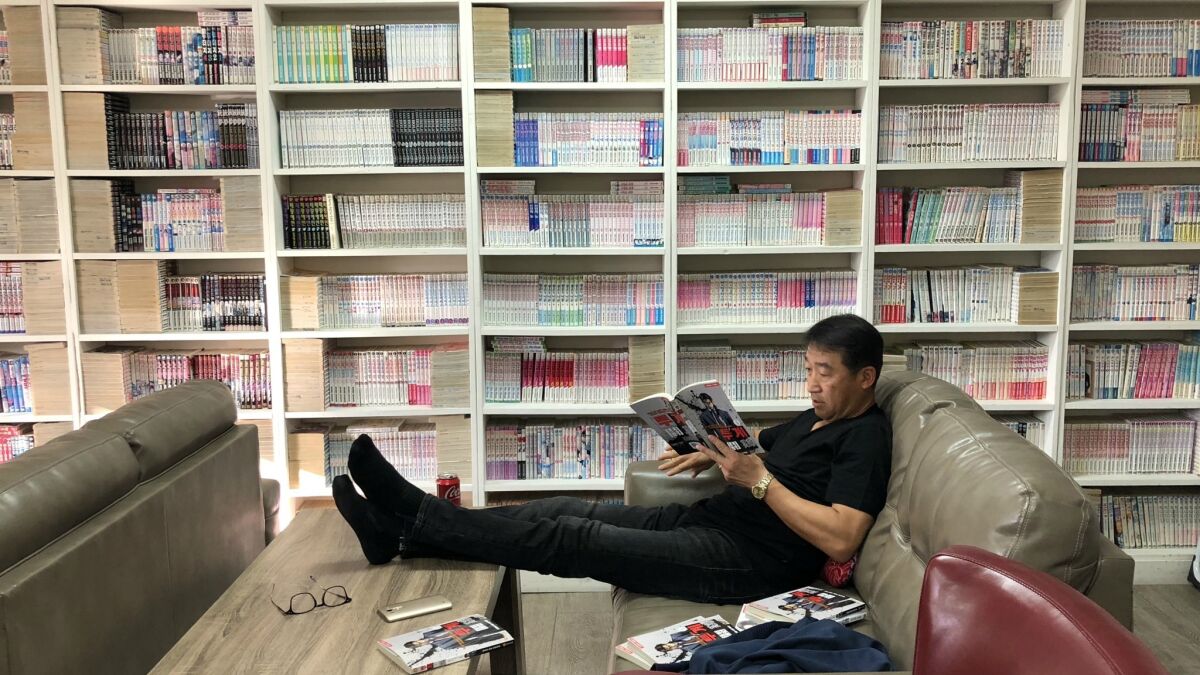 In honor of the Winter Olympics taking place now in Pyeongchang, I visited Koreatown's bookstores. (Don't miss our Koreatown guide). With new, used and specialty shops stocking comic books and manga, translations of bestsellers and literary fiction, as well as scores of workbooks for language learning, Koreatown is a destination for English, Korean and bilingual — or aspiring to be — readers of every age.
Western Comics
Atop an unassuming strip mall stairwell, this store feels like a secret gem hidden in plain sight. With two dizzyingly well-stocked and ordered rooms of Korean graphic novels, comic books and manga, Western Comics is a specialty shop that rents books rather than selling them. (They also exclusively offer books in Korean — no English-language titles here.) Five bucks gets customers an hour with a book in one of their comfy couches or chairs, and for $15, readers can spend all day lounging in the quiet space, flipping pages. Worked up an appetite bingeing comic books? Korean snacks such as shrimp crackers and honey butter chips are for sale.
Bandi Books
Looking for a copy of J.D. Vance's bestselling memoir "Hillbilly Elegy" translated into Korean? How about Sheryl Sandberg's "Lean In" or Brené Brown's "Rising Strong"? Bandi Books is Koreatown's go-to shop for popular contemporary international titles translated for Korean readers. The spacious store also carries a wide selection of Korean novels, essay collections, cookbooks and crafting books, as well as smaller sections for bilingual titles and books by Korean authors translated into English (such as Han Kang's "Human Acts"). Their language learning section is also international, with study guides for Korean-speaking learners of Japanese and Spanish too.
Happy Bookstore
With its jam-packed shelves, teetering piles of overflow and that unmistakable old book smell, Happy Bookstore is the archetypal used bookstore. This 12-year-old store caters mostly to Korean readers (although there are eight shelves of used books in English stuffed in the back) with sections for Buddhism, history, philosophy and more, plus Korean translations of Japanese and Chinese novels as well as translations from English. Happy Bookstore does sell some new books, and owner Jae Seong Jeong works to keep prices competitive. What's in a name? He explains: with books at a bargain, "everybody's happy in this store."
Where to find the best restaurants, bars, spas, shopping and more in Koreatown »
Aladdin Used Books
Located on the top floor of Madang Plaza, a mural of authors adorns the wall outside of this well trafficked L.A. branch of South Korean chain Aladdin Used Books. Purchases of books — here, mostly in Korean — are presented in plastic bags bearing the faces of writers, including Ernest Hemingway.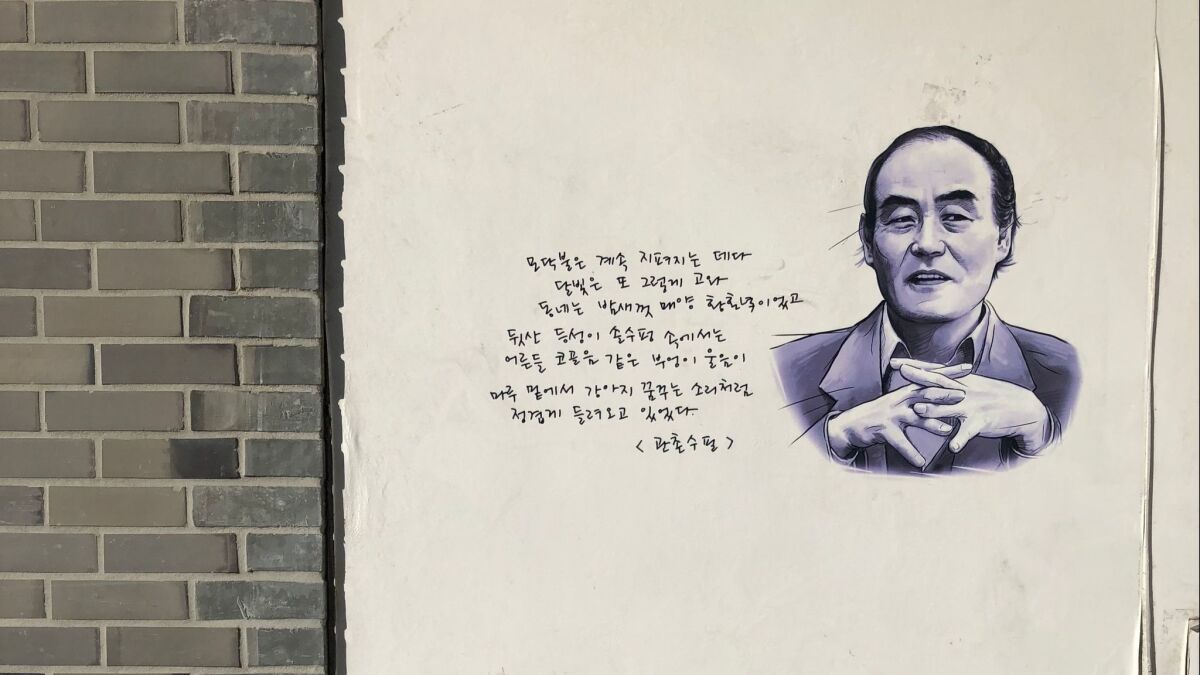 Jump Q
This educational book and supply store is a warehouse of teaching and study aids, including reading, writing, math, science and music books; test-prep, puzzles, storybooks, workbooks and toys. Jump Q stocks books for every age up to high school; both teachers and parents shop in this massive, exclusively English-language book store.
Ibookpark
Specializing in educational books for children, this small bookstore brims with picture books, workbooks and toys. A wall of music workbooks faces displays of elementary school math and grammar books and books for language learning. Most are in Korean, and while the educational merchandise may be aimed at kids, language books benefit people of all ages. Upon the recommendation of Ibookpark staff, students of Korean (or Korean students of English) might give a product the called the Saypen a spin: Held against a workbook, the pen reads each sentence aloud in both languages, a helpful pronunciation tool.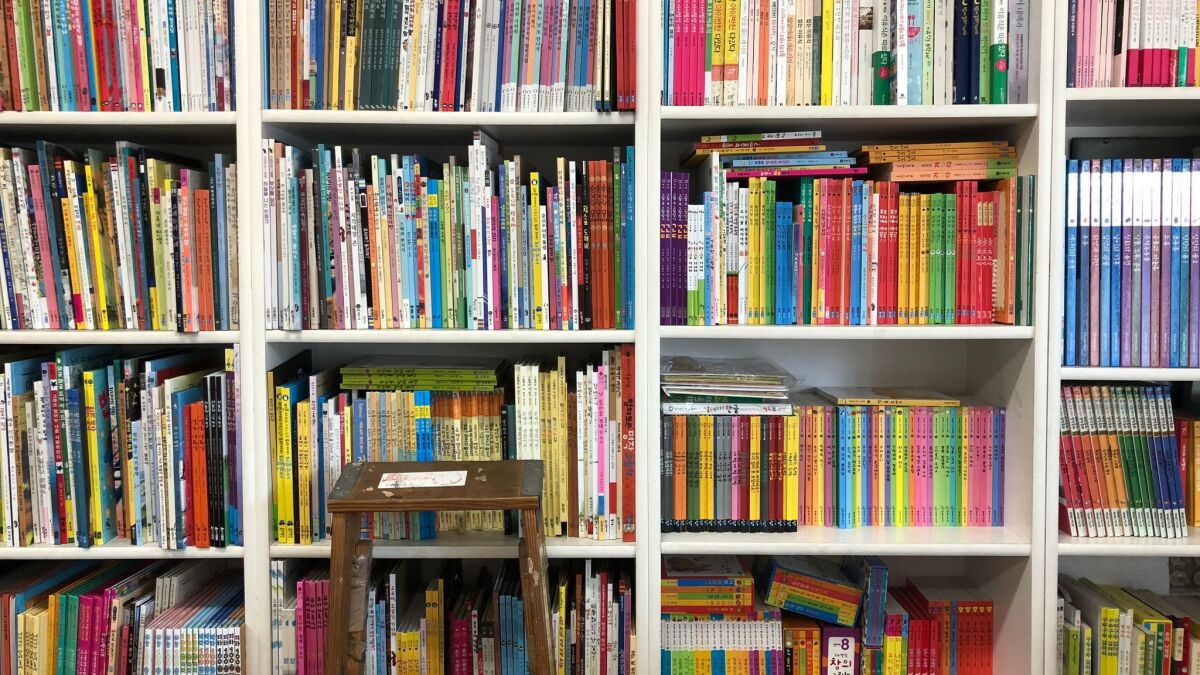 Se Jong Bookstore
Spilling out on the second floor of the Koreatown Galleria, this Korean bookstore sells novels and magazines in the main shop, but their stock is just too big to fit inside its doors. Like an indoor sidewalk sale, Sejong has a large display of Korean cookbooks, travel books and children's books in the center of the mall. It also offers a wide array of sticker books and Korean toys. With the Little Bean Cafe right next door, Se Jong is the perfect spot for book browsing.
---
Get the latest news, events and more from the Los Angeles Times Book Club, and help us get L.A. reading and talking.
You may occasionally receive promotional content from the Los Angeles Times.