Debt limit fight, not government shutdown, called credit rating risk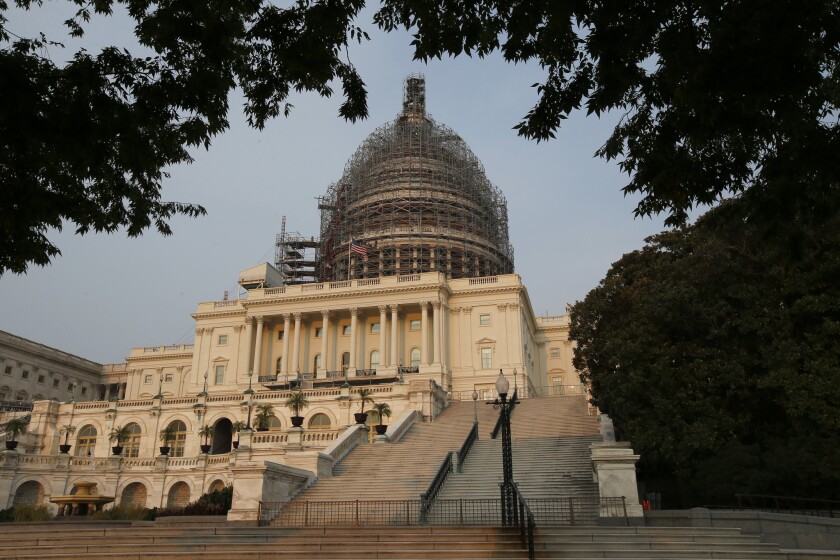 Reporting from Washington —
A federal government shutdown would not pose an immediate risk to the nation's AAA credit rating, but could endanger it if the fight spills over into a debt-limit impasse, Fitch Ratings said Wednesday.
Congressional Republicans want to strip funding from Planned Parenthood, a move opposed by the Obama administration. That puts a budget bill at risk as the Sept. 30 fiscal year deadline approaches.
Fitch, one of the three leading credit rating companies, pointed out that the October 2013 partial government shutdown didn't trigger a change in the U.S. rating.
And a similar short-term shutdown "would not have a direct impact" on the rating this fall, the company said.
"Its main implication for the U.S.'s sovereign creditworthiness would depend on whether it foreshadowed a destabilization of U.S. budget policymaking, including brinkmanship over the federal debt limit," Fitch warned.
The U.S. hit its $18.1-trillion debt limit in March and the Treasury Department has been using accounting maneuvers since then to extend the nation's borrowing ability.
Treasury Secretary Jacob J. Lew has estimated the agency would be able to continue borrowing at least through late October and urged Congress to raise the limit before then.
The Congressional Budget Office has said Treasury would run out of cash sometime between mid-November and early December.
NEWSLETTER: Get the day's top headlines from Times Editor Davan Maharaj >>
A debt-limit standoff between congressional Republicans and the White House in 2011 led Standard & Poor's to downgrade the U.S. credit rating from AAA and caused financial market turmoil.
Fitch and Moody's Investor Services retained their AAA U.S. ratings at the time. But the companies put the ratings on a negative outlook, meaning a downgrade was possible in three to five years.
Fitch removed the downgrade watch in March 2014 after lawmakers agreed to a yearlong suspension of the debt limit.
On Wednesday, Fitch said it anticipated that lawmakers would avoid an October government shutdown by passing a short-term spending bill and postponing the budget battle until later this year.
But, Fitch said, "the political backdrop will determine whether short-term uncertainties arise about congressional intentions on raising or suspending the federal debt limit."
If the debt limit is not raised soon, "immediate potential ratings consequences" would depend on whether the Treasury Department could extend its borrowing authority further or "compose alternative financing solutions," Fitch said.
Follow @JimPuzzanghera on Twitter.
MORE FROM BUSINESS
Uber's growing all the way to the East Bay
Volkswagen CEO resigns, says automaker 'needs a fresh start'
Exxon Mobil scraps plans for temporary fix to damaged Torrance refinery
---
Must-read stories from the L.A. Times
Get the day's top news with our Today's Headlines newsletter, sent every weekday morning.
You may occasionally receive promotional content from the Los Angeles Times.