Volkswagen chief's swift resignation highlights exploding global scandal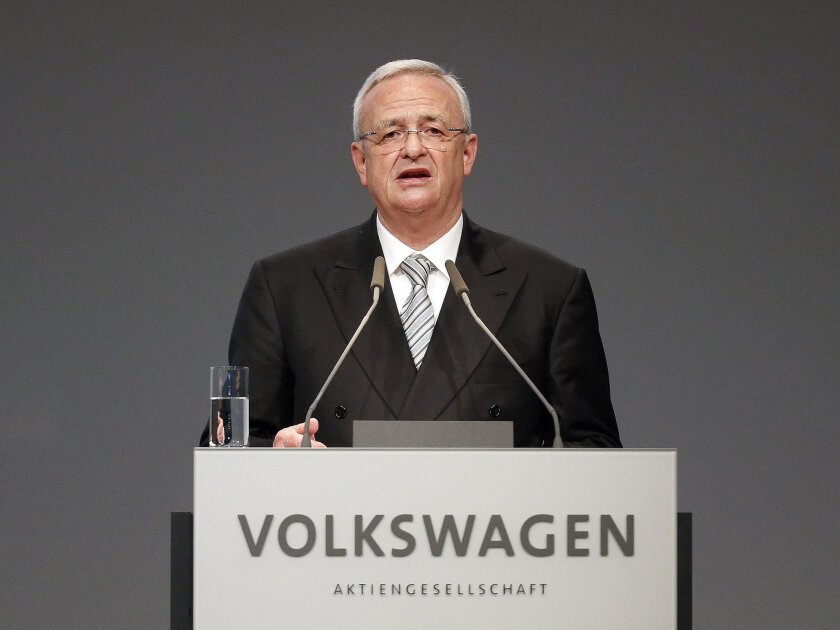 In stepping down as chief executive of the world's largest automaker, Volkswagen's Martin Winterkorn said he was "not aware" of any wrongdoing on his part in the emissions-test cheating scandal now engulfing the German automaker.
He was, in fact, "stunned that misconduct on such a scale was possible in the Volkswagen Group."
That would represent a stunning ignorance of the goings-on at the company Winterkorn ran for a decade as a top executive, experts said. His tenure covered the entire period of cheating on U.S. emissions tests for VW's diesel vehicles.
The elaborate scheme — creating software to detect the testing conditions and alter engine performance — had to have involved large numbers of VW employees conspiring, experts said.
"To engineer a technology like this requires an entire strategy and the participation of entire teams of design people, engineering people and manufacturing people," said Jeff Thinnes of JTI Inc., an independent consultant on ethics and compliance. "Regulators are going to come down with a major sledgehammer on this."
The illegal software made its way into 11 million cars worldwide under Winterkorn's watch, nearly half a million of them in the U.S. The question now is whether those who executed and approved the scheme will face criminal charges — which executives at other scandalized auto companies have so far avoided.
Investigations into safety defects at General Motors Co. and Toyota Motor Corp., for instance, resulted in billion-dollar fines but drew criticism for their failure to hold any individual accountable for negligence that led to deaths and injuries, or for subsequent coverups. Neither have executives from Takata Corp., the massive Japanese auto parts supplier, been charged in connection with deadly, defective air bags in millions of vehicles worldwide.
That could change with VW. The cheating allegations come less than two weeks after a top Justice Department official instructed prosecutors to go after individual corporate wrongdoers rather than entire companies.
"This may very well be a test case of how that policy is going to apply," said Timothy J. Heaphy, a former federal prosecutor who heads the white collar defense practice at the Hunton & Williams law firm.
"I know that the department at the highest levels wants to hold individual executives accountable," said Heaphy, who was the U.S. attorney for the Western District of Virginia from 2009 to 2014. "I think it's bad news for Volkswagen executives more than Volkswagen the company."
Winterkorn's role in the digital deception will probably come under intense scrutiny. His explanation didn't wash with industry experts who believe the executive — CEO for a year, but in charge of the Volkswagen brand for the previous decade — either approved the scheme or was grossly negligent in not discovering it.
"Either situation reflects poorly on Winterkorn and his leadership skills," said Karl Brauer, senior analyst for Kelley Blue Book. "His resignation wasn't just likely, but necessary."
Regulators and lawmakers are already calling for action, noting that Volkswagen violated emissions standards but also duped consumers by marketing them as "clean" diesel cars. The company also benefited from about $51 million in federal green car subsidies awarded to buyers of diesel vehicles in 2009, according to a Times analysis.
The $1,300 tax credit would have been available to buyers of about 39,500 Jetta and Jetta Sportwagen models that VW sold that year, according to Motor Intelligence, an industry research firm.
What seems to be clear and admitted guilt on the part of Volkswagen may soon result in names being named and charges being filed.
In a Sept. 10 speech outlining the Justice Department policy, Deputy Atty. Gen. Sally Quillian Yates said that from now on, in order for a company to get credit for cooperating with a Justice Department investigation, "it must give up the individuals, no matter where they sit within the company."
"Crime is crime," she said. "And it is our obligation at the Justice Department to ensure that we are holding lawbreakers accountable regardless of whether they commit their crimes on the street corner or in the boardroom."
Yates noted that there were obstacles to identifying exactly who in a company was responsible, and that it was difficult to deal with corporate employees in foreign countries because U.S. prosecutors have "a limited ability to compel the testimony of witnesses abroad."
But Heaphy said U.S. and German officials have a long history of cooperation, so Volkswagen's foreign location shouldn't pose a major problem. Criminal charges against executives or employees also could lead to more details about the scheme becoming public, he said.
It remains a challenge for prosecutors to pin blame on individuals inside major companies, said David Uhlmann, who headed the Justice Department's environmental crimes section from 2000 to 2007.
"The biggest hurdle in cases of corporate crime typically is the degree to which large corporations diffuse responsibility for their operations across multiple departments and multiple individuals," said Uhlmann, a professor at the University of Michigan Law School.
Federal motor safety laws do not have criminal provisions, and the GM case would have required prosecutors to prove intent to deceive and mislead under a broader statute, he said.
But it might be easier to charge individuals in the VW case because there are criminal provisions in U.S. clean air laws.
"It probably will be enough to show that individuals disabled the emissions control devices and knew that they were doing so," Uhlmann said.
In addition to potential criminal charges, Volkswagen also faces fines that could total in the billions — perhaps the highest ever paid in a case of corporate fraud.
Volkswagen has already announced setting aside $7.3 billion to address the damages.
Regulatory fines for Clean Air Act violations could total more than $18 billion, or $37,500 for each of the 482,000 diesel VWs sold in the U.S. with the cheating software.
The cars included TDI versions of the Jetta (model years 2009 to '15), Beetle (2009 to '15), Audi A3 (2009 to '15), Golf (2009 to '15) and Passat (2012 to '15).
"The prosecutors are going to want to find a way to punish Volkswagen financially, but not necessarily put them out of business," Heaphy said. "But then again, you don't want to impose a fine that can be written off as a business expense and pales in comparison to the profits they made from the fraud."
Winterkorn's successor could be named as early as Friday, when the Volkswagen board is next scheduled to meet.
Winterkorn's resignation is a good start in responding to the investigations, said Howard Bragman, a veteran crisis consultant and founder and chairman of the public relations company Fifteen Minutes.
"What Volkswagen did was heinous — borderline criminal, and certainly immoral — and someone has to pay for that," said Bragman, who grew up in Flint, Mich., in the shadow of car giant GM, and has consulted with automakers.
But the fleeing CEO is likely to have company before the emissions scandal is over.
"Winterkorn rightly saw the tsunami coming, and he grabbed a lifeboat and got away," consultant Thinnes said. "That tsunami is going to take a lot of people with it."
charles.fleming@latimes.com
jim.puzzanghera@latimes.com
Times staff writer Samantha Masunaga contributed to this report.
MORE ON VOLKSWAGEN EMISSIONS SCANDAL:
Volkswagen emissions scandal expands to 11 million vehicles
Will California DMV act to ensure drivers comply with VW recall?
U.S. taxpayers duped into shelling out $51 million in green subsidies for 'clean' VW vehicles
---
For reporting and exclusive analysis from bureau chief John Myers, get our California Politics newsletter.
You may occasionally receive promotional content from the Los Angeles Times.