Theme park Halloween celebrations go after adults with cocktails and late-night shows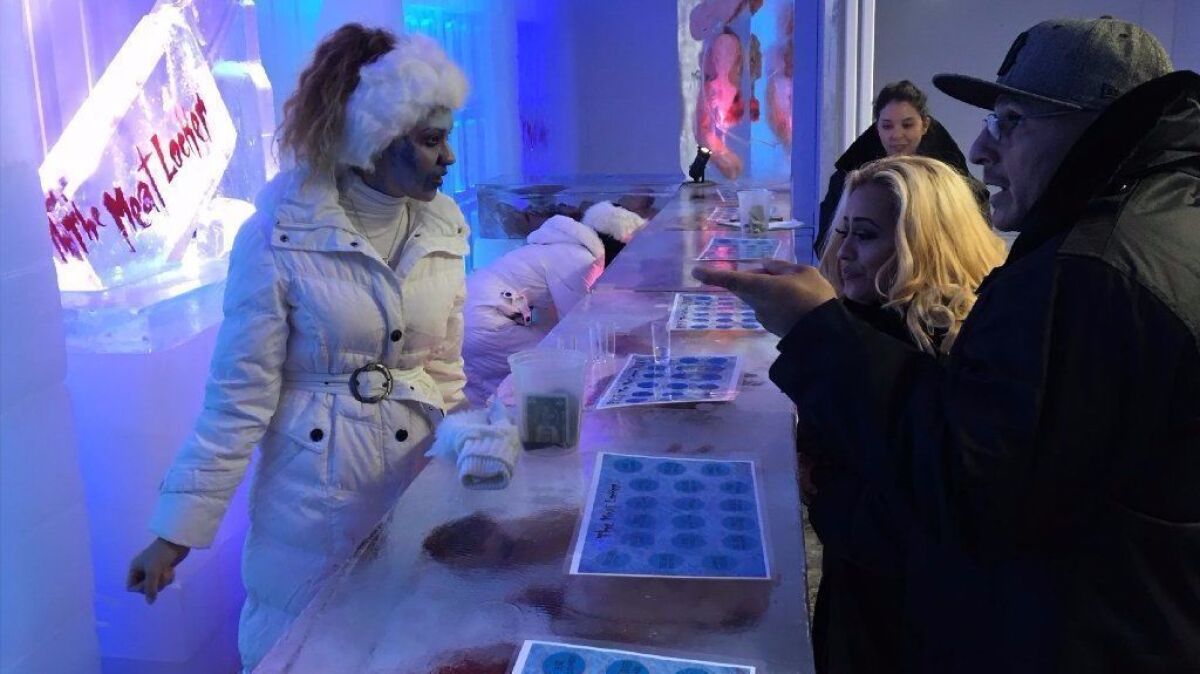 A circus-themed haunted maze at the Queen Mary's Halloween festivities offers the usual spooky fare: creepy clowns and crazed carnies jumping out from dark corners.
But this year, the maze at the annual spookfest added a new twist: Behind a secret sliding door is a cocktail bar where terror fans line up for drinks while a zombie-eyed master of ceremonies in a top hat jokes and takes selfies with guests.
"It's awesome," said Topher Nochez, 32, while swigging a drink at the bar with his friend Cy Martz, 35. "We've been here before, but this makes it better."
Adult scare fans like Nochez and Martz aren't new to Halloween festivals, but theme parks and tourist attractions such as Long Beach's Queen Mary are going further than ever to appeal to older visitors — and their wallets. That means offering booze, risque late-night shows and other grown-up features.
In addition to the hidden bar in the Queen Mary maze, this year the annual seaside event, dubbed Dark Harbor, added the Meat Locker, a cocktail bar inside a refrigerated container. This is where shivering guests order vodka shots on a bar of acrylic and ice blocks with presumably faux body parts encased inside.
Queen Mary's Dark Harbor Halloween celebration is underway.
Universal Studios Hollywood for the first time is selling beer and wine during its annual Halloween Horror Nights event. Six Flags Magic Mountain in Valencia is turning a newly opened pub into a pit stop for mature Halloween fans.
Knott's Berry Farm is again hosting Elvira, Mistress of the Dark, the buxom horror actress who sings, dances and cracks ribald jokes while wearing low-cut, form-fitting dresses with swinging tassels where you would expect swinging tassels to be. Bare-chested men assist at what is billed as Elvira's final performance at the park.
Most theme parks have embraced Halloween in recent years as a lucrative way of terrifying people of all ages, while the two-park Disney Resort in Anaheim has staked out a more wholesome side of the holiday.
By grafting on adult-oriented features, parks are seeking to tap the increasing participation in Halloween by the over-21 contingent.
Americans are expected to spend a record $9.1 billion on the autumn festival this year, up 8.3% from last year, according to the National Retail Federation and Prosper Insights and Analytics.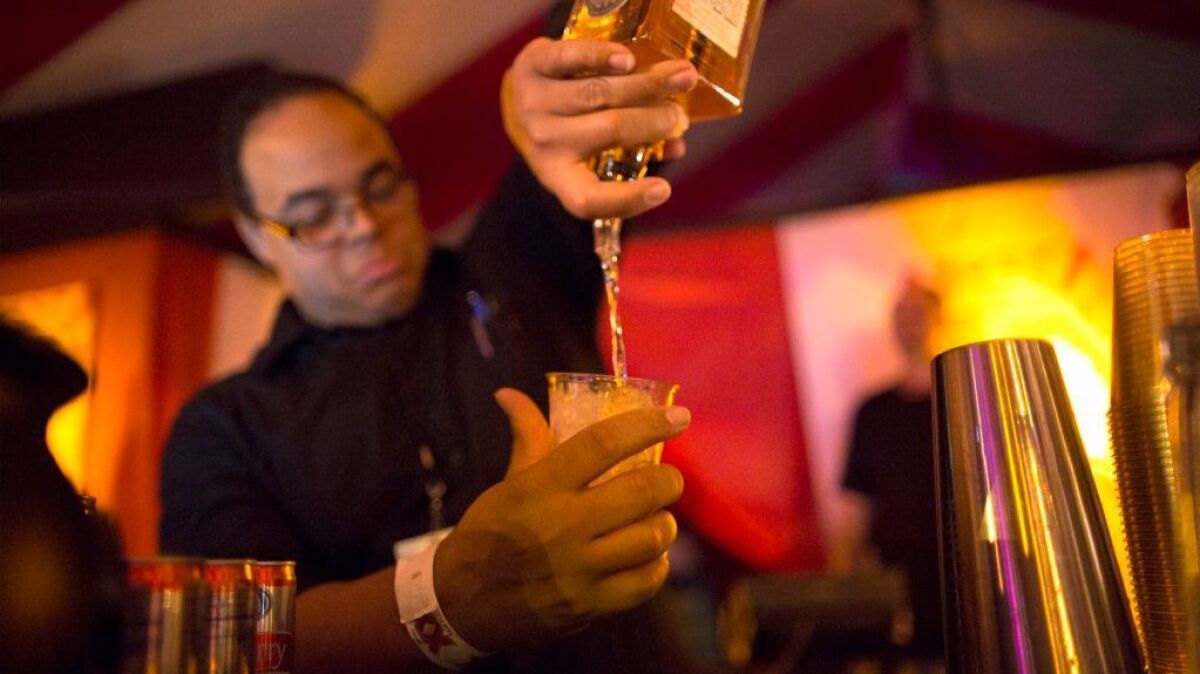 At least part of that increase is because more adults are celebrating Halloween, particularly those ages 18 to 34, said Katherine Cullen, director of retail and consumer insights for the National Retail Federation.
About half of adults surveyed by the retail trade group said they planned to dress in costumes for Halloween this year, up from about one-third 10 years ago, she said. Spending on costumes is expected to increase 9% this year from 2016, with the participation of adults playing a role in that growth, Cullen said.
The main reasons for the increase probably are improved consumer confidence in the U.S. economy and lower unemployment rates, she said.
"All of those point to people comfortable spending more overall," Cullen said.
That could explain why Halloween event organizers have added a menu of higher-priced features, such as VIP packages that include food, drinks and private cabanas that guests can rent during the festivities.
At Universal Studios Hollywood, a package dubbed the "RIP tour" is priced from $269 to $329 and includes a buffet dinner with beer and wine, a guide and passes to skip the long lines. A similar package deal at the Queen Mary starts at $229 and includes access to the secret maze bar.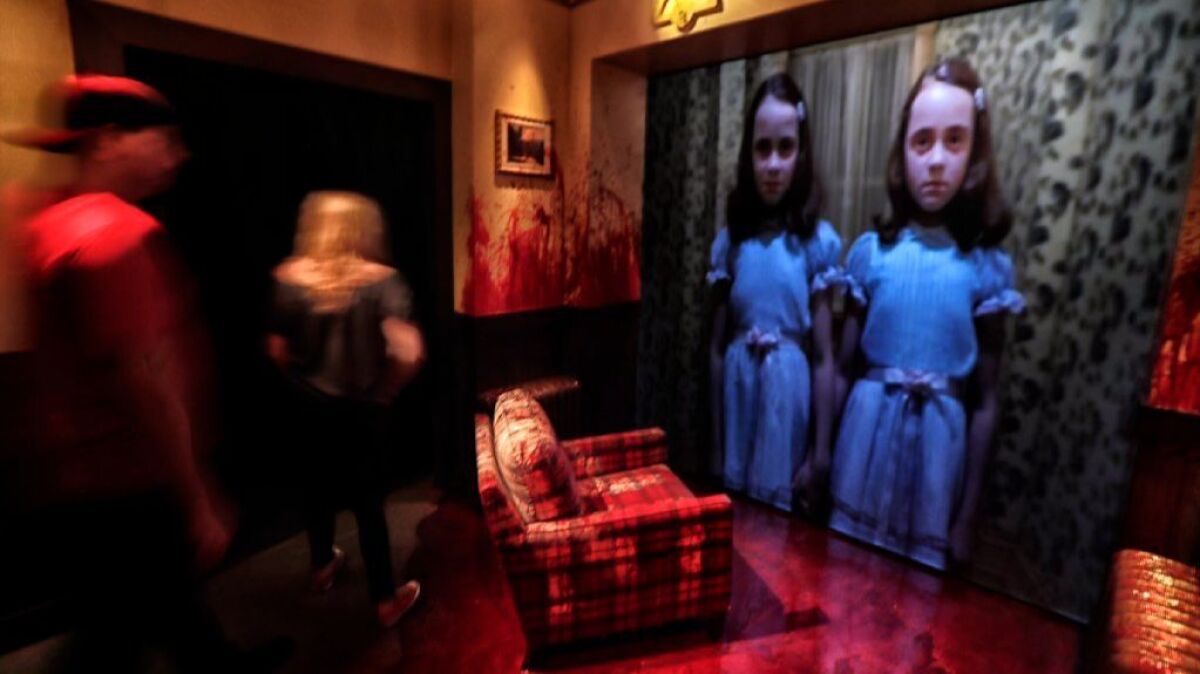 "Our Halloween Horror Nights event appeals to a broad demographic of guests thrilled by the idea of living within a horror movie," said Audrey Eig, vice president of publicity and public relations for Universal Studios Hollywood.
She added that one of this year's mazes was based on the 1980 classic horror film "The Shining," an attraction that is likely to appeal to grown-up horror fans. "Our event offers a variety of options that cater to our expanding adult audience."
At Dark Harbor, the age of the average visitor is over 21 so the new alcohol-infused attractions are simply designed to improve their experience, said Steve Sheldon, co-executive producer of the Halloween event at the Queen Mary.
"We want to add bar experiences so people can grab a drink wherever they like," he said.
Several months ago, Six Flags Magic Mountain in Valencia opened a Metro Park Pub that serves traditional American food and beer. But for this year's Fright Fest, the park added a Halloween menu that includes dishes such as "graveyard greens kale salad," "beastly turkey leg" and "vampire hunter's garlic bread."
A three-course meal with beer and wine costs $24.99. Actors dressed as ghouls and zombies linger among the diners.
"It's to give them something to round out the entire experience," said Connie Lujan, a spokeswoman for Six Flags Magic Mountain.
Maria Subia and Daniel Roman of Los Angeles donned parkas while they picked five flavored vodka shots — at $20 a person. The temperature in the bar was below freezing but the couple took their time picking their drinks.
"It makes it a different experience," said Subia, 40. "Instead of coming to a club you come to a place that is cold to have a good time."
To read more about the travel and tourism industries, follow @hugomartin on Twitter.
Sign up for the California Politics newsletter to get exclusive analysis from our reporters.
You may occasionally receive promotional content from the Los Angeles Times.