Gustavo Dudamel and Youth Orchestra L.A. to perform at Super Bowl 50 halftime show
As a fan of classical music, Chris Martin of the rock band Coldplay has attended Los Angeles Philharmonic concerts at Walt Disney Concert Hall over the years and even struck up a friendship with conductor Gustavo Dudamel.
So when NFL leaders tapped Coldplay to headline the Super Bowl 50 halftime show next month in Santa Clara, Calif., Martin turned to Dudamel to join him onstage for the annual musical spectacular seen by more than 100 million viewers around the country.
The L.A. Philharmonic announced Thursday that Dudamel will appear with student musicians from the Youth Orchestra L.A. during Super Bowl 50, set for Feb. 7 at Levi's Stadium.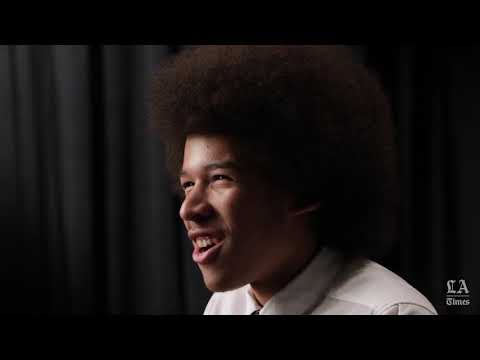 The Youth Orchestra of Los Angeles is spotlighted in this L.A. Times report from 2015.
Deborah Borda, president of the L.A. Philharmonic, said students from YOLA have been rehearsing for weeks for the big show, which will air on CBS during the Carolina Panthers-Denver Broncos game.
See more of Entertainment's top stories on Facebook >>
Dudamel, who had been traveling, flew in recently to rehearse directly with them, she said.
"I'm delighted about the kind of recognition the students will be getting," Borda said Thursday.
"I think it will benefit them incredibly — the question of music education in our social and musical structure ... it's a touchdown."
No details about the halftime program or Dudamel's place in the show have been revealed. A spokeswoman for NFL declined to comment on reports that Beyoncé, Bruno Mars and other prominent pop stars also will appear at halftime.
The Dudamel-led group will feature students from the YOLA at Expo site in South L.A., which is a partnership of the L.A. Phil, the Harmony Project music program for low-income children and the Expo community center near the Memorial Coliseum.
The Harmony Project said Thursday that its students started rehearsing for the Super Bowl just after Christmas.
"Everyone's very excited," a representative said, adding that the appearance is by far the biggest exposure the group has received.
For people who aren't football fans but who watch the game anyway, the halftime spectacle is more than half the fun. The 2016 performance featured Coldplay, Bruno Mars and Beyonce. Here's a look at how some previous Super Bowl performances came off.
(Clockwise from top left: Julio Cortez / Associated Press, Chris O'Meara / Associated Press; Mike Powell / Allsport; Christopher Polk / Getty Images; Mark J. Terrill / Associated Press)
Beyonce, Coldplay singer Chris Martin, center, and Bruno Mars perform during halftime of Super Bowl 50.
(Julio Cortez / Associated Press)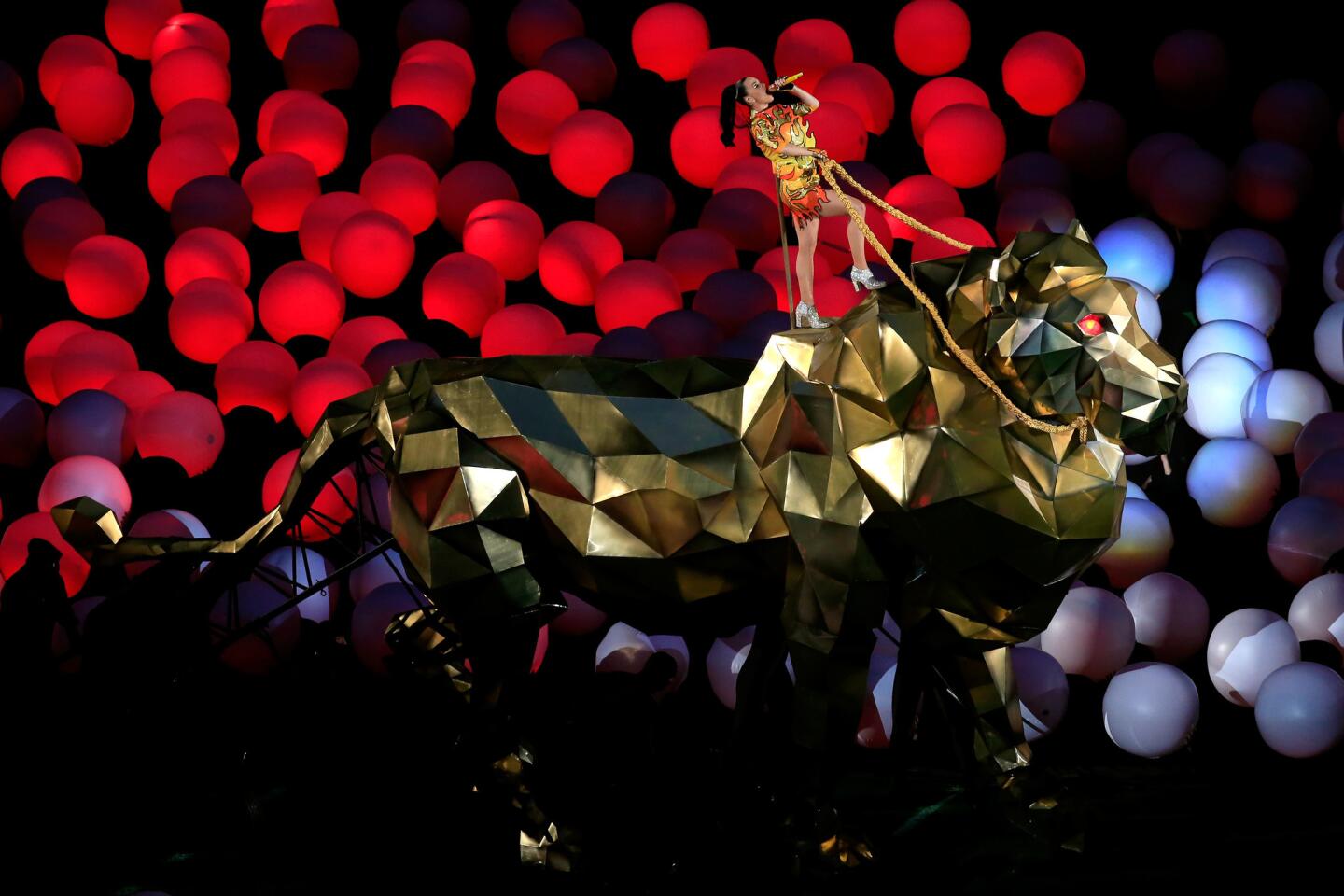 Katy Perry rode in on a golden tiger and performed fiercely throughout her Super Bowl turn with hits like "Roar," "Teenage Dream" and "Firework." Missy Elliott and Lenny Kravitz added even more star power.
(Jamie Squire / Getty Images)
Mars began by hammering away solo behind a drum kit, as if to tell viewers that they were in the hands of a real musician. And so they were. Before long, Mars' touring band, a great funk-soul combo, had joined him. The Chili Peppers didn't add much to the proceedings, but they didn't need to.
(Paul Buck / EPA)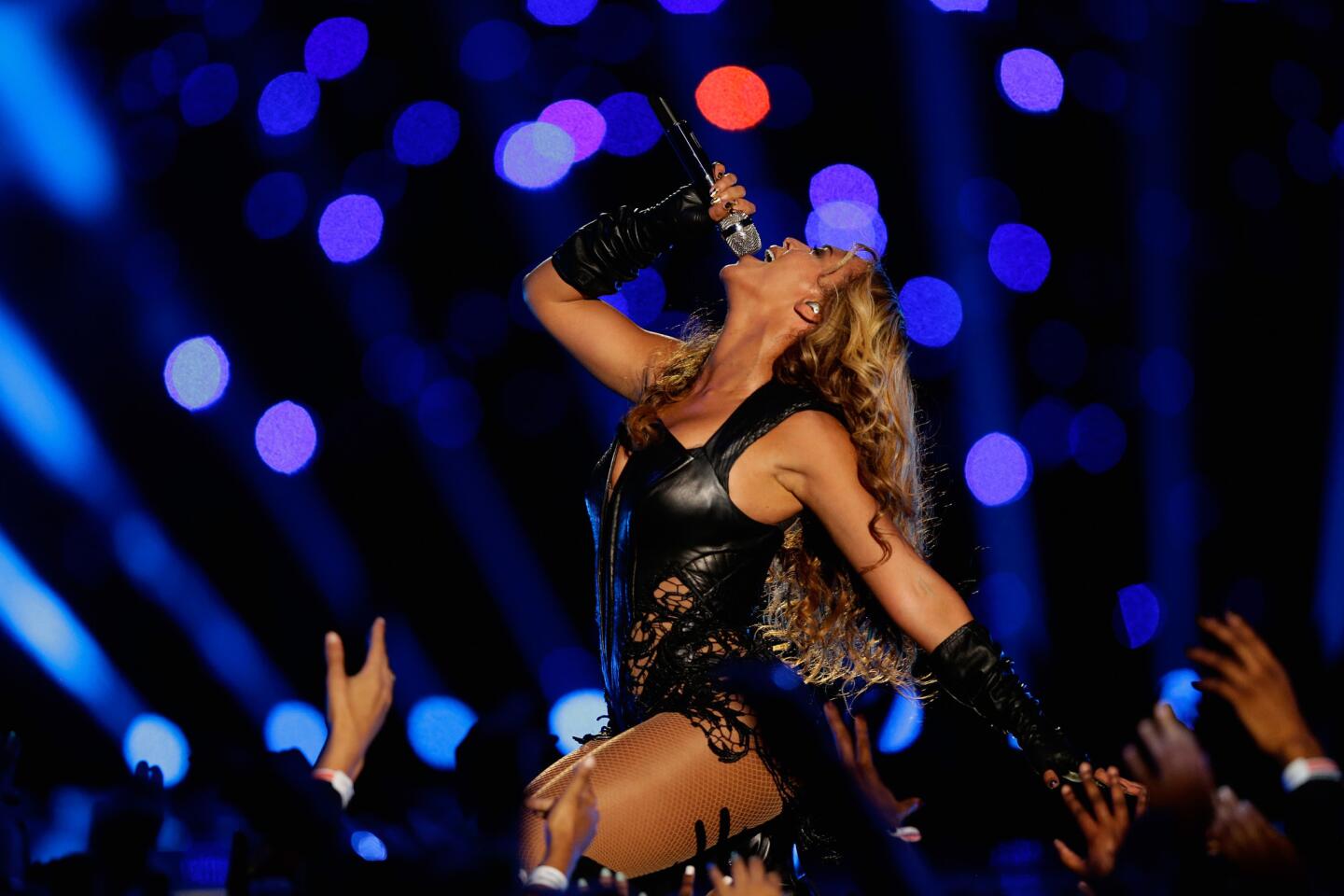 All eyes were on Beyonce as she powered through hits, using enormous video screens and fiery stage presence to take up the stage solo. Later, Kelly Rowland and Michelle Williams rose up from under the stage to join Queen B in a highly anticipated Destiny's Child reunion watched by 108 million.
(Ezra Shaw / Getty Images)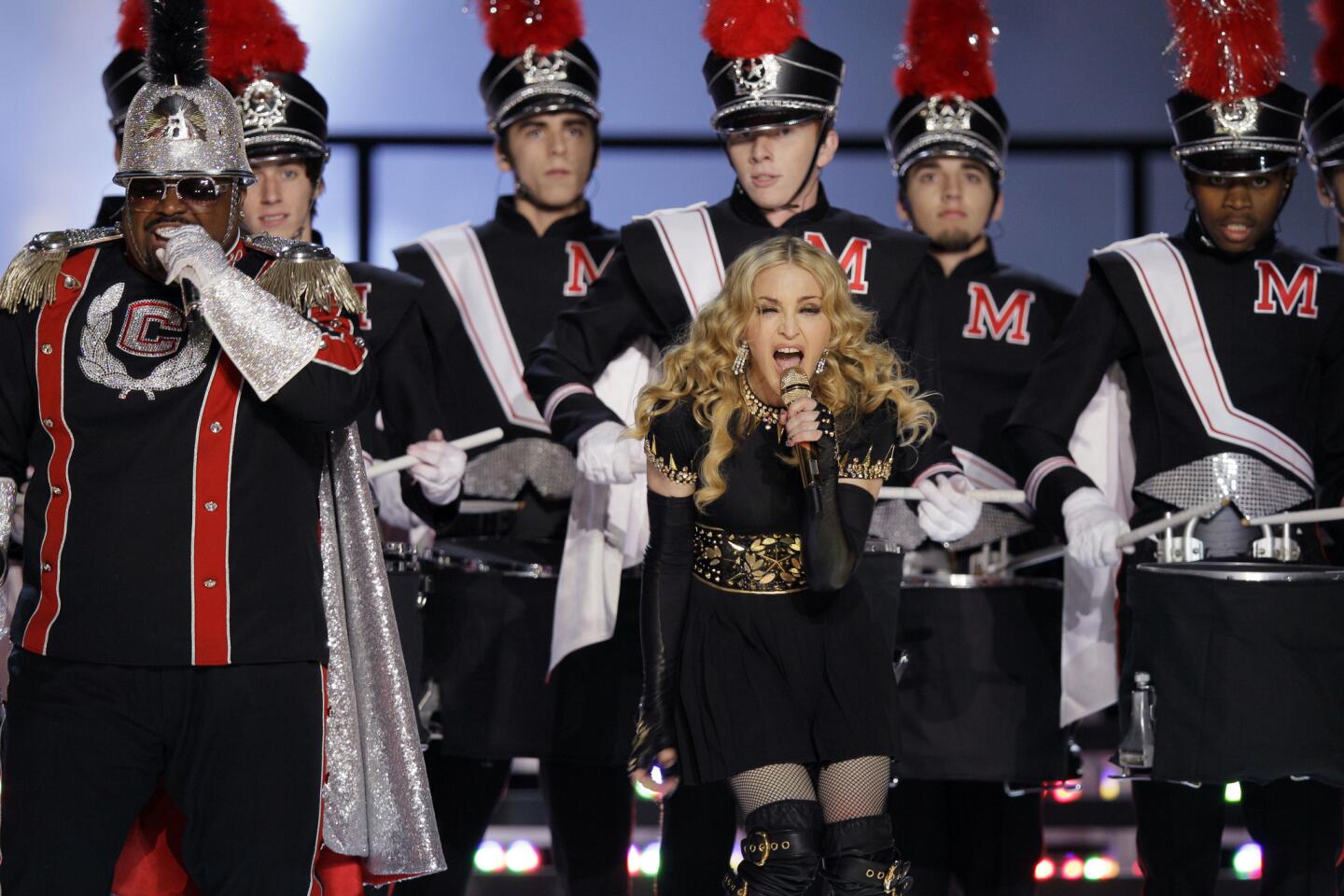 In less than 10 minutes, America watched marching warriors pulling a massive chariot; faux trumpeters announcing the arrival of Madonna; LMFAO, Nicki Minaj, M.I.A. and Cee Lo Green make cameos; several drum lines. Touchdown! Madonna kept 114 million viewers glued to their seats.
(Mark Humphrey / Associated Press)
The Black Eyed Peas largely stayed still during the performance, letting the backup dancers in "Tron"-like get-ups provide the eye candy, yet they still infused their hits with energy. The result was a success -- their tuneful chants seemed built for the stadium.
(Christopher Polk / Getty Images)
"Step back from the guacamole dip," Bruce Springsteen yelled through gritted teeth. "Put! The! Chicken! Fingers! Doooowwwwwwwn!" His show got the crowd riled up, but didn't quite score, as Springsteen hammed it up a bit too much for Super Bowl cameras.
(Mark J. Terrill / Associated Press)
Nearly 100 million witnessed a slick 12-minute halftime performance by one of America's most unheralded superstars. Tom Petty & the Heartbreakers showed up in suits, and powered through easy stadium singalongs that got the job done, even if it wasn't first on the highlight reels.
(Streeter Lecka / Getty Images)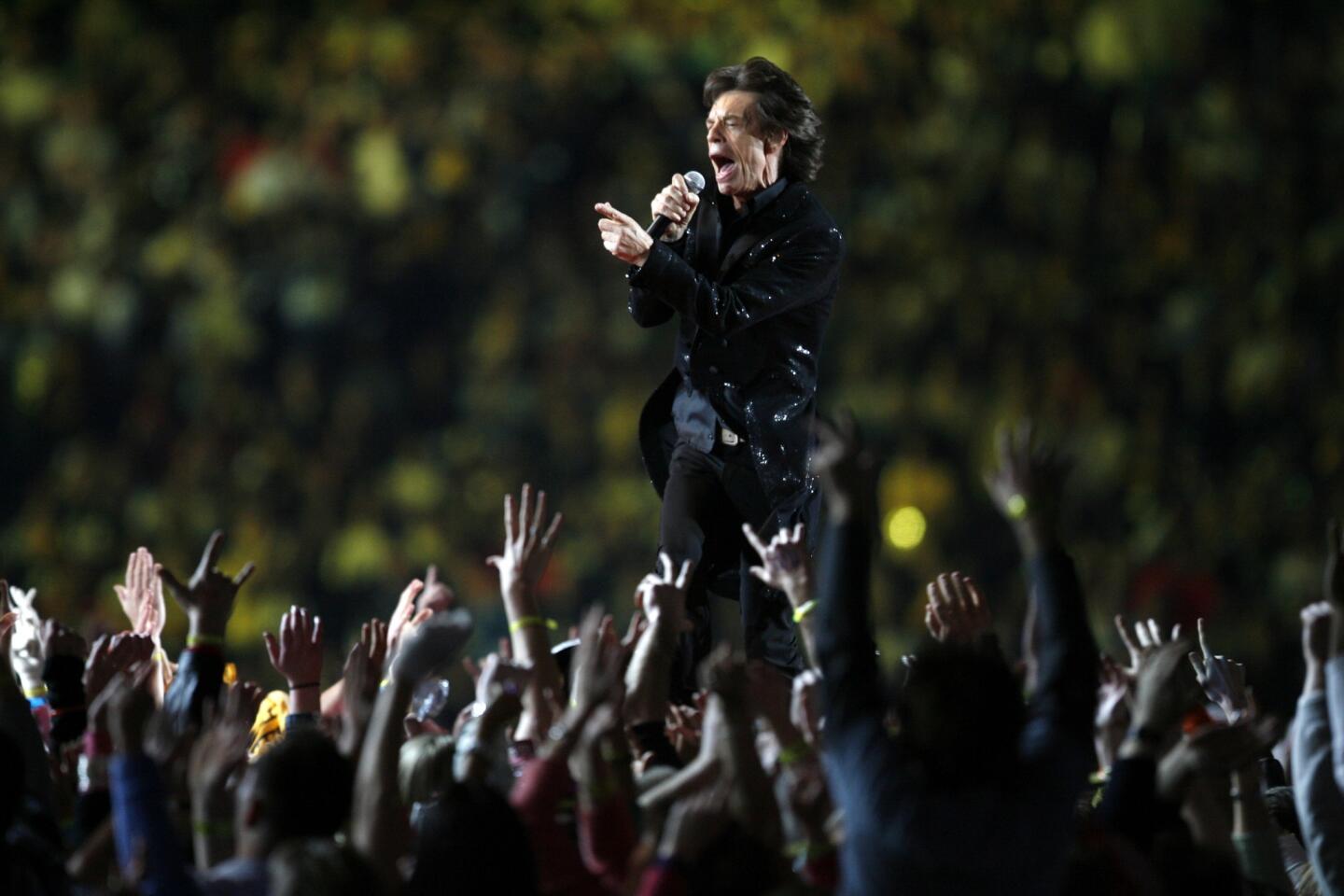 The Stones delivered a rousing rendition of three classics "Start Me Up," "Rough Justice," and "(I Can't Get No) Satisfaction." Yet, no matter how hard Mick Jagger twisted his hips to rally the crowd, the most inspired aspect of the show was the Stones' iconic "tongue and lip" stage design.
(Rob Tringali / Getty Images)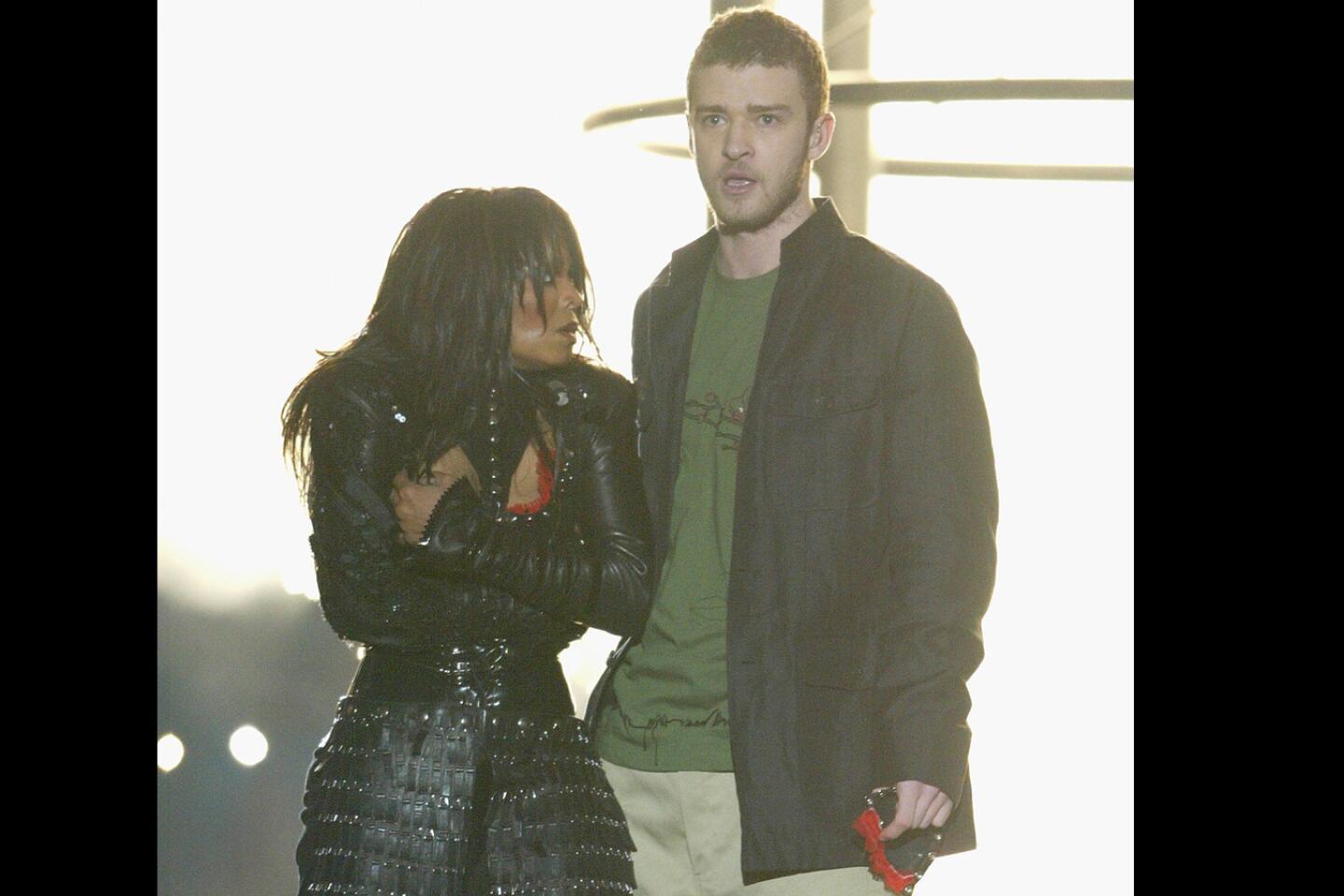 Two of the world's biggest pop stars brought some edge to the football party. But does anyone remember much else other than Timberlake ripping off part of Jackson's clothing? The phrases "wardrobe malfunction" and "nipplegate" were born, accompanied by a major FCC campaign and large fines.
(Andy Lyons / Getty Images)
Twain's performance proved hollow when she unconvincingly lip-synched her way through "Man! I Feel Like a Woman!" Gwen Stefani saved the show by doing what she does best, super-charging a SoCal crowd in a stadium setting through sheer force of ska-sonality, finishing with a duet with Sting.
(Doug Pensinger / Getty Images)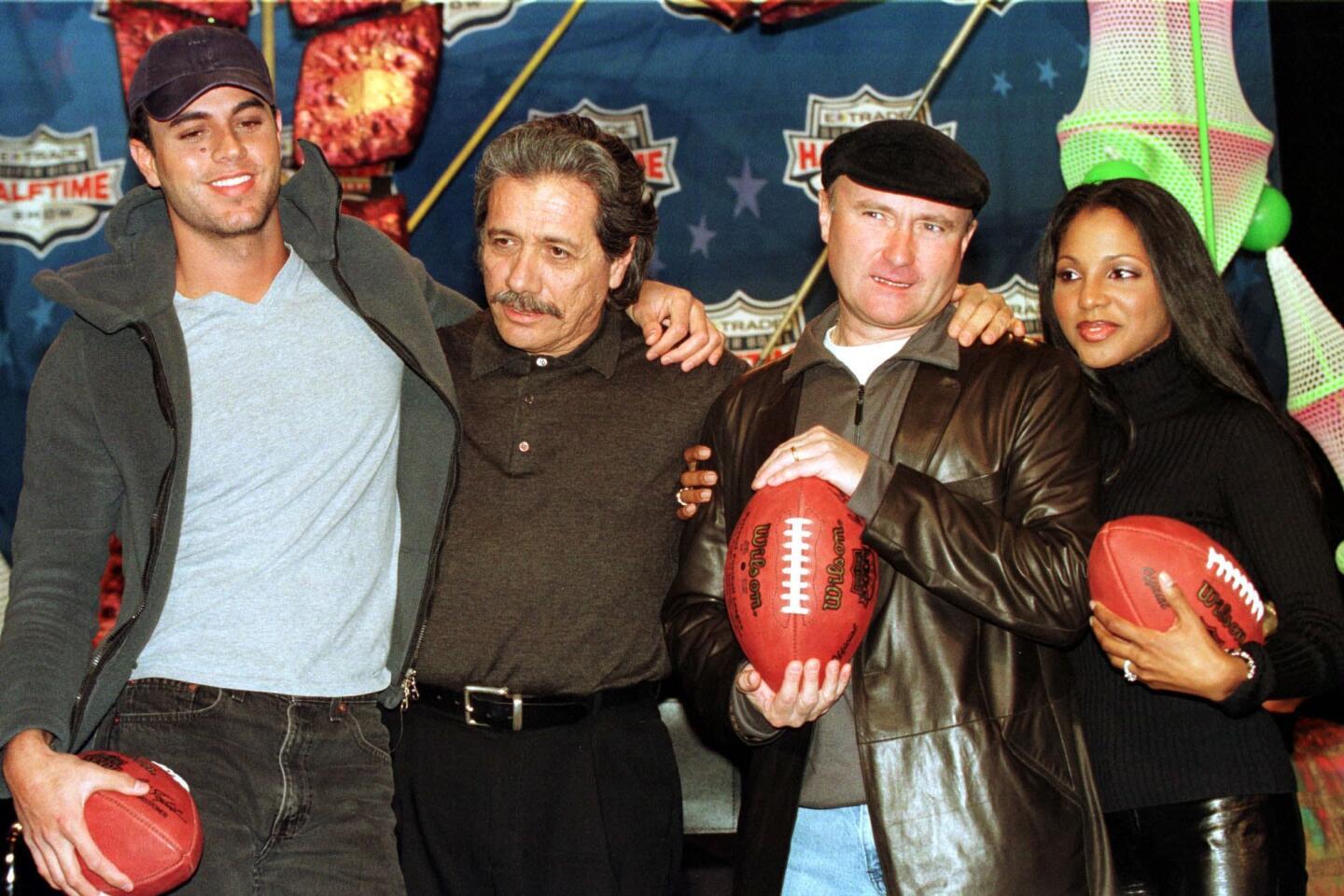 The show started with Christina Aguilera dueting with Enrique Iglesias. Edward James Olmos provided the narration between internationally flavored sets. Phil Collins and Gloria Estefan also took the stage. Though Aguilera did well, the show inspired more of a "what" than a "wow."
(AFP/Getty Images)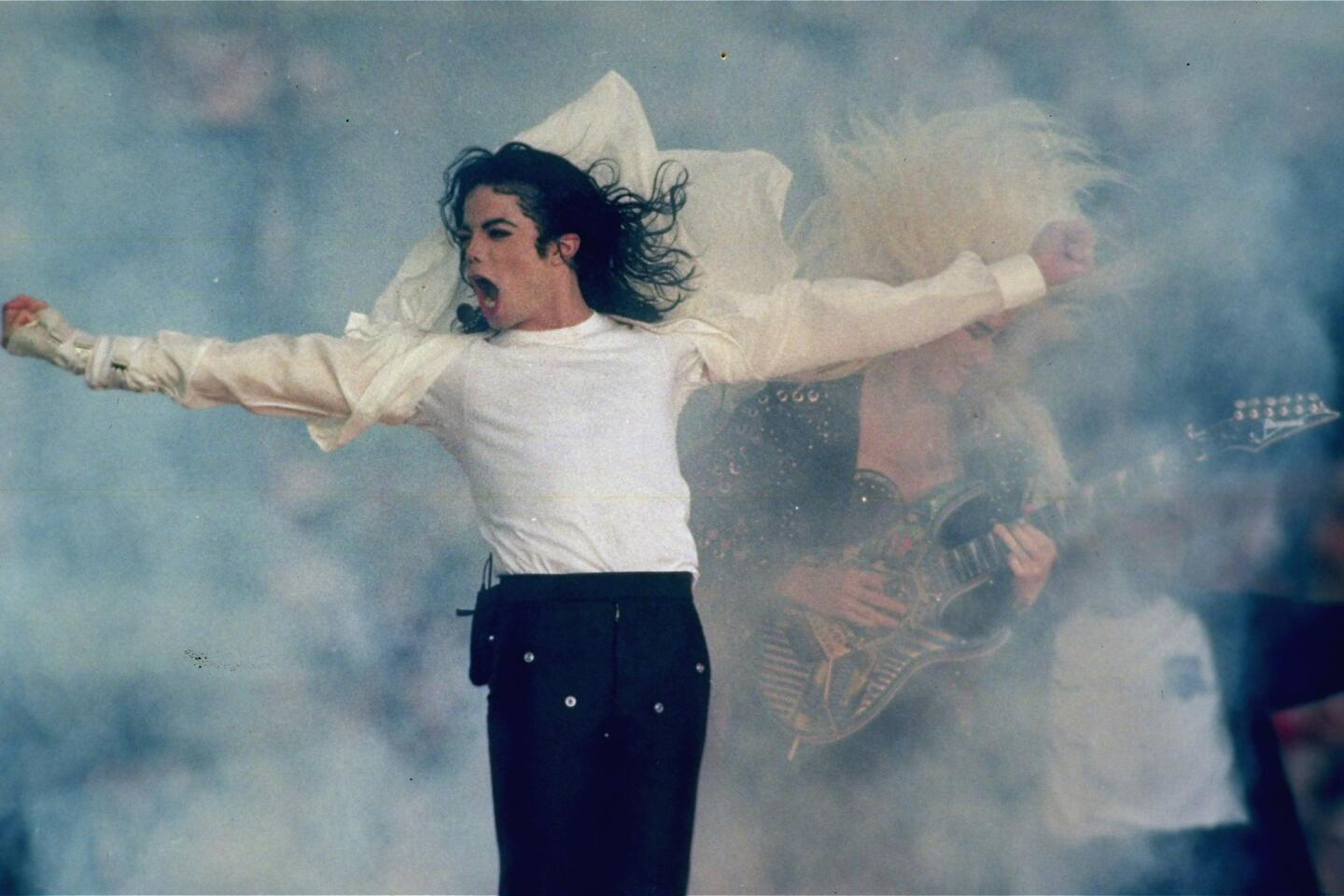 Michael Jackson redefined the halftime show, being the first big star to perform (previous artists included Up With People and Disney characters). The NFL took note after Jackson's ratings surged higher than the football action before it, lining their roster with other A-listers.
(Rusty Kennedy / Associated Press)
The Super Bowl is also a coup for Dudamel, the 35-year-old music and artistic director of the L.A. Phil, who has sought to make classical music more accessible to the public.
It's an effort he has largely made through the L.A. Phil's music education initiatives, especially YOLA, which provides instruction to disadvantaged students throughout the city.
But Dudamel has also appeared on TV programs as varied as "Sesame Street," "The Tonight Show" and the comedy series "Mozart in the Jungle." He recently conducted John Williams' opening and closing music for "Star Wars: The Force Awakens."
In 2014, soprano Renée Fleming performed the national anthem ahead of the Super Bowl, but the NFL doesn't often invite classical musicians to perform at its biggest night, which traditionally has been heavy on pop music.
A performance slot at halftime is a coveted honor for musicians of any stripe, if only for the TV exposure. Organizers said that more than 118.5 million people in the U.S. watched last year's show, making it the most-watched halftime ever.
Dudamel wasn't available for comment Thursday but said in a news release that "this is a wonderful honor and an extraordinary showcase for YOLA, as well as a tribute to youth orchestras worldwide. When we play, it will be for the youth of the world so they can be inspired to create both a better life for themselves and a better future."
The Venezuela native didn't grow up in America's football culture and is a soccer fan.
"But," Borda said, "he will learn."
Twitter: @DavidNgLAT
ALSO:
Beyoncé to perform at Super Bowl 50 halftime show
How to get 'Hamilton' tickets for L.A. and San Francisco? It's complicated
L.A. Opera to present 'Macbeth,' 'Akhnaten' and Leonard Bernstein tribute in 2016-17
Get our L.A. Goes Out newsletter, with the week's best events, to help you explore and experience our city.
You may occasionally receive promotional content from the Los Angeles Times.