Univision is pulling the plug on the madcap 'Sábado Gigante'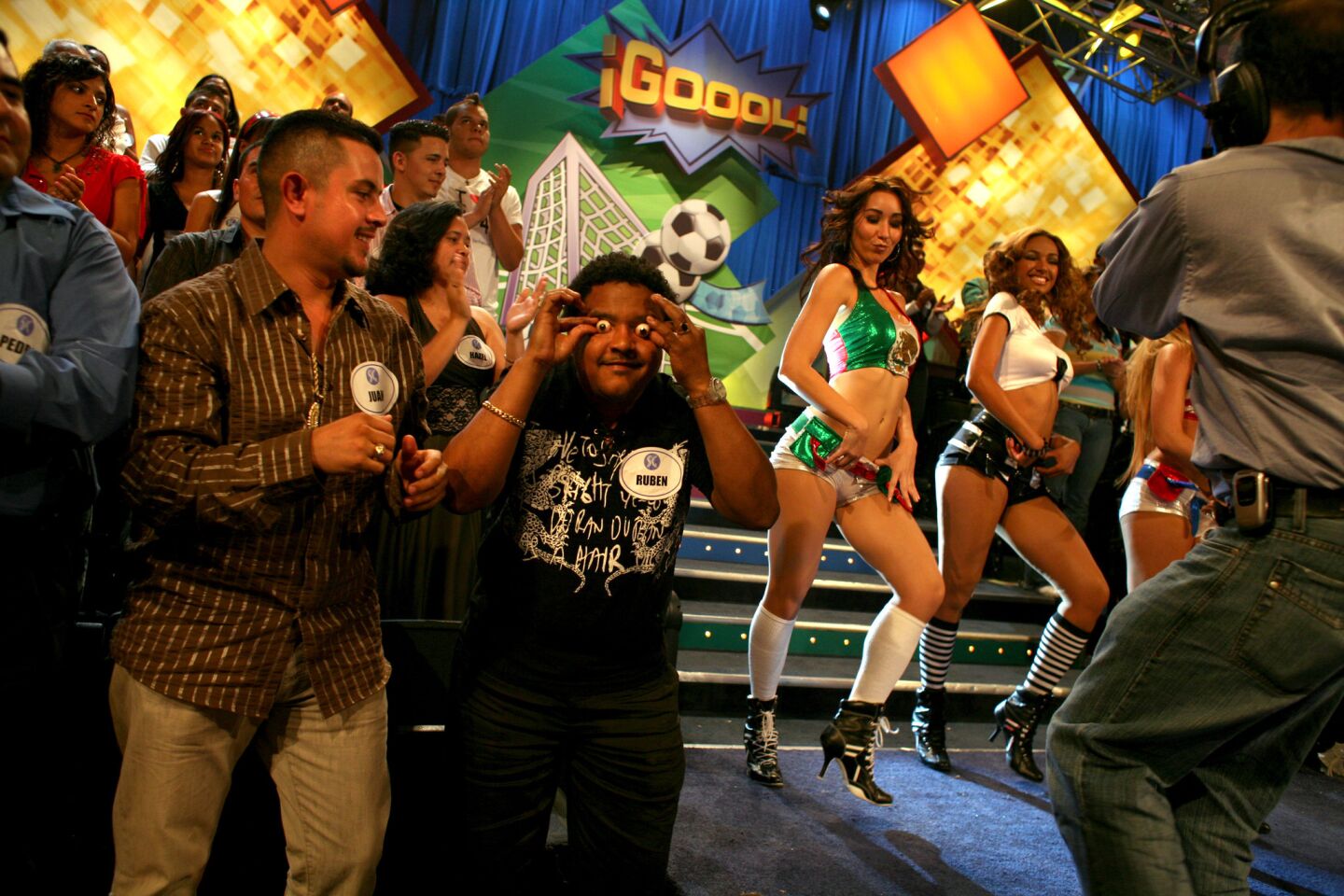 Dancers, wide-eyed spectators and loud, thumping music are all part of the three-hour "Sábado Gigante" spectacle. This episode, taped in late June 2007, featured a soccer theme in honor of a Gold Cup game between Mexico and the U.S.
(Michael Robinson Chavez / Los Angeles Times)
A cameraman gets a provocative angle before a commercial break on the weekly Spanish-language variety show "Sábado Gigante" (Giant Saturday), which set a Guinness World Record in 2012 for the longest running television show without a repeat. Don Francisco is the enduring host of the variety show that shuns all political correctness in catering to a largely Latino audience in the U.S. and international viewership spread throughout 42 countries.
(Michael Robinson Chavez / Los Angeles Times)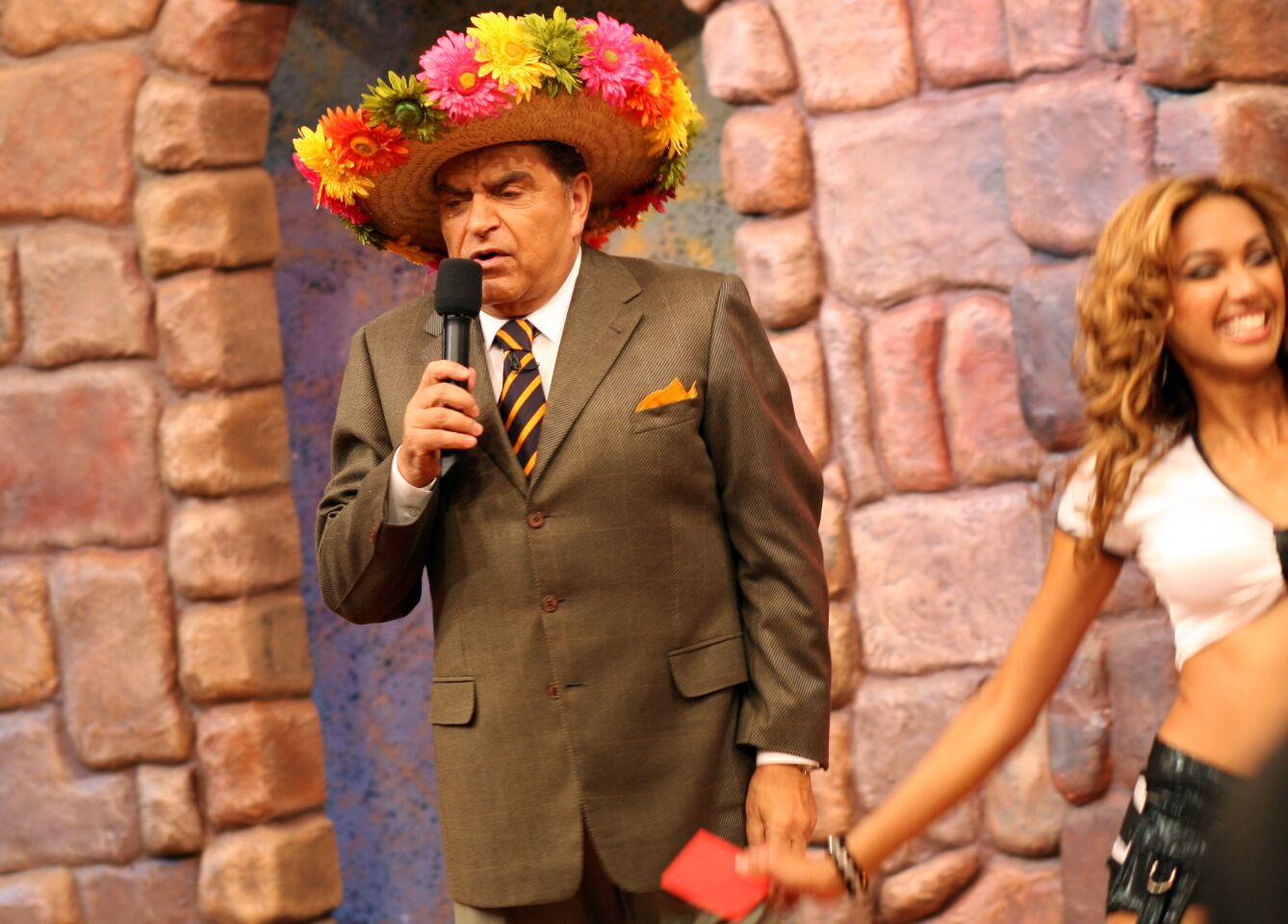 "Sábado Gigante" host Don Francisco will end his show in September.
(Michael Robinson Chavez / Los Angeles Times)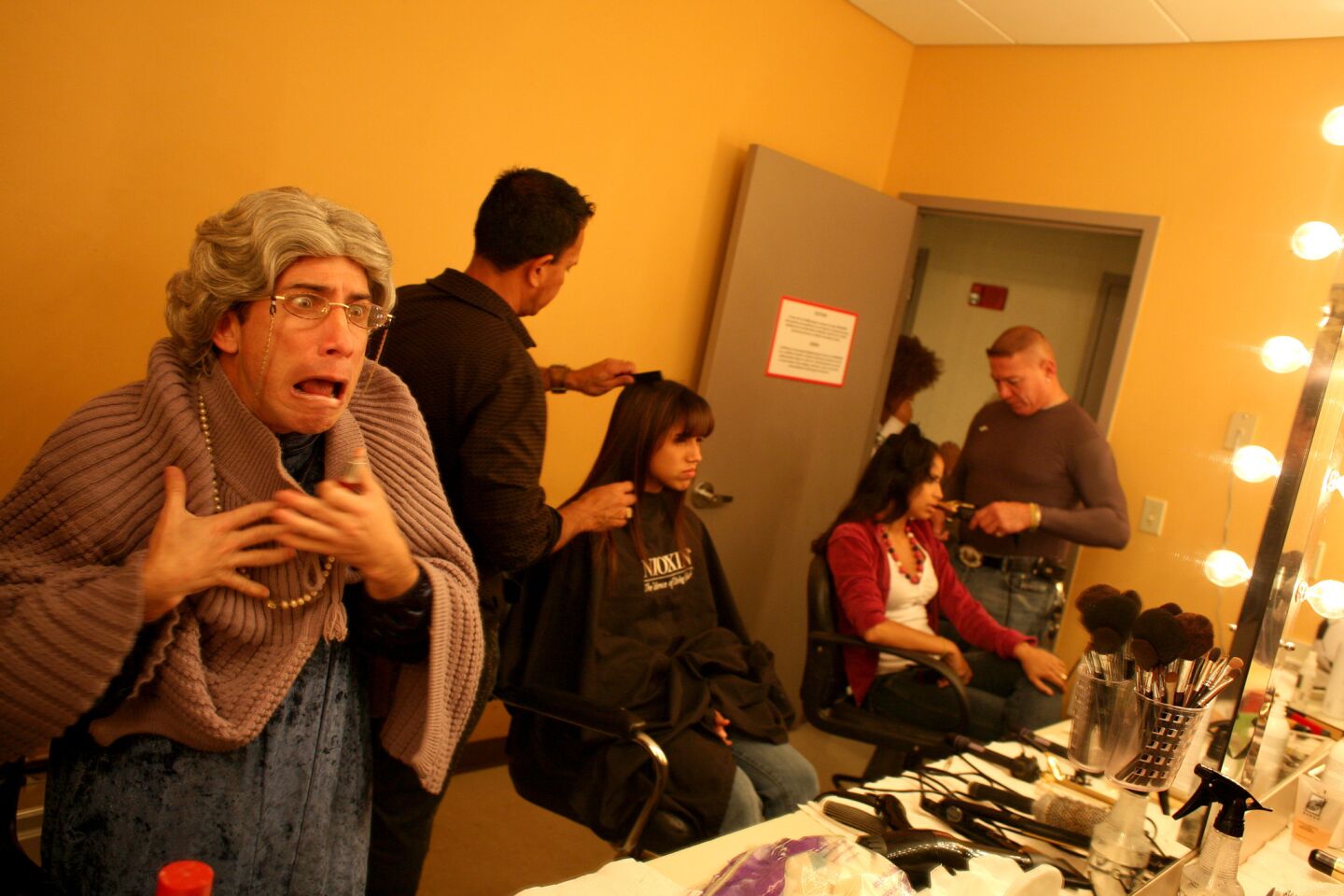 Adonis Losada, left, gets into character as La Abuelita, or the Little Grandmother, backstage before the taping of a skit. The backstage scene is sometimes as wild as what happens on stage. Young men dressing up in drag à la Tim Conway from the old "Carol Burnett Show" can give the impression that one has entered a television time warp.
(Michael Robinson Chavez / Los Angeles Times)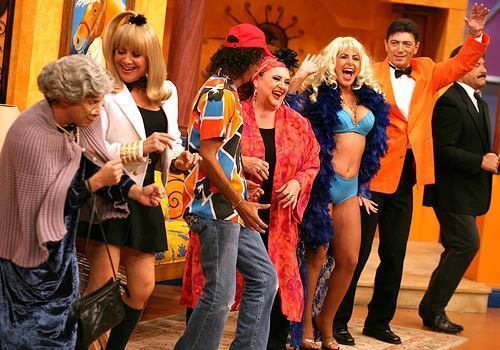 "Sábado Gigante" includes a running-gag skit that parodies Spanish-language soap operas, the much-beloved telenovelas. Here, the cast of the skit prepares to open the show.
(Michael Robinson Chavez / LAT)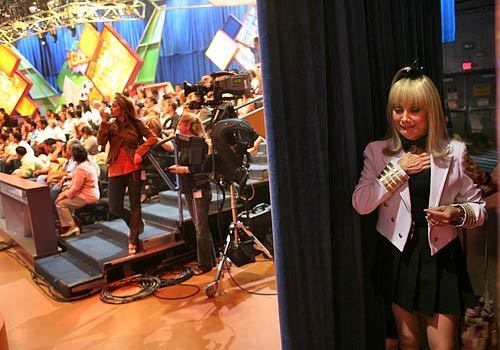 Gloria Benavides, who plays the recurring character of La Cuatro, gets ready to hit the stage.
(Michael Robinson Chavez / Los Angeles Times)
"Sábado Gigante" host Don Francisco, who holds court each week before a raucous live audience of about 200 people in Miami, waits for his cue after returning from a commercial break.
(Michael Robinson Chavez / Los Angeles Times)
"Sábado Gigante's" Don Francisco isn't above going down on his knees to help sell a comedy bit with a guest complaining about his romantic relationship with his wife.
(Michael Robinson Chavez / Los Angeles Times)
Young couples dressed as brides and grooms prepare for a "Newlywed Game"-type of contest as a production assistant scribbles down their names on cue cards for host Don Francisco. Silly game-show segments are a big part of "Sábado Gigante," and they are usually done live in front of the audience.
(Michael Robinson Chavez / Los Angeles Times)
Audience members go wild as host Don Francisco enters the studio to get another "Sábado Gigante" extravaganza under way.
(Michael Robinson Chavez / Los Angeles Times)
Mexican singer Ernesto Perez gets encouragement from a stage manager before performing. The live-music acts are one of the most popular features of "Sábado Gigante," and the spots are much coveted by recording artists because of the massive exposure the show receives around the Spanish-speaking world.
(Michael Robinson Chavez / Los Angeles Times)
After wrapping up another marathon show, Don Francisco bids the audience goodbye.
(Michael Robinson Chavez / Los Angeles Times)
Saturdays are about to be a lot less giant.
"Sábado Gigante," the Spanish-language TV staple that brought millions of Latino families together with its madcap contests and cheesy sketch comedy bits, will end its record 53-year run Sept. 19, Univision announced Friday.
For many Latino immigrants and their children, the program has been the equivalent of comfort food, reminding them of the high-energy entertainment of their homeland and serving as a unifier for the Latino diaspora.
"How will I know it's Saturday?" Celia Barron, 68, an El Sereno resident, asked in Spanish. "Qué lástima (What a shame)."
Led by carnival barker host Mario Kreutzberger — who used the stage name Don Francisco — the Miami-based "Giant Saturday" looked as if "The Gong Show," "Let's Make a Deal" and "Saturday Night Live" were put in a kitschy blender and served up a jumbo, three-hour weekly program.
Though the show is beloved by generations of Latinos, however, ratings have dropped sharply in recent years among the young adults prized by advertisers. And because Kreutzberger owned the rights to the show, Univision would have had to cut a deal with him to keep "Sábado Gigante" on the air.
The show is broadcast in more than 40 countries and boasts tens of millions of weekly viewers, including about 2 million in the United States, most of them in Miami, New York and Los Angeles — making it one of the highest-rated Spanish-language TV shows. By comparison, NBC's "Saturday Night Live" typically draws 6.2 million viewers each week.
"If any show was about creating the imaginary community of a united Latino community, it was that show," said Bridget Kevane, the coordinator of the Latin American and Latino Studies Program at Montana State University. "It connected Cubans with Puerto Ricans with Mexicans — undocumented with documented. It was a show grandparents watched with their children and their grandchildren."
But just as English-language broadcasters have struggled to maintain a mass audience with tent-pole shows in the face of increasing media fragmentation, so have Spanish-language broadcasters.
In the 18-to-34 age group, viewership plunged by 43% for the one-year period ended March 31, compared with the same period that ended in March 2011, according to Nielsen.
Of its 2 million regular viewers, only 307,000 were young adults.
Mario Gutierrez, 39, of Boyle Heights said the Saturday TV fiesta had become something like the embarrassing uncle at the family gathering.
"I can see why it's going: It is old school," Gutierrez said. "I don't think it really catches the eye of the juveniles today. It's a bummer for our elders, though."
Estrella Lopez, 25, used to like the show as a kid but said that over time, it "lost its touch."
Kreutzberger, 74, declined an interview request, saying through a spokesperson that he wanted to make his first comments to his viewers on Saturday night's program.
"For so many in the Spanish-speaking community, Don Francisco's weekly three-hour show defines Saturday evening entertainment, and I want to thank him and the incredible team for their outstanding work," Alberto Ciurana, president of Programming and Content for Univision Communications Inc., said in a statement:
Retiring the aging show became a delicate task for Univision. Executives wanted to plan a graceful exit for "Sábado Gigante" because the show has been such an important part of the network's history — as well as Spanish-language television in the U.S.
Behind the scenes, Univision executives have long discussed how they should refresh the show — perhaps by bringing in a younger host. Programmers recognized that replacing Kreutzberger would not be easy.
Even in his 70s, Kreutzberger was a tireless work-horse. He would typically bring his lunch to Univision's studios in west Miami and often emailed his assistants in the wee hours with notes on ideas for new contests or bits for the show. Kreutzberger also wanted his daughter, Vivi Kreutzberger, to take over once he retired to carry on the family business, according to a knowledgeable person who was not authorized to discuss the topic.
"'Sábado Gigante' has had an amazing run," said Adam Jacobson, a Spanish-language media consultant and contributing editor for Multichannel News. "The question now is what does this mean for Univision, and for Spanish-language television, on Saturday nights?"
The network had been grooming a Venezuelan comic, Raul Gonzalez, but last year Gonzalez defected to rival network Telemundo. Now that network is developing its own Saturday night variety show that could be announced as early as next month.
Soon after the show's 50th anniversary celebration in late 2012, Univision executives stepped up planning for its retirement. Kreutzberger was asked when he wanted to end his long run, and he decided that 2015 would be a good time, according to another person familiar with the situation.
He wanted to go out when the show was still on top of the ratings.
"Why stop it at 53? Why not wait till it reaches 55?" asked Kevane, the Montana professor. "It's going to be a huge hole to fill. Huge."
The September end date also coincides with a planned public offering for stock in Univision Communications, the nation's largest Spanish-language broadcaster. The show, although profitable for Univision, is a costly endeavor because of its large production staff in Miami. Ending the show will allow Univision to trim programming costs while the company recruits new investors.
Advertisers will be sad to see it go too.
"When people think of Univision, they also think of 'Sábado Gigante,'" said Lia Silkworth, managing director of Tapestry, part of advertising firm SMG Multicultural. "The show provided a family-friendly audience and co-viewing among different generations: children, parents and grandparents. We are very surprised to see it go."
But the show's eminence was hardly confined to Latino households. Its incredible longevity and flashy reputation made it known far and wide; Stephen Colbert, during his time on Comedy Central, regularly parodied the Miami-based program under the guise of "Colberto Reporto Gigante."
Though the program was a regular stop for Latino celebrities promoting their projects, English-speaking celebrities and political figures — from Tony Bennett to Barack Obama — also saw value in the zany stage as a way to reach out to the influential, fast-growing minority.
Latinos in the U.S. have more than $1 trillion in purchasing power and represent more than half of U.S. population growth between 2000 and 2010, according to Nielsen.
As a youth, Kreutzberger became enthralled by American television and the likes of Jack Paar, Art Linkletter and Ed Sullivan during a brief period in the U.S.
He went on to launch his own show in his native Chile in 1962, a loud and flamboyant program on Sundays called "Show Dominical," which was renamed "Sábado Gigante" a year later. It soon gained traction and moved to Saturday nights with a name change. It eventually landed at Univision in 1986.
Kreutzberger, in the end, has managed to outpace his American counterparts by decades. He was on the air 30 years longer than Sullivan and 17 years longer than Lawrence Welk. But Kreutzberger and "Sábado Gigante" haven't always been met with abrazos.
The show has come under fire for the image it casts of the Latino culture. Some have taken issue with its portrayal of women and the way in which its silly bits appeal to the lowest common denominator.
Isela Valdez, 40, of La Puente used to watch the show for the special episodes where Don Francisco would travel the globe and report back on different cultures. But the show's contests that played up bodies and racy outfits had Valdez changing the channel.
"That machismo is outdated," she said. "I don't want to watch something where they just see women as sex objects."
Chuy Tovar, 45, of La Puente said he didn't watch the show as much as his parents.
"I think I feel more sad for my parents because my mom watches it religiously," Tovar said about his 67-year-old mother. "She liked the entertainment, of course, she liked his sense of humor.... We're losing a huge figure as far as that's concerned."
yvonne.villarreal
@latimes.com
meg.james@latimes.com
Times staff writers Ryan Faughnder, Taylor Goldstein, Javier Panzar and Ruben Vives contributed to this report.
---
From the Oscars to the Emmys.
Get the Envelope newsletter for exclusive awards season coverage, behind-the-scenes stories from the Envelope podcast and columnist Glenn Whipp's must-read analysis.
You may occasionally receive promotional content from the Los Angeles Times.