Did You Hear ...? Ryan Seacrest protests, street artists express and more from the week in entertainment
A celebrity and his accuser threw down, an Oscar tradition hit the streets, a theater picked its plays, a scandal just kept giving and a superstar didn't need no stinkin' pet store: Here's all that news and more from this week in entertainment.
Ryan Seacrest is the real victim here — unless he's not
Seacrest and his former E! News stylist got into a back-and-forth this week after details of Suzie Hardy's sexual harassment allegations against him went public. Those would be the allegations he was cleared of in an independent probe, Seacrest noted before he accused her of attempted blackmail. Hardy balked at the host painting himself as the victim, when, according to her, years ago he'd behaved badly toward her more than once. While an unnamed former colleague stepped up on Hardy's side, "Live With Kelly and Ryan" cohost Kelly Ripa went full Team Seacrest during their show Thursday.
Street artists borrow Oscar's spotlight for a minute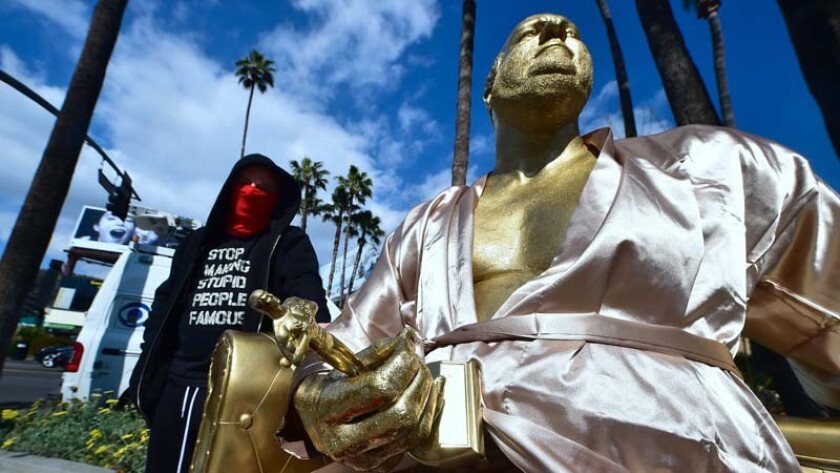 The Oscars are almost here, which means it's time to bring on street art aiming to bask in the brighter-than-usual spotlight on Hollywood. Early in the week, relatively new arrival Sabo delivered a riff on "Three Billboards Outside Ebbing, Missouri" by hijacking three billboards near Wilshire and La Brea to raise questions about child sexual abuse in the entertainment industry. And Plastic Jesus, who has a history of planting a gold statue making a topical statement near Hollywood and Highland each year, plopped a bathrobe-clad statue of Harvey Weinstein on a chaise lounge, tiny Oscar in hand, and called it "Casting Couch." Turns out it was a great spot for selfies. (P.S.: If anyone has any spare tickets, Sabo would like to go to the Oscars with Milo Yiannopoulos as his plus-one.)
Geffen Playhouse goes big for Matt Shakman's debut season
The Geffen Playhouse announced this week that its 2018-2019 season will include more productions than ever: nine. A Greek tragedy, a biographical musical of Nat "King" Cole and the premiere of a play about romance in the afterlife are among the offerings. It's the first season under new artistic director Matt Shakman, who replaced Randall Armey last year and has credits in film and TV as well as theater. Pssst: A day before the announcement, the Geffen made a change to its 2017-18 season too.
Kevin Spacey scandal's newest victim: his U.K. charity
Remember him? He was that guy with a pretty decent acting career whose fall from grace back in November was stunning even in the post-Weinstein era? Did a little song-and-dance, had a show on Netflix? Yeah, that guy. Anyhoo, trustees at the UK branch of the Kevin Spacey Foundation decided this week that the charity was "no longer viable" after its namesake's sexual misconduct scandal, so it's shutting down.
Barbra Streisand really knows how to irritate PETA
Streisand really loved her Coton de Tulear dog Samantha, who died at 14 in 2007. But it turns out she loves her other two Coton de Tulears just as much. Seriously, she can love Miss Violet and Miss Scarlett exactly as much, because those little suckers are clones of the original, she just revealed. (Hey, why rescue when you can Xerox! ) That didn't go over well with animal advocacy group PETA, which issued a statement on the matter.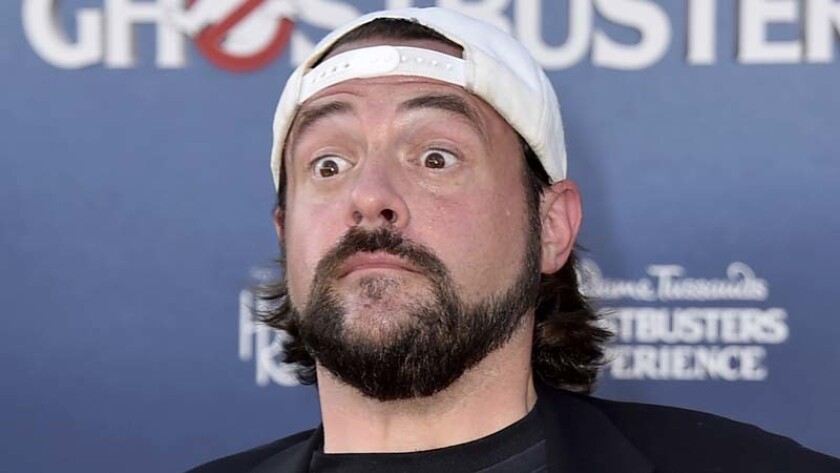 Domestic Goods — and Bads: Director-comic Kevin Smith is OK (and glad he went to the hospital) after experiencing a "widowmaker" heart attack. … Justin Theroux popped up on social media for first time since his split with Jennifer Aniston went public, and guess what he wasn't talking about. … It's official: Serena Williams is the greatest momma of all time. … Kim Kardashian West shared the first picture of daughter Chicago. … Don't worry about Marvel co-creator Stan Lee — the 95-year-old said he's simply been out of sight because he's handling "a little bout of pneumonia."
Trumped: John Oliver took aim at President Trump's plan to arm teachers. … Stephen Colbert mocked POTUS' claim that he would've run into a Florida high school during the Feb. 14 shooting.
R.I.P.: Harvey Schmidt, co-creator of "The Fantasticks," the longest-running musical in history, is dead at 88. …Bollywood icon Sridevi found dead at 54 in Dubai hotel. ... Lewis Gilbert, British director of "Alfie" and three James Bond films, is dead at 97. … Bill Cosby's daughter Ensa is dead at 44 of kidney disease.
Bonus Links:
How one writer tried to crack the mysterious case of Frank Lloyd Wright's Los Angeles houses. … Surprise! The Oscar screener was invented by accident, and there are other secrets behind the awards season staple.
Did You Hear …? runs Saturday in Entertainment at latimes.com.
cdz@latimes.com
Twitter @TheCDZ
---
The complete guide to home viewing
Get Screen Gab for weekly recommendations, analysis, interviews and irreverent discussion of the TV and streaming movies everyone's talking about.
You may occasionally receive promotional content from the Los Angeles Times.