Reviews: Jim Gaffigan doubles up in 'Being Frank'; Jack Quaid is 'Plus One'; and more
'Being Frank'
Working from a screenplay by Glen Lakin, seasoned producer Miranda Bailey makes her fiction directorial debut with "Being Frank" (formerly titled "You Can Choose Your Family"), a mostly engaging tragicomedy set in the early '90s.
Granted one of his most dramatically skewed roles to date, comedic performer Jim Gaffigan plays the title character, a seemingly bland businessman in charge of his family's ketchup company. Underneath that infallible facade, Frank has trapped himself in a double life, splitting his time between two sets of wives and children for more than 17 years. It's only when Philip (Logan Miller), his irritable, musically inclined teenage son, unmasks him that the elaborate deception falters.
Even if slightly overwrought, the storyline functions as an amusing dual coming-of-ager where the boy's quest for parental validation opens the door to the unsavory notion that adults are monumentally flawed, while his cowardly, selfish dad must grapple with the web of lies he's expertly knitted for so long. Of the two, Miller's part has the most compelling arc. Gaffigan deals in exaggerated grimaces that shift back and forth from panic to guarded sincerity, which make for most of the movie's humor aside from some cutting lines by the supporting cast.
Poignant notes of emotional truth float to the surface of this plot-driven tale as father and son, turned into accomplices pretending not to be related in front of others, exploit the detachment of the situation to air their grievances. Their clashes are layered with both disdain and a hunger for understanding in similar quantities. In the end, "Being Frank" neither justifies anyone's actions nor resorts to absolute condemnation.
— Carlos Aguilar
'Being Frank'
Rated: R, for language, some sexual references and drug use
Running time: 1 hour, 49 minutes
Playing: Starts June 14, the Landmark, West L.A.
-------------
'Pause'
In Tonia Mishiali's striking directorial debut, "Pause," we're introduced to our heroine, Elpida (Stella Fyrogeni) as her doctor confirms the news: She's going through what some call "the change" — menopause. But hormones are the least of Elpida's worries, as we discover the nightmare of her existence, trapped in a marriage to an emotionally abusive older man, Costas (Andreas Vasileiou). The imaginative Elpida escapes her dreary existence with elaborate, violent fantasies about enacting revenge on her husband, and while it's initially clear that she doesn't follow through on her rageful thoughts, fantasy and reality start to blend, so we never quite know if she's snapped or not.
Star Fryogeni, who bears a striking resemblance to Frances McDormand, appears in almost every shot, and she carries the film with a bravura performance of a woman at her wit's end. We only ever see that burden lifted when she's fantasizing about the young house painter Andrey (Andrey Pilipenko) or commiserating with her neighbor and friend Eleftheria (Popi Avraam). Otherwise, Mishiali shoots the film like a horror movie, unbearable tension weighing down upon Elpida, as her husband's parakeet incessantly chirps and chirps.
Elpida may be going through the change, but what we come to discover is that change is good. Change is necessary for her survival, and if her imagination is the only way out, it's the one scrap of freedom she'll snatch and hold dear.
— Katie Walsh
'Pause'
In Greek with English subtitles
Not rated
Running time: 1 hour, 36 minutes
Playing: Starts June 14, Laemmle Music Hall, Beverly Hills
-------------
'Plus One'
A wedding isn't present only at the climax of "Plus One," as you might expect for your standard romantic comedy. Instead, almost a dozen blessed events are peppered throughout this amiable film, with ceremony after ceremony playing like you're bingeing a TLC show.
College friends Ben (Jack Quaid) and Alice (Maya Erskine) are at that point in their lives where it feels like everyone is getting married, with practically every weekend of the summer devoted to the ritual. Even Ben's dad (Ed Begley Jr.) is heading toward his third wedding, while his son struggles just to find "the one."
The two pals agree to be each other's dates for the season's events, serving as wingman — and wingwoman — and allowing them to avoid the dreaded singles table. But "Plus One" flips the stereotypical gender dynamic we expect in these types of movies: Alice is (wonderfully) crude, while Ben is the romantic. While it upends those expectations, the inevitable coupling of the pair arrives just as genre fans expect.
Written and directed by Jeff Chan and Andrew Rhymer, "Plus One" might be a romcom squarely from the dude's point of view, but Erskine is the real breakout star here. She's raunchy and funny, giving the film a loose, wild feeling in its best moments, though it's too often predictable in its larger beats.
— Kimber Myers
'Plus One'
Not rated
Running time: 1 hour, 39 minutes
Playing: Starts June 14, Laemmle Monica Film Center, Santa Monica, and Laemmle's Playhouse 7, Pasadena; also on VOD
------------
'Say My Name'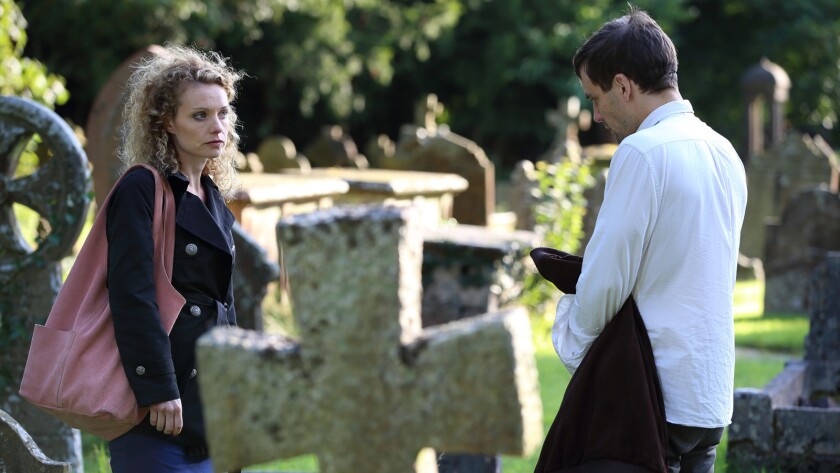 Absurdist Wales-set comedy "Say My Name," the latest effort by low-budget filmmaker Jay Stern, stands as the distasteful outcome produced from mashing up half-cohesive narrative beats echoing "In Bruges," "Philomena" and "Before Sunrise."
Island dweller Statton Taylor (Nick Blood), an insufferably naive piano tuner, experiences an awkward sexual encounter with Mary (Lisa Brenner), an enigmatic visitor, because he is incapable of recalling her name. Soon, their unsatisfying one night stand devolves into a silly crime saga when two cartoonish ruffians, Kipper (Celyn Jones) and Dec (Mark Bonnar), break into their hotel room and rob them at gunpoint.
Displaying writing barely apt for an outdated sitcom, ludicrously trite dialogue, prosaic execution and overacting galore, this pseudo-romantic all-nighter unsuccessfully attempts to wax poetic in regards to second chances, Catholic guilt and personal reinvention. Deborah Frances-White's screenplay relies on the recurrent mention of Mary's multiple identities to force-feed these platitudes.
Shockingly contrived for such a short picture, "Say My Name" implodes further into its artistic mediocrity due to a mawkishly unnecessary subplot that materializes near the end of its final act. With each passing sequence, it becomes more evident that if this story needed to exist, a better setting would have been the stage — note the "if."
Noticeably less stagy than his costars, Blood (seen on TV's "Agents of S.H.I.E.L.D.") commits to the project and inflates its credibility even if to a minimal degree. His character's perpetually stunned face mirrors the only reasonable reaction that enduring such a substandard movie merits.
— Carlos Aguilar
'Say My Name'
Rated: R, for language throughout and some sexual content
Running time: 1 hour, 24 minutes
Playing: Starts June 14, Arena Cinelounge Hollywood; Laemmle Monica Film Center, Santa Monica; also on VOD
---
Get the Indie Focus newsletter, Mark Olsen's weekly guide to the world of cinema.
You may occasionally receive promotional content from the Los Angeles Times.