'Fleabag's' Phoebe Waller-Bridge rides a career launched by a 10-minute sketch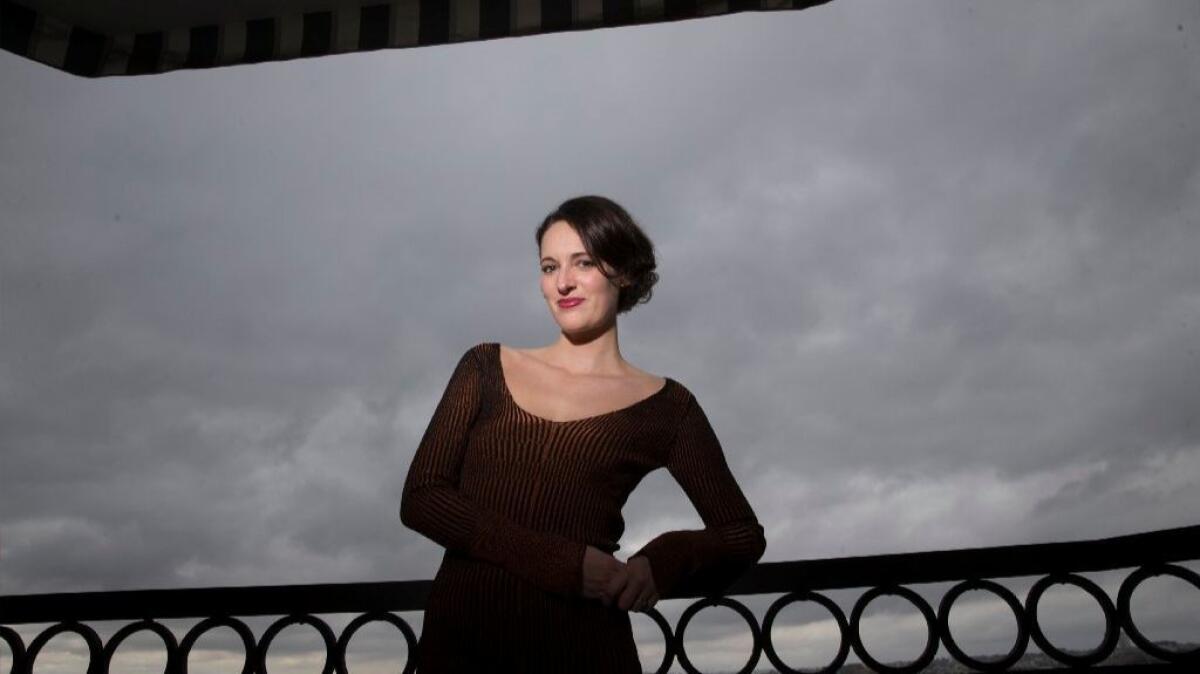 "Fleabag" is the kind of comedy that may make you cry. Creator and star Phoebe Waller-Bridge plays a young woman, called Fleabag, who misdirects her energy all over London. The results are first funny, and then wrenching. She dares you to look away. But then, as Waller-Bridge tells it, she was dared into writing it.
Ensconced in a Hollywood hotel suite during a weekend visit from London, the playwright-actress shows no sign of jet-lag, greeting a guest with a warm hug and offering up still or sparkling water before settling in to discuss the show's origins.
She first came up with the idea of "Fleabag" to help friend Deborah Frances-White, who needed to fill a 10-minute slot at a comedy show. "She had been trying to get me to do stand-up for ages, and I was like, No no no," Waller-Bridge recounts. "And she tricked me with this one. She said it was storytelling with comedians and it was sitting down."
Writing the comedy piece in a few days, Waller-Bridge turned the humor on its head. "I always knew that if I was ever going to perform something that I wrote in front of an audience, I was going to do the thing I most like to experience as an audience member, which is to be tricked," she says.
"So I ran with the stand-up thing, and the first 9½ minutes was basically the character delivering joke after joke about how bleak her life was" before the story takes a sharp and terrible turn. "I really wanted that idea of an emotional twist at the end of something that seems so relentlessly funny, because I don't think people can be relentlessly funny unless they're hiding some kind of pain."
The audience was bowled over. Her best friend, Vicky Jones (with whom she started DryWrite Theatre Company), along with their producer, Francesca Moody, insisted she turn it into a full-length play. "Before I knew it, we had a venue at Edinburgh's Fringe Festival," Waller-Bridge says. "I didn't really have a choice. It was the best kind of bullying from my friends ever."
The show ran in Edinburgh for a month, winning a Fringe First award before moving to London and even a run in South Korea. Then the BBC came calling. She and her DryWrite cohorts had worked there before, adapting a series of her short plays into the ensemble comedy series "Crashing." This turn was darker and more structurally unconventional.
As she expanded the one-woman play into the series (now available on Amazon), she strove to keep the tone, the pain and, most important, the direct communication with the viewer that she'd had in the live shows. Fleabag talks straight into the camera at will — in the middle of sex, during a fight — subtly willing the audience to take her side even when her side becomes untenable. "I wanted people to feel complicit in the story."
The new format required her to cut characters and add padding. "It was an exciting challenge. I knew the characters; they were so close to my heart. I just needed to be able to find more places for them to express themselves."
And they are doozies. When we first meet Fleabag's godmother, formerly her mother's best friend, Fleabag informs us that the woman is terrible, but in unpublishable language. Played with noxious charm by Olivia Colman, Godmother is a vision of kindness when we first encounter her, only to reveal her true nature later. "That was a big breakthrough, how to keep the audience believing Fleabag's perception of the world even though they could see the real world dramatized around her."
The show debuted to great acclaim, and Waller-Bridge is now in great demand. She's writing "Killing Eve," a thriller series for BBC America, about two women playing a cat-and-mouse game: a psychopathic assassin and the MI-5 agent chasing her down. And to her astonishment, she was cast in the new "Untitled Han Solo Star Wars Anthology Film" after directors Phil Lord and Christopher Miller watched the series.
"This is the biggest thing, by far, that's ever happened to me," she says, still sounding shocked. "And it's amazing that it's come from 'Fleabag.'"
See the most read stories this hour »
From the Oscars to the Emmys.
Get the Envelope newsletter for exclusive awards season coverage, behind-the-scenes stories from the Envelope podcast and columnist Glenn Whipp's must-read analysis.
You may occasionally receive promotional content from the Los Angeles Times.