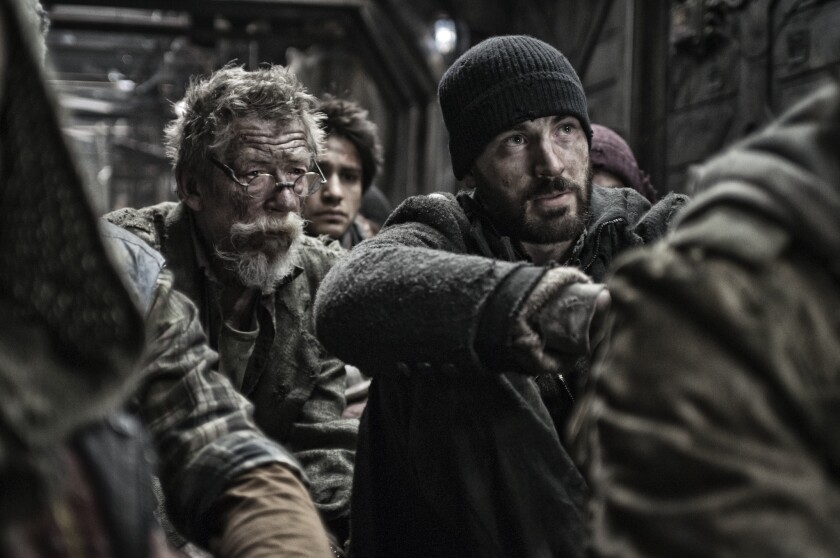 "Snowpiercer," South Korean filmmaker Bong Joon-ho's post-apocalyptic sci-fi film set aboard a speeding train, is to open the 20th annual Los Angeles Film Festival, which runs June 11-19.
Starring Chris Evans, Jamie Bell and Tilda Swinton, "Snowpiercer" is set in a world where a failed global-warming experiment has killed off most life on the planet, and the final survivors reside aboard a train that travels around the frozen globe via a perpetual-motion engine. Incited by cryptic messages, the oppressed passengers in the rear section of the train revolt against the elites upfront.
The movie is based on the 1982 French graphic novel "Le Transperceneige," by writers Jacques Lob and Benjamin Legrand and artist Jean-Marc Rochette.
CRITICS' PICKS: What to watch, where to go, what to eat
Bong is the award-winning director of such films as "The Host," "Mother" and "Memories of Murder."
David Ansen, the artistic director of the festival, said in a statement that Bong "takes popular genres to a visionary new level" and called "Snowpiercer" a "wild, funny and darkly provocative ride." Radius-TWC is to release the film June 27.
Presented by Film Independent and sponsored by the Los Angeles Times, the Los Angeles Film Festival will screen a diverse slate of nearly 200 feature films, shorts and music videos from more than 30 countries.
The full festival lineup is to be announced May 6.
ALSO:
'Noah': Russell Crowe weathers the controversy
A treasure trove of silent American movies found in Amsterdam
Hugh Jackman spoofs 'Wolverine: The Musical,' plugs new 'X-Men'
---