California Sounds: Fresh L.A. rock from Starcrawler, a jazz-funk breakdown by Knower and John Tejada's new music with Reggie Watts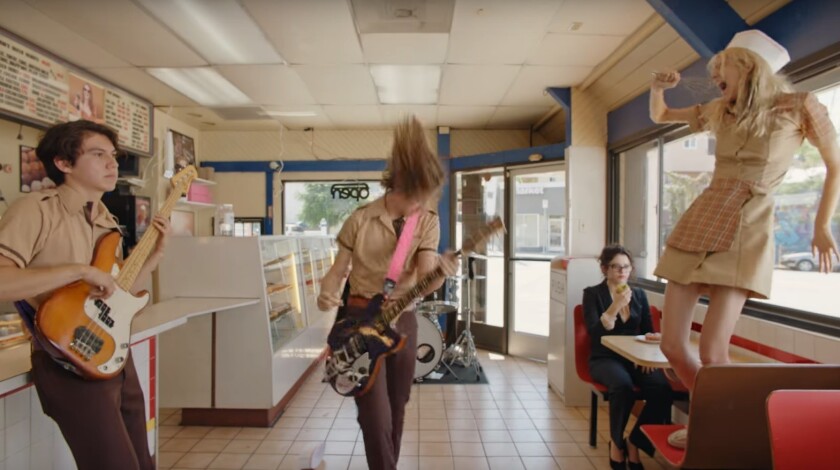 Starcrawler, "Starcrawler" (Rough Trade). The debut album from this young post-punk band arrives with a pedigree, but that's hardly the only thing that the Arrow DeWilde-fronted group has going for it.
The singer, who grew up among indie luminaries including Beck and Elliott Smith as the daughter of photographer-filmmaker Autumn DeWilde, has been enlivening clubs with Starcrawler for a few years, accruing fans drawn to insanely great performances.
The band's debut for respected imprint Rough Trade — which has served as home to bands including the Raincoats, the Smiths, Warpaint and dozens more — features short, beefy rock songs that run just long enough to make the point.
Opening song "Train" moves like something from the first Aerosmith album. At just under four minutes, the epic "Chicken Woman" stars down-tuned guitars that suggest Black Sabbath. The video for "I Love L.A.," directed by mom Autumn, captures the essence of the city. It occurs (where else?) at Mom's Donuts and Chinese Food To-Go in Silver Lake.
Knower, "Time Traveler (Live Band Sesh)" (Soundcloud). From the first measure, there's no denying the instrumental chops at play during this live performance of "Time Traveler." Originally a synth-pop jam by Knower co-founders Louis Cole and Genevieve Artadi, in December the team released a live version that illustrates the technical prowess at work.
Cole was mentioned in last week's column for his appearance on a new Brainfeeder mix; those oddly urgent jams served as a portal into his work with Knower, which has been independently issuing YouTube clips and music since the early part of the decade. A recording of a 2016 gig at the Blue Whale further demonstrates the players' connections to the jazz and funk scenes.
The band posted its "live sesh" version of "Time Traveler" in December, part of a series of such sessions. On Jan. 26, Knower will perform at the Lodge Room, a notable new venue in Highland Park. And Cole will be at Zebulon in Frogtown on Monday for a solo gig.
As to whether Cole's appearance on a Brainfeeder mix suggests a future musical relationship, the label's founder, Flying Lotus, said through his spokesperson that it's too early in the year to discuss.
John Tejada, "Autoseek" (Kompakt). The first track from the essential L.A. beat producer's forthcoming album, "Dead Start Program," is a woozy, deliberately confusing affair that rolls in as if on a flat tire. There's a logic there, but, like earning sea legs on your new yacht, it takes some acclimation.
Tejada has been crafting house and techno-inspired dance music for two decades, and for the past seven he's been affiliated with the estimable minimal techno label Kompakt.
"Autoseek" is the first track from the just-announced Tejada album for Kompakt, which comes out Feb. 9.
One of two high-profile records he'll issue in the beginning of 2018, "Dead Start Program" stubbornly avoids the relentless four-on-the-floor stomp that typifies a lot of contemporary techno. "Loss" maneuvers through a labyrinthine rhythm dotted with high-end melodies and the album-ending "Quipo" rolls through its four minutes with the fluidity of a lost track by Detroit underwater dwellers Drexiya.
Tejada has also teamed with comedic performer Reggie Watts for a project they're calling Wajatta. The pair issued its first single, "Runnin'" in early December, part of what has been described as an album's worth of material the two have collaborated on. They'll perform together as Wajatta at Zebulon on Feb. 6.
For tips, records, snapshots and stories on Los Angeles music culture, follow Randall Roberts on Twitter and Instagram: @liledit. Email: randall.roberts@latimes.com.
ALSO
California Sounds: 30 essential Los Angeles records of 2017
California Sounds: Brainfeeder's new mixtape, the Alchemist's Franco-sampling 'French Blend' series, Dawn's 'Stopwatch' video and Seven Davis Jr.'s house bangers
California Sounds: Anenon's blissful instrumentals, Daedelus' throwback house mix and Jasper Bones' 'soul wave' vibes
---
From the Emmys to the Oscars.
Get our revamped Envelope newsletter, sent twice a week, for exclusive awards season coverage, behind-the-scenes insights and columnist Glenn Whipp's commentary.
You may occasionally receive promotional content from the Los Angeles Times.