California Sounds: 30 essential Los Angeles records of 2017
Like wealth disparity in America, the divide between L.A.-based musical megastars and the other 99% of musicians reveals the extent to which big business controls the narrative.
While the headliners get prominent pushes on streaming services such as Spotify and Apple Music, a whole subset of artists release music into a sonic black hole. Absent placement on key playlists or a major media push, the music lies in wait on faraway servers.
Which is to say, is there too much recorded music in the world? Yes. Is most of it forgettable? Certainly. Below are 30 albums, alphabetically arranged, by Los Angeles-area artists issued this year that deserve your investment. (Note: Kendrick Lamar's "Damn." is excluded from this list to make room for a lesser-known artist.)
(Warning: The Spotify playlist below contains tracks with cussing.)
Ariel Pink, "Dedicated to Bobby Jameson" (Mexican Summer). This reflective, conceptual set of songs by the curiously strong Los Angeles pop songwriter mixes his distinctive, sonically flattened production with an album-length ode to another lesser-known creator from an earlier era.
FULL COVERAGE: Year-end entertainment 2018 »
Bedouine, "Bedouine" (Spacebomb). The Syrian-born, Los Angeles-based singer and songwriter released one of the year's best debut albums. Filled with pastoral musical textures that suggest "Blue"-period Joni Mitchell but hardly derivative or retro, the album blossoms on repeated listens, and feels like a work that will endure.
Lindsey Buckingham & Christine McVie, "Lindsey Buckingham & Christine McVie" (Atlantic). Two longtime Fleetwood Mac bandmates reunited at the storied studio Village Recorder studios in West Los Angeles searching for magic. Built in the same room they recorded "Tusk," guitarist Buckingham and keyboardist McVie's first duet album tapped the vein. In another era, this would be up for many Grammys. The songs shimmer. But, then, this is Buckingham and McVie. Who could doubt the potential?
Cairo Gang, "Untouchable" (Drag City). Guitarist and songwriter Emmett Kelly returned to Los Angeles from Chicago a few years ago, after the Cairo Gang, which at the time also included acclaimed singer-songwriter Angel Olsen, earned attention backing singer-songwriter-actor Will Oldham. The whole time Kelly has been crafting guitar-based records that draw on garage rock, distorted but jangly electric folk and Velvet Underground-suggestive darkness. "Untouchable" epitomizes the band's approach.
Dale Crover, "The Fickle Finger of Fate" (Joyful Noise). Who says drummers can't make awesome solo albums (most people, and they're usually right). The longtime Melvins drummer and former Kurt Cobain bandmate Crover is a master of his craft, and for his first official solo album he mixes noisy drum patterns with solid, if twisted, jangle-punk songs. If nothing else (and there is something else), Crover crafted the best song titles of the year, "Giant Hunka Cake," "Hillbilly Math," "Horse Pills" and "Our Supreme Leader" included.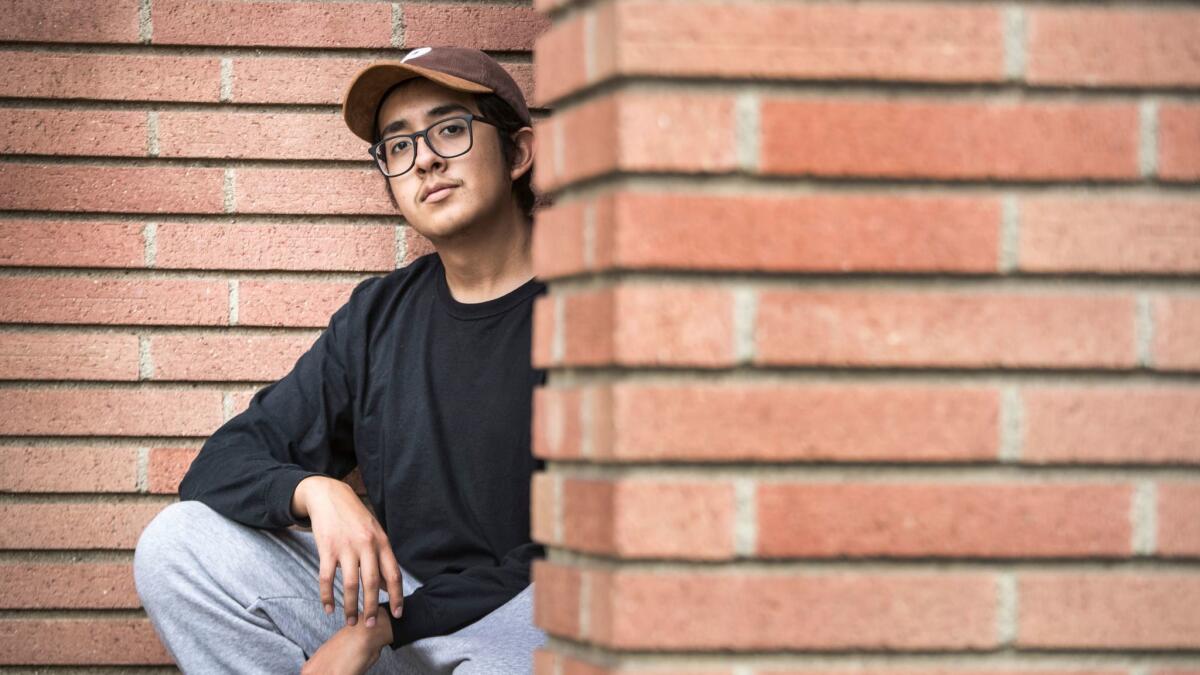 Cuco, "Songs4You" (Cuco). This year a teenage Chicano romancer from Hawthorne named Omar Banos, just out of high school, went viral, and prompted a major bicoastal bidding war. A first-generation Mexican American whose obsession with Tame Impala and classic Mexican balladry became entangled with his knack for home recording, as Cuco he's drawn thousands of Twitter and Instagram followers, many of them Chicana, who have internalized every vocal inflection on "Songs4You."
RJ and DJ Mustard, "The Ghetto" (10 Summers/Interscope). The South L.A. producer known as Mustard is the architect of a ubiquitous, self-described "ratchet" sound that has helped steer the current direction of floorboard-rattling L.A. rap. Through collaborations with longtime compadres YG and Ty Dolla Sign, DJ Mustard opened a portal to a vibe as heavy and glistening as all the gold in Fort Knox. They both appear alongside main attraction and frequent collaborator RJ on the just-released "The Ghetto," as do O.T. Genasis, Rae Sremmurd and others.
Jonah Levine Collective, "Attention Deficit" (World Galaxy/Alpha Pup). The Berkeley-born transplant has an impressive resume as a trombonist — work with Leonard Cohen, Anderson .Paak, the Game, Bennie Maupin and Ed Sheeran, among others — but his compositions drive "Attention Deficit." Issued on the consistently excellent new jazz imprint World Galaxy, Levine's debut as a leader is frickin' wild. "Microverse Battery" suggests '40s big band music — if all of them had dosed on LSD a few hours earlier. Their take on Gaby Moreno's "Daydream by Design" is mesmerizing.
Kelela, "Take Me Apart" (Warp). Followers of underground Los Angeles R&B have been expecting big things from Kelela for a few years after she released a wonderful debut EP. Rich with digital beats that jump out of songs, "Take Me Apart" lives up to the hype.
La Santa Cecila, Amar y Vivir (Rebelon Entertainment/Universal). The Grammy-winning Los Angeles band crossed the border to perform classic boleros and rancheras in Mexico City. Also featuring songs by Mexican rock band Cafe Tacuba, the late singer and songwriter Juan Gabriel and soul vocalist Smokey Robinson, this work was recorded across five days at various indoor and outdoor locations in Mexico City.
Steve Lacy, "Steve Lacy's Demo" (Three Quarter). This record was recorded using only a cellphone, but you'd never know it. The L.A.-born producer first earned fans as part of the innovative R&B group the Internet, and took it a step further this year with a songwriting credit on Kendrick Lamar's album "Damn." Mixing soul, funk, indie rock and hip-hop, "Steve Lacy's Demo" might be a toss-off, but it's an infectious and assured collection nonetheless.
Shannon Lay, "Living Water" (Woodsist). Before this year Lay was best known as a key member of post-punk band Feels, but her first solo album is way softer in tone, and has earned her deserved attention. With a confident, distinctive voice (recorded by Cairo Gang's Kelly) eager to explore octaves to find something properly beguiling, Lay relies on plucked electric guitar and the occasional string accompaniment.
Aimee Mann, "Mental Illness" (Super Ego). Mann's newest studio album is also one of her best, which is saying something considering the body of work she's responsible for. One of L.A.'s most accomplished songwriters, Mann on "Mental Illness" focuses on dark characters suffering with secrets, regrets and what they used to call general malaise.
Carlos Niño & Friends, "Going Home" (Leaving). A behind-the-scenes player on the city's experimental beat and cosmic jazz scenes, Niño and his friends (master xylophonist S.K. Kakraba, former Mars Volta drummer Deantoni Parks, new age composer Iasos) conjure the spirits of Sun Ra and J Dilla to make music that wouldn't be out of place as part of the "Nonesuch Explorer" series of the 1960s.
Nosaj Thing, "Parallels" (Innovative Leisure). The artist born Jason Chung luxuriates in warm electronic tones on his fourth studio album. Playful, smart instrumental music that celebrates both downtempo 4 a.m. music and speedier house and techno, these 10 expertly arranged tracks are keen reflections of the contemporary L.A. beat music scene.
Tara Jane O'Neil, "Tara Jane O'Neil" (Gnomonsong). This quiet, thoughtful folk rock record won't win any awards for technological innovation, but that's hardly the point. An unassuming work on first blush, it's a grower. Focus on it for a week — as in, stop looking at your phone and actually listen — and her words and melodies well entangle your psyche like creeping vines.
OCS, "Memory of a Cut-Off Head" (Castle Face). Those interested in the prolific psych-punk guitarist John Dwyer's band Oh Sees (formerly Thee Oh Sees) might cite that band's electrified, and crazier, 2017 album "Orc" as the record to list. But "Memory of a Cut-Off Head," which is a collaboration with Brigid Dawson, scratches another itch. Softer and more emotionally open, the 10 songs hint at early Syd Barrett-era Pink Floyd, British punk band Television Personalities and pre-"Bang a Gong (Get It On)" T. Rex (when they were hippies with bongos).
Open Mike Eagle, "Brick Body Kids Still Daydream" (Mello Music Group). The city's smartest lyricist has his own flow and style, one that he's refined across a half dozen records. The epic "Brick Body ..." is a concept album about the Robert Taylor Homes project in Chicago, where the artist born Michael Eagle grew up. As intricately arranged as a novel and featuring as much drama as an August Wilson play, the record is an undeniably potent exploration.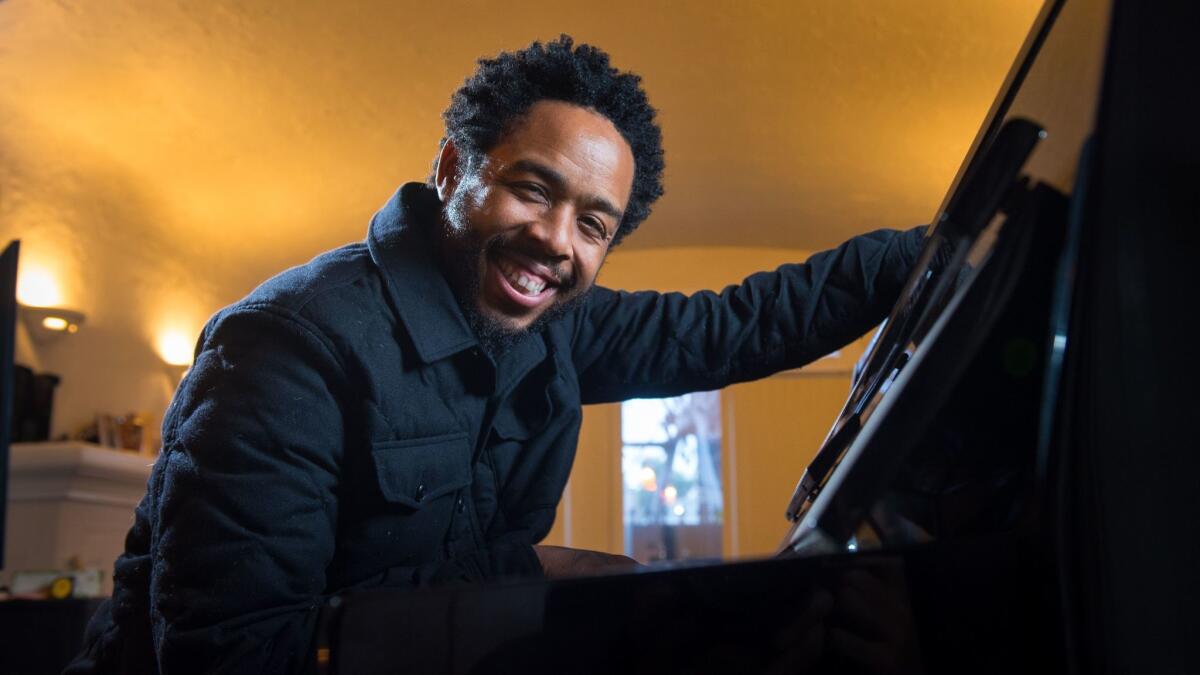 The Pollyseeds, "The Sounds of Crenshaw, Vol. 1" (Sounds of Crenshaw). The multi-hypenate musician and composer Terrace Martin is best known for his production and instrumental work with Kendrick Lamar, but his album as the Pollyseeds doesn't contain any verses. Rather, he and players including Robert Glasper, Craig Brockman and Marlon Williams explore a realm where jazz, fusion, soul and hip-hop intertwine.
Chris Price, "Stop Talking" (Omnivore). The genre-obsessed might call this magnetic, introspective work a power-pop album, filled as it is with guitar-driven hooks and Beatles-circa-1966 inspiration. But to these ears it's merely a great rock album, one that has been criminally overlooked on most year-end polls.
Michael Seyer, "Greetings!" (644744 Records). This four-song EP runs less than 15 minutes, but each endearing moment inside Seyer's world is worth the time. Part of a "wavy-soul" movement of solo musicians making trippy bedroom emo pop, Seyer is a romancer with a sense of humor. For the title track, he pitches his voice down as low as Barry White's as he whispers nearly indecipherable sweet nothings. "Making Chit Chat with a Stranger at a Dinner Party" is five minutes of wonderful awkwardness set in a particular moment in time.
Kaitlyn Aurelia Smith, "The Kid" (Western Vinyl). Though she has to plug in her modular synthesizer instruments, Smith's beatific sixth album at times feels like a solo folk album, filled as it is with gentle introspection. But like kindred spirit Bjork, Smith is an explorer. Rather than working with sheets of digitized and manipulated sound, Smith prefers tones seemingly transported from first- and second-generation synthesizers of the 1960s and '70s.
Sparks, "Hippopotamus" (BMG). Over 40 years into their career, the best ever art rock band from Pacific Palisades issued one of its best records. Brothers Ron and Russell Mael filled their umpteenth studio album with songs about Scandinavian design, giddiness, an exasperated God and the French chanteuse Edith Piaf. You know, rock topics.
Vince Staples, "The Big Fish Theory" (Def Jam). A bold, inventive hip-hop album from Long Beach's most promising musical export, Staples' 12-track work revels in wordplay and uptempo rhythms. "I'm the man, ten toes in the street/I'm the blood on the leaves/I'm the nose on the Sphinx," he raps on "Rain Come Down," "Where I'm from we don't go to police."
Syd, "Fin" (Columbia). The artist born Syd Bennett earned her stripes as the only woman in rap collective Odd Future, and has harnessed that early spotlight to build her own mini movement based around the group the Internet. Her debut solo album is an inventive R&B burner, and hopefully the first salvo from an artist who will set the tone for years to come.
Thundercat, "Drunk" (Brainfeeder). Attempting to encapsulate this freakazoid funk-rock-rap record is a fool's game. Every time you think you've nailed down L.A.'s most prominent bassist's vibe, he flips it. Imagine Frank Zappa's energy — but remove the pretension, bluster and arrogance — filtered through the mind of a ridiculously adept musician expertly schooled in the history of black music.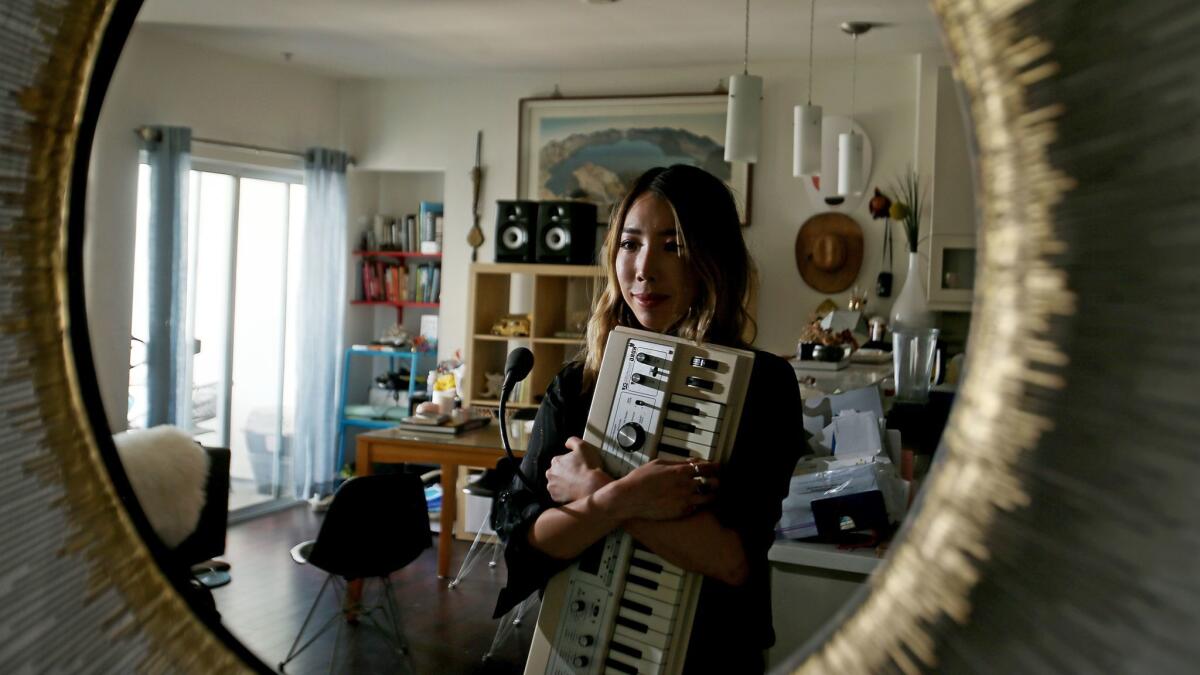 Tokimonsta, "Lune Rouge" (Young God). Jennifer Lee's back story in creating her beat-based "Lune Rouge" is notable: Stricken with a rare brain disorder, she suffered through a series of stroke-like symptoms that left her unable to process speech or music. "Lune Rouge" documents her tunneling out of the darkness, and does so with electronic dance rhythms that draw on house, techno and experimental beat music.
Ty Dolla Sign, "Beach House 3" (Atlantic). The South L.A.-born R&B singer Tyrone Griffin Jr. might not yet be a household name, but his voice is currently ubiquitous via collaborations with Vince Staples, Jeremih, Nicki Minaj, YG, DJ Mustard and more. The third in his acclaimed "Beach House" mixtape series features famous friends including rappers Future and Wiz Khalifa and producers including DJ Mustard, Mike Will Made It and Skrillex.
Tyler, the Creator, "Flower Boy" (Columbia). Five years ago it was uncertain whether Odd Future's founding miscreant Tyler, the Creator would be a boldfaced or footnoted name in L.A. rap history. His surprisingly introspective "Flower Boy" suggests he's working through some stuff that will carve new paths for his wondrous muse to explore, and is doing so with a welcome openness unimaginable when he was a young jerk.
Kamasi Washington, "Harmony of Difference" (Dom Chi No/Young Turks). A crucial voice who has nearly single-handedly re-energized West Coast jazz, saxophonist Washington's six-song new work runs a compact 30 minutes, and in loftier circles might be called a suite. Washington's most obvious inspirations are the classic Impulse Records free jazz records of the late 1960s, but he's not tethered to that past. He and his crack band roll out rhythms and arrangements that draw on soul, funk, rock and hip-hop, and the result is blissfully coordinated chaos.
For tips, records, snapshots and stories on Los Angeles music culture, follow Randall Roberts on Twitter and Instagram: @liledit. Email: randall.roberts@latimes.com.
Get our L.A. Goes Out newsletter, with the week's best events, to help you explore and experience our city.
You may occasionally receive promotional content from the Los Angeles Times.