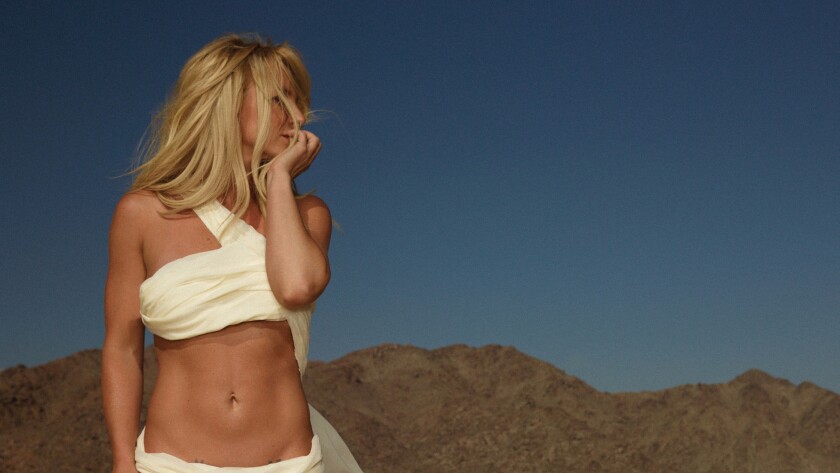 Britney Spears is back, and doing things much differently.
Ever since her emergence at the tail end of the '90s, Spears has launched each new project with a massive banger. "Oops! … I Did It Again," "I'm a Slave 4 U," "Me Against the Music," "Gimmie More," "Womanizer," "Hold It Against Me," "Work Bitch" — all are songs that have kept an eye toward moving clubs and pop radio.
But Spears is venturing outside her trusted formula with the release of "Make Me," the first single from her long-in-the-works ninth album.
Produced by English DJ-producer Burns (Ellie Goulding), who also co-wrote the track with Spears, Joe Janiak and the song's featured guest, G-Eazy, "Make Me" steers Brit toward a more alternative, R&B-influenced sound.
Burns crafted a lush, down-tempo bedroom number that largely eschews the Vocoder and Auto-Tune effects that have dotted her most recent work. The result is a song that allows the singer to sing — really sing.
And Spears sounds better than she has in years, commanding the track with a warm tone that at least doesn't feel dependent on studio wizards to make her sound alive.
"I just want you to make me move / Like it ain't a choice for you, like you got a job to do / Just want you to raise my roof," she instructs her lover before exploding into the song's simple, yet euphoric, chorus of "ooohs."
Sensual R&B isn't new territory for Spears, as she's flirted with it over the years, but rarely this convincingly.
And paired with the retro soul of "Private Show," another new track which she previewed in her latest perfume commercial, Spears seems to have eased into a mature sound that doesn't have to fully lean on moving clubs.
"Make Me" is a welcome return for Spears, who has struggled musically in recent years.
Her last single, "Pretty Girls," was fun and catchy enough to fit in her canon of sugary pop gems, but the song was mostly seen as an unnecessary redux of Iggy Azalea's massive hit "Fancy," and the single flopped under the scrutiny of Azalea's celebrity and Spears' robotic speak-sung vocals.
Spears' last album, 2013's "Britney Jean," was largely a phoned-in mess beyond the scorching "Work Bitch" and the Sia-penned "Perfume," a slow-burner that showcased her vocals but was ignored by the larger public.
And although she got cool points for collaborating with Giorgio Moroder last year, her cover of "Tom's Diner" was largely forgettable.
Maybe it took spending the past two years packing in crowds at her Las Vegas residency — a show that continues to be a hot ticket on the Strip and recently got a makeover — to reawaken her interest.
If these new records are any indication of what the album will sound like, Spears might be on the verge of her biggest comeback yet.
ALSO
Mick Jagger to be a dad again — it's baby No. 8 — at 72 years old
Calvin Harris blasts ex Taylor Swift on Twitter: 'You need someone new to try and bury'
Kobe and Vanessa Bryant are expecting their third child, 'Baby Mamba'
For more music news follow me on Twitter:@GerrickKennedy
---